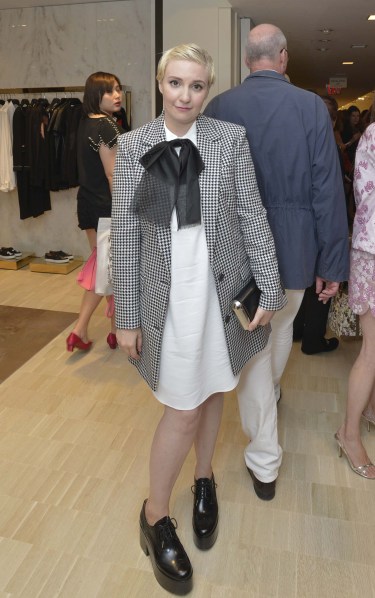 See the girl at the party with the purple lipstick and the ombre tipped hair? She's clutching a martini in one hand, a copy of The Paris Review in the other and making jokes about Jonathan Franzen. Smart, hilarious and extremely well read, she's all about manifesting her personality through her sartorial choices.
Meet the New Bluestocking—who may also wear fishnets, elaborately printed stockings, or over-the-knee socks, whatever—this young woman is not slinking around cocktail parties in a miniskirt. She doesn't prance and pout in a bandage dress, nor will you find her smiling and nodding in all the right places. Indeed, nothing about her is designed to make men turn their heads and say, "I want to sleep with her and then have her make me a sandwich."
Instead, you'll find her strutting in a jumpsuit, sporting asymmetrical, home-chopped hair, sometimes coloring it at the tips to match her lipstick. She's a modern day punk rocker who prefers Virginia Woolf to Joey Ramone—you can tell by the To The Lighthouse quotes tattooed on her arms. She thinks books are sexy. She's not afraid to speak her mind about politics. And she is, like bluestocking icon Lena Dunham, a proud feminist.
And if men don't make passes at girls who wear glasses? Well, she's O.K. with that.
Jen Dziura, the founder of Bullish, a career advice column on The Gloss.com geared towards millennials and the founder of the Williamsburg Spelling Bee, dresses in fishnet stockings and sexy black power suits. She's a dead ringer for Ingrid Michaelson, another bluestocking, in the "Girls Chase Boys" video. Ms. Dziura rolls her eyes in the frames of her horn-rimmed glasses when asked if her wardrobe is geared to be appealing to men.
"Can we go just one goddamn day without thinking about what men find sexy? It's like if every time I made dinner, someone asked me, 'Do you think ancient Etruscans would have liked this?' I don't know! They're not invited! It's my dinner!"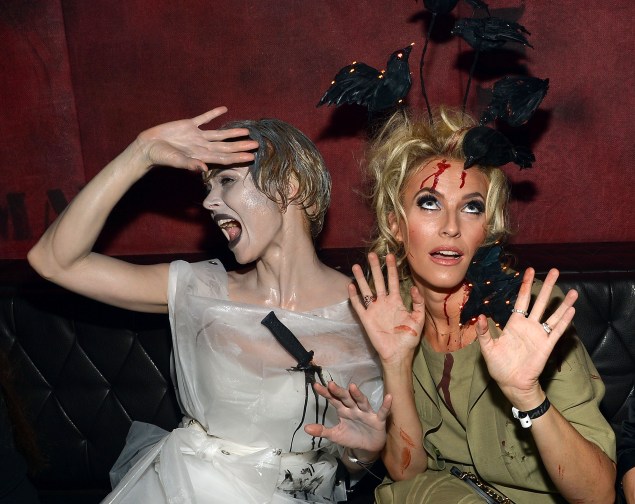 Those of us who grew up with Daria Morgendorffer on Daria and Chloe Sevigny as role models are now grown up with fashion money to invest. Instead of heading to high-end boutiques, bluestockings favor eclectic sites such as Modcloth. For designers, forget the usual deities. Bluestockings are mad for New York queen of quirk, Rachel Comey. The look is more "insouciant blogger" than "former debutante now working at Vogue." Bluestockings want clothes that reflect their own personalities rather than that of Donatella Versace.
Samantha Escobar, editor in chief of fashion and beauty site TheGloss.com has Jean Harlow blonde hair (which she occasionally dyes blue) and sports bright blue or purple lipstick. Right now, she claims her favorite item is "a black tea-length skirt I bought on the way to a date after spilling something on the shorts I had been wearing. Even though I realized at the time that it was certainly not a sexy choice—it's neither tight nor short, and I was wearing a blouse with it—it's comfortable and practical. It has pockets! Most conventionally sexy things do not have pockets, and when they do, you can't put anything in them without looking like you have credit card-shaped lumps all over your upper thighs."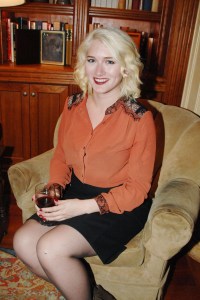 If you're tweeting witty quips on your iPhone all day, you really do want to have those pockets to hold the phone.
Iris Smyles, author of Iris Has Free Time, rejoices in her polar bear earrings. She explains they're made from a children's toy cut in half and though she admits to a longtime love of Chanel, the earrings reveal a tongue-in-cheek approach to style. Ms. Smyles notes, "I love Escada—for their hideous silk shirts. I'm somewhat turned off by Chanel these days—it's been co-opted by the very bourgeois women she—Coco—originally detested. And then there is that monstrous logo everywhere. I don't want my clothes to advertise a brand; I want them to advertise me!"
The thing is, it's easy to find something that makes you look sexy, or demure, or pretty. To dress like a bluestocking, women have to have a sense not of what will please potential partners, but of what will please themselves.
And when it doesn't please men, well, that's just an indication that those men aren't really worth a bluestocking's time. Ms. Escobar notes, "I've received the very frustrating, backhanded compliment: 'You'd be good looking if you didn't have tattoos/weird hair/piercings.' I'm not sure why people bother saying this, as though I will exclaim 'O.K.!' and scrape my half-sleeve [of tattoos] off, but it is a good indication of whether I should spend five more minutes talking to that person. The answer is always 'No.' "
Most New Yorkers, of course, will want to spend more than five minutes talking to a bluestocking—after all, this is nothing if not a town that attracts literary, witty types. Ms. Dziura notes that not everyplace is quite as fashion-forward and that, "If you dress like a schoolmarm in Miami, you'll look ridiculous, as well as being uncomfortably warm." She pauses for a moment and says, "There, though, you always have the option of putting on a caftan and going full Golden Girls."
In fact, the notion of fancy dress is a bluestocking favorite; they love dressing up. Though not strictly bluestockings, brainy beauties Georgina Chapman and Keren Craig of Marchesa won hearts last Halloween. "They had my favorite costumes of 2013," Ms. Escobar enthuses. "They're my heroes!" Misses Craig and Chapman dressed as Hitchcock heroines from Psycho and The Birds, respectively. Their costumes were not even a little bit sexy, but in true bluestocking fashion, were very smart and very funny.