Upon arriving at Gagosian Gallery's West 21st Street location last night for the opening of "Picasso & the Camera," curated by nonagenarian art historian and close Picasso confidant Sir John Richardson, I noticed that Gogo himself was standing right there by the door, greeting friends, as if this were some mom and pop operation and not a undeniable blockbuster at the soaring epicenter of the art world's reigning empire.
After dislodging himself from conversation with the supermodel Karlie Kloss and Gagosian Gallery blogger Derek Blasberg, the dealer of both art and sushi stopped to say hello.
"It's got a great buzz!" Mr. Gagosian told me as Peter Marino and Jean Pigozzi milled around oooing and aaahing about the Picassos. "But you should really go see the show first."
He gestured to his domain, a king looking down on his kingdom, the circle of world-class masterworks ringing around various beams filled chockablock with photographs by and of the artist.
But you see, Larry, I've already seen the show. Earlier yesterday there was a press preview, which allowed for a more monastic environment in which to view the show, which is vast and fascinating, an actual fresh take on the oft-exhibited cubist favorite. Sir John Richardson has curated four previous Picasso shows for the gallery, and is finishing up the fourth volume of a definitive series of Picasso biography, and his show makes a convincing case that photography was integral to the artist's creative process, and a powerful influence on much of his work. Consistently throughout the show, a clear connection gets made between a certain photograph and the painting that used it as a model, whether it's one of Picasso's muses or a Japanese warship on the front page of a newspaper. The photo and painting are installed next to each other, often to lovely effect.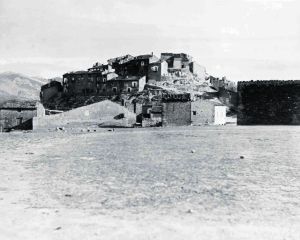 And then there are scores of never before seen images of the artist's world: his vacations with Diaghilev, his trips to bullfights in full bullfighting regalia, his human skulls, his palling around with Cocteau and Villars, his walks with his dog who was an awesome looking Great Pyrenees with the awesome name of Bob, his method of painting masterpieces like Guernica, his last days on earth looking ancient in a white robe surrounded by supplicants.
Among the other artifacts are magazines that feature that famous mug of his in all its tabloid-bait glory. There he is on the cover of Time magazine. "Why not try to understand the song of the birds?" reads the headline. There he is on the cover of the slightly trashier magazine Touch, shirtless. "Picasso decorates for newlyweds," reads the headline.
And then there are a few self-orchestrated self-portraits of the artist as a young man, one bearing the description "Autoportrait avec homme accordé sur un table," which we'll choose to translate as "Picasso selfie."
There's so much to take in—including footage of a chainsmoking Picasso shot by Man Ray that looks so cool it's essentially pro-tobacco propaganda—that though I had planned to speak with Sir John, who had been sitting in a chair in a corner of the gallery, I had looked around for too long, and he had left.
And so that night, after parting ways with the dapper Mr. Gagosian, I scanned the room for a dapper older gentleman in a chair, and there amid the din of hosannas for the show we found Sir John seated and smiling. Did he get tired of this sedentary life among those walking around, eating up his genius for curation?
"Oh, no—I'm sitting pretty," he clarified.
"We're thrilled, and it's been a hell of a lot of work," he went on. "Everything, nearly everything comes from the family. And the photographs have never been seen before, it's all new stuff! And these days, with Picasso, it's so hard to get new stuff."
I noticed that on his tie was a reproduction of one of the prostitutes in Les Demoiselles d'Avignon.
"Well, I needed to make one Picasso gesture," he said.
And then, suddenly—"Excuse me for cutting in…" said a familiar nasally voice. It was Julian Schnabel.
"It looks amazing, John, just overwhelming," Mr. Schnabel said, waving about his arms while bending over to speak to Sir John.
"I'd love to walk through the show with you," Schnabel said. There was the small problem of the chair Sir John Richardson had stayed in and presumably could not get out of, and the small problem of his age—Sir John is now in his 90s, and though no one would say as much this may be the last show he curates, the last one to build his legacy on—but he took Mr. Schnabel's hand, got up on his feet, and began to show him the pictures of his friend Pablo.