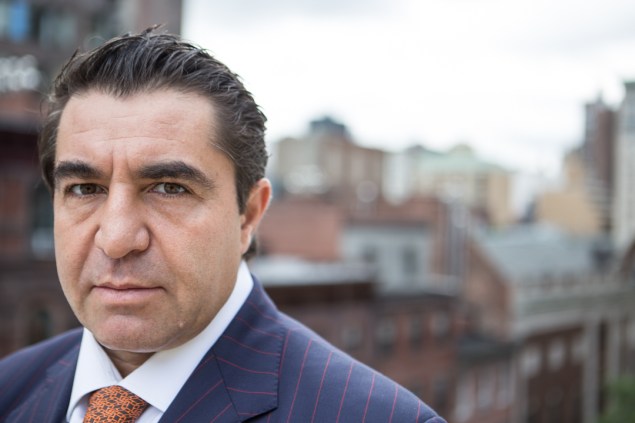 The modeling mogul, Caribbean ambassador and Page 6 regular Paolo Zampolli was unable to leave town this past Labor Day weekend, much as he might have liked to cultivate his frequent tan in late summer sun. Local matters occupied the Milanese émigré's thoughts.
In particular, Mr. Zampolli, whose resume also includes the title of senior vice president at Douglas Elliman—where he has wooed clients with supermodel listing agents and property tours via yacht and Maybach—was concerned with progress on a brick townhouse dating to 1900 that he is renovating on East 17th Street, just west of Irving Place.
Mr. Zampolli bought the property for $4.7 million early in 2010 and says he's invested $6 million in improvements. He puts its value upon completion between $25 million and $30 million.
The 44-year-old former playboy claims that he intends the 8,400-square-foot home as a kind of grand diplomat's hostel, as well as a place for family life with his wife, the Brazilian model Amanda Zampolli (nee Ungaro), and the couple's 4-year-old son, Giovanni. (That the house made intermittent appearances on the market through March of this year, asking $22.5 million for the renovated product—and that an enormous banner reading "A Paolo Zampolli Development" hangs over its door—suggests some flexibility in the plan.)
Mr. Zampolli says he usually stops by to monitor the site twice a day—once in the morning and again sometime after lunch, which he takes fondly at Cipriani downtown. We could not help but feel curious about a project that would keep the consummate socializer at home on such a self-evidently Hamptons-friendly weekend. And, setting aside reservations concerning the realtor's mercantile agenda, we met him in Gramercy the last Friday in August, on a bright, mild afternoon when the girls were getting in a few last hours in their summer dresses.
The Observer had become well familiar with the fashions of passersby by the time Mr. Zaompolli arrived, 30 minutes late, in a black G-Class Mercedes SUV sporting diplomat's plates. He wore leather loafers and designer jeans, a monogrammed white button-down open at the neck and a prominent Hermés belt buckle, his raven black hair swept back.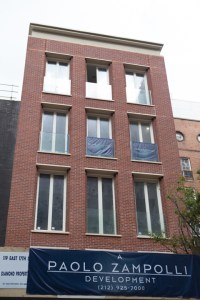 "Did you see that traffic?" asked Mr. Zampolli, whose inflections recall nothing so much as a burlesque of flamboyant red-sauce waiters. "It's crazy." Having traveled by subway, we could only nod as Mr. Zampolli moved to feed the meter, outlining in brief a theory of a parking cop conspiracy against UN affiliates.
After making deposit against threat of fine, he placed in our hand a weighty golden coin with diameter equivalent roughly to that of a small plum. One side bore the United Nations crest, the other, the coat of arms of the Commonwealth of Dominica, which includes a pair of green parrots, a banana tree and a frog known as the mountain chicken.
Since 2011, Mr. Zampolli has been the ambassador for the small island nation, a role which does not appear to crowd his calendar. The coin advertised his personal website, which features scrolling endorsements from celebrities and exhaustive photo albums showing Mr. Zampolli cavorting with models, socialites and politicians.
Its diplomatic function was unclear, but the catalogue of images is a fitting testament to Mr. Zampolli's long tenure with the high-rolling Meatpacking set. A relation of the Agnelli family, founders of Fiat automobiles, he started the influential ID Model Management company in the '90s, and later worked in international development for Donald Trump, whom he counts among his friends. More recently, he's become a visible advocate for environmental initiatives, though his most recent birthday party—held at the exclusive Provocateur club—was attended by a live crocodile, whose wellbeing evidently ranked below the cause of sheer spectacle.
WE FOLLOWED MR. ZAMPOLLI AND HIS building manager, who was advising someone over the phone that he would need to work through the weekend, into a dim entry hall. "People, they don't like to work," Mr. Zampolli observed. "Even when you pay them!"
Construction had not been proceeding apace. Wall studs were exposed and wiring visible. Tools lay strewn about and workers moved around the property with a harried, put-upon air. All raw wood and metal, the elevator, which services six main floors plus the roof and cellar, looked better suited to a Hell's Kitchen loading dock than a Gramercy Park mansion.
Mr. Zampolli, however, appeared only slightly impatient. He felt confident he would move in within six weeks. As we passed through dust, he gestured off to the right, to a commercially-zoned portion of the building that he said would serve as a diplomatic office. At the rear of the first floor was an airy living room space measuring 30 feet by 25 feet, with double-height ceilings and a back wall of large mullioned windows looking onto a secluded patio.
Mr. Zampolli issued a clipped command and somewhere, a switch was thrown. With a low hum, the windowed wall rose on a mechanical arm reminiscent of suburban garage doors, flexing at unseen hinges. It could also be made to extend over a portion of the patio, acting as a kind of outdoor skylight.
"For when it rains," Mr. Zampolli exclaimed, smiling broadly. "Nobody has that. It's sick! It's crazy!"
Above, a lofted formal dining room large enough to accommodate 40 people would be connected to the living room by a frameless glass staircase, fabricated, Mr. Zampolli said, by the folks responsible for the transparent cubes and bridges of the Apple store. (The better to move seamlessly from cocktails to the main event.) On the other hand, he suggested that the kitchen—outfitted with three refrigerators, two dishwashers and a professional-grade Viking stove—could "easily manage a hundred people dinner." Mr. Zampolli did not seem to plan on cooking.
We headed to the upper floors to have a look at what would become keyed bedroom suites, with private bathrooms and in some cases, kitchenettes, so as to afford personal—and especially professional—visitors greater privacy. "Just imagine you come to stay and my little boy is running into your room!" said Mr. Zampolli, explaining the logic of the design.
He identified a master suite, one reserved for his mother, who visits often from Italy, and a light-filled room at the front of the house for young Giovanni. Odd bits of furniture, building materials and art cluttered the spaces. But grandeur lay ahead. There would be Burmese teak and a marble-topped chest of drawers, floors of European oak. There would be seven bedrooms, or eight—Mr. Zampolli couldn't say for sure—and 13 bathrooms.
We peeked into a few darkened water closets, which were further along than much of the house, with impressive installations of marble in various colors sourced from Italian quarries. "It's not small tiles," Mr. Zampolli said proudly in one bathroom. "It's full slab. Nobody has this. Do you know the Vatican?" We indicated that we did. "This is the marble that they have at the Vatican. This is actually the marble of the pope!"
Papal marble, arguably, was not even the most exotic substance deployed. Downstairs, Mr. Zampolli tore back the paper wrapping from a stack of dark, attractively weathered lumber, salvaged, he said, from the piers of Venice. It would be fashioned into a table—and a spiral staircase ascending around a stainless steel post.
In the cellar, which would contain a gym, spa and sauna, a small pool had been dug. "My son loves to swim," Mr. Zampolli said. "So we made it for him." With considerable effort, an enormous boulder had been removed from the rocky pit. But the final product seemed a long way off. Still, workers were due in the coming days to connect the home to the water main, a job whose cost Mr. Zampolli found so exorbitant, he demanded the pipe in question be painted gold.
Standing in the basement, which smelled of damp earth, we couldn't help wondering whether Mr. Zampolli didn't feel nervous. The home seemed unlikely to be ready on time. For a moment, the diplomat looked bemused. "I am at the Trump Soho," he said finally, with a twinkle and a wave. "I am very comfortable!"