When Anouk Nora started her second career as a real estate salesperson, she clearly had better connections than the average rookie broker. She had grown up in St. Martin at La Samanna, her father's five-star resort, a celebrity magnet for the likes of Martin Scorsese and Robert De Niro, who worked on Raging Bull there.
She went on to become a video and film producer, racking up 20 years worth of credits, C&C Music Factory's music video for "Gonna Make You Sweat" and four feature films including 2011's Hysteria starring Maggie Gyllenhaal and Hugh Dancy.
But her well-placed friends and associates don't alone explain Ms. Nora's remarkable first sale. Just 10 days after receiving her real estate license, the 40-something novice sold a building for $27 million to one Peter Brant, billionaire art collector.
The Town Residential broker's feat is all the more impressive considering that freshly minted salespersons can go months without any sales at all—and the vast majority go an entire career without ever moving a property at that price level.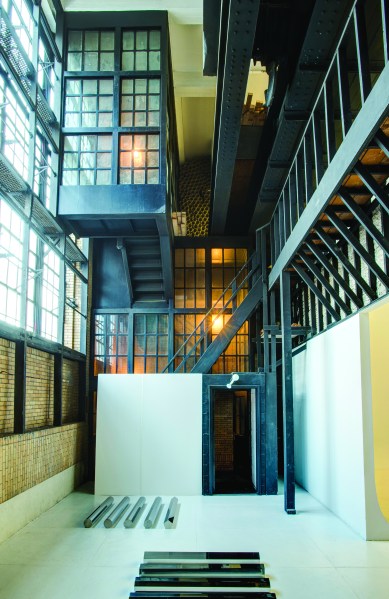 "I feel blessed," Ms. Nora told the Observer. "You know sometimes things are meant to be—sometimes you meet a man, and you just know? It was like that with this."
More surprising still: Ms. Nora discovered Walter De Maria's 16,402-square-foot East Village building—an old ConEd substation from the 1920s—on a walk one day along East 6th Street.
Ms. Nora has a rather unconventional approach to finding listings. She'll walk around the city, usually starting downtown and making her way up, and if she passes a building that intrigues her, for sale or not, she'll look it up to find out the story, all the while thinking, "Who do I know who would be interested in this space?" She keeps a running file of all the properties that pique her interest and sees a potential buyer in everyone she meets. She's been known to contact an owner cold, inquiring about his property.
As a broker, Ms. Nora draws heavily on the instincts that served her previous career. "In both cases you're really looking—not just for beautiful spaces—but for spaces with a purpose. I know how to listen to people when they tell me what they're looking for," she adds.
"Film is more sexy," she says. "But with real estate, everybody has a friend who's looking. Everybody has to deal with it, whether it's a tent or a mansion, it's a roof over your head."
The towering brick building with multi-story windows and late 1920s architectural detailing appealed to her for its grandeur, a stand-alone on an otherwise unassuming street near Tompkins Square Park. When she looked it up in property records, it happened to be for sale—really, just like that. She reached out to two acquaintances, one of them billionaire Peter Brant, about whom Ms. Nora will only say she's known for a long time. Within 10 days, Mr. Brant signed the contract.
Originally born in Rochester, Ms. Nora lived back and forth between New York City and Paris. Following a divorce, she arrived in New York in January, and reached out to childhood friend and real estate broker Raphael De Niro, whom she grew up with at La Samanna. His advice to her: get licensed.
Though she'd never worked in real estate, she was a subscriber of real estate digests with a keen eye on the market. As a hobby, she'd played matchmaker for friends and acquaintances on the look for new homes. When she announced her move to New York, three of her friends in Paris asked her to find them places.
From there, an acquaintance, acclaimed broker Lori Shabtai, referred her for a meeting with the president of Town, Wendy Maitland, who signed her soon after.
"It was clear to me immediately that this woman was a force of nature," Ms. Maitland says about their initial meeting. "Her drive and creative vision, coupled with her vast network of influencers, I knew would make her an outlier."
Ms. Maitland has nominated Ms. Nora for REBNY's 2014 Rookie of the Year. "She has a unique asset that only certain brokers have, to be able to see a property and immediately have an innate sense of who the buyer is—the mindset of the buyer," Ms. Maitland said.
Her second sale—to the French tennis great/pop singer Yannick Noah—also happened sort of by chance. This summer, she bumped into Mr. Noah, who she knows through her sister, in Soho while out on a walk with her kids, and he mentioned he was looking for a place for his 18-year-old daughter, a New School freshman. Ms. Nora offered to be his broker. Mr. Noah, who lives in France and tours frequently, came back in town for one day only; Ms. Nora scheduled 10 apartment visits. "Set it up like a film shoot," she says. But it was the quiet apartment on 13th Street in a courtyard surrounded by buildings, "just like in West Side Story," that Ms. Nora insisted upon. The contract was signed earlier this month.
Her guiding principle is never to sell a client something she doesn't love herself. "Usually, I'll think, 'I'd love to live here.' If a building doesn't feel right to me, I can't fake it. I can't schmooze." If her luck holds, she may not have to.