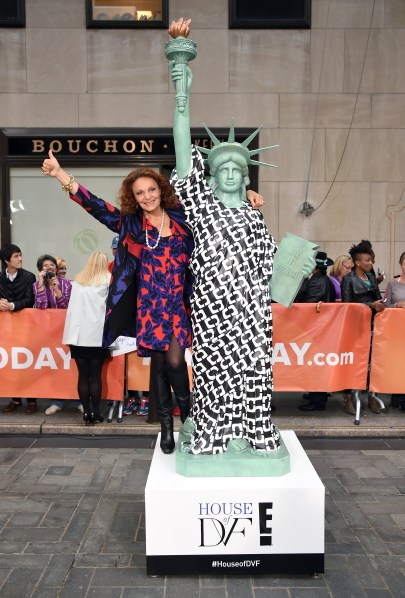 Iconic as she is, the Statue of Liberty has never really made style her forté. She does have a look: her greenish toga and pool slides seem pretty comfy. But at 128 years old, she can't be expected to interrupt her busy schedule of holding her torch up in order to give herself a fashion update.
So thankfully, Diane von Furstenberg has gone and done it for her.
DVF dressed six replicas of Lady Liberty in wrap dresses and placed them around New York City as a promotion for her new TV show on E!, House of DVF, which premieres on Sunday. She's asking New Yorkers to take their pictures with the statues around town and post them to Instagram with the #HouseofDVF hashtag.
The statues are located in the Meatpacking District at 14th and Washington; at Columbus Circle; in Times Square on Broadway, between 48th and 49th; in Soho on Broadway between Houston and Prince; in Washington Square on Fifth Avenue; and Midtown East on Lexington, between 59th and 60th;
Ms. von Furstenberg's schedule is busy this week, as she's also promoting her new book, The Woman I Wanted to Be, at Barnes and Noble with Tina Brown tomorrow night at 7 p.m. Good luck nabbing a seat.
Here are some shots of people with the statues around town:
http://instagram.com/p/uvXy2NFABq/
http://instagram.com/p/uvXSVnlyeo/
http://instagram.com/p/uvVCJInhua/