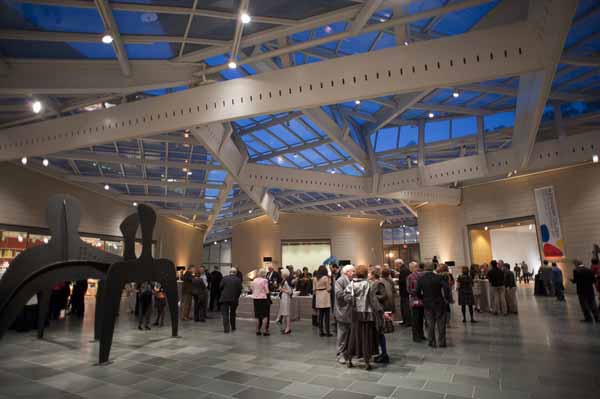 Yesterday brought the welcome news that Dallas collector Derek Wilson, alongside his wife, Christen, would donate $1 million to the Nasher Museum of Art at Duke University. It's part of a $3 million gift that Mr. Wilson, a Duke graduate, is giving to the university with his father, ex-Northwest Airlines chairman Gary T. Wilson, also a Duke graduate. The rest of the donation will go to building athletics facilities.
Mr. Wilson has long been a major Dallas-based collector, and he serves on the boards of the Dallas Museum of Art and the International Council of the Tate Modern in London. His house is filled with work by Sol LeWitt, Donald Judd, Sterling Ruby, Dan Flavin and a commissioned portrait of his wife by Richard Phillips. Not bad. So it's only natural he'd give back to his alma mater's lovely space for contemporary art exhibitions. The gift will fund a new space for the Nasher's permanent collection, as well as an endowment.
Oh, and here's where I disclose that I, too, am a Duke graduate, which may or may not account for the celebratory tone here, but hey, who's not proud of their old school sometimes? I went down to Durham for a wedding at the Duke Chapel few weeks back—oh, the Chapel in early fall, the green lawn of campus, the gothic grandeur in soft light—and the reception was held in the Nasher's soaring atrium, its glass-square roof bisected by architect Rafael Viñoly's massive, stunning steel beams. It's a really gorgeous sun-washed spot, and as an undergraduate I would often spend long lunches here with a friend and a bottle of white wine, discussing Joyce and Derrida, before taking a tipsy stroll through the rolling flora of the Duke Gardens.
When the wedding ceremony was in full swing, I ducked into the exhibition space somewhere between the band's renditions of "Shout" and "Ain't Too Proud To Beg" to see the new show, "Rauschenberg: Collecting and Connecting." Works on loan from the Robert Rauschenberg Foundation in New York were set next to art from the Nasher's permanent collection, by the likes of Ai Weiwei, David Salle, Paul Graham, and Mickalene Thomas. The wild variety of Rauschenbergs here (and there are pieces in all of the mediums he famously oscillated between) seems at peace in Durham, far removed from New York. They were now closer—in both distance and spirit—to North Carolina's Black Mountain College, where Rauschenberg lived and studied under Bauhaus founder Josef Albers. It's a great show.
So, all biases toward my alma mater aside, I can't wait to go back and see the Nasher put the $1 million to use.