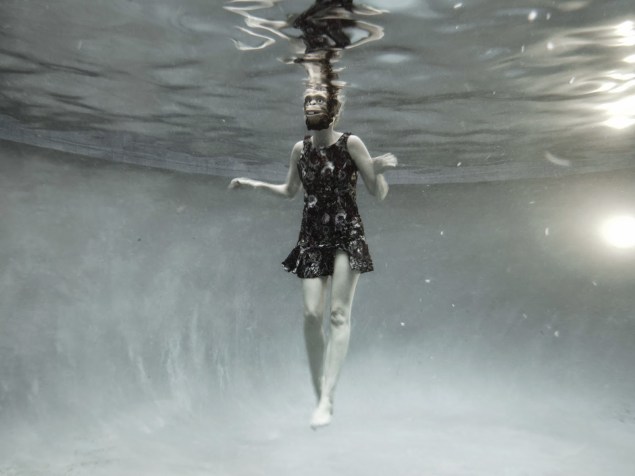 "Innocents," Moby's show of big photographs at Emmanuel Fremin at 547 West 27th looked at once placid and uncanny, a good combo. I needed a quote from the artist, and said so. "A hard, gemlike flame," I added.
Moby understandably said something along the lines of "Huh?"
"Walter Pater," I said. The late 19th century Brit critic had said it was necessary for artists to burn with "a hard gemlike flame."
O.K. I still hadn't made much sense but he was on it right away.
"I'm not charismatic enough to be a cult leader," he said. "So this is my substitute center."
My turn to say, "Huh?"
"This is my benign apocalypse," he said.
Moby's show, all masked bodies, crazy-gorgeous sunsets and even a gorilla-girl floating in a pool, is, again, called "Innocents." So moving onto "Disturbing Innocence," the show curated by Eric Fischl at the Flag Art Foundation on 25th Street seemed a natural segue. Mr. Fischl observed that the show brings together "over 50 artists who play with dolls" but this is only metaphorically so. Yes, Hans Bellmer is present and incorrect and there are dolls by Cindy Sherman, and John Waters' scary Playdate with a Michael Jackson and a Charles Manson doll, and there's plenty more, including a mannequin of a naked blonde, lying sideways, with a hinged and lift-able left leg. There's a big bowl of walnuts alongside the piece and the gallery-goers were cracking nuts by inserting them, one nut at a time, into the vagina.
On the other hand, the naked pre-teen Brooke Shields, glimmering in a bath, by Gary Gross, as appropriated by Richard Prince, ain't no doll nor, I think, is the lushly lipsticked gal not out of her teens (if that) zoning out with dreamily closed eyes on the catalog cover.
So, back to Moby's Benign Apocalypse. It happened that I had been recently talking to Mel Ramos, the first-generation Pop artist, long resident in Oakland, whose favorite subject matter was and is unreal pin-uppy babes, healthily aglow, and either naked or dressed in basics. He was telling me about being picketed by women. But that had been the mid-'70s. The young women drifting around the Flag Art Foundation mostly had wicked little grins and a number of them were amongst those putting the nutcracker—actual title, Lysa III—to use.
Mike Cockrill was one of the artists going around Flag and his own work—such as The White Papers, which he made with Judge Hughes—has drawn plenty of fire for its sexual content. (Think Goldilocks astride Baby Bear, for starters.) "I think the politics have changed," he said. "Women would get very offended by overt sexuality. They would come after you. But I think younger women are amused by it." He added that it was to the point that half the artists in the show were women.
Indeed, the dreamy wench on the Flag Art Foundation catalogue cover is by Inez van Lamsweerde and Vinoodh Matadin. The walnut cracker is by Jennifer Rubell. "It's an automatic shift in the conversation when its women doing it," Ms. Rubell says. "When it's women looking at the male view."
So Benign Apocalypse or no, there sure are changes. (Though not at the auction houses, where, save for a suite of Cindy Sherman's film stills at Christie's and a would-be seven-figure Tauba Auerbach, plus a smattering of Bourgeois, Kusama, Mitchell and Mehretu, girls are still rare at the big November sales.)
Over to Sean Kelly for the Marina Abramović show, "Generator." I was barely in the door before somebody mentioned that yes-she's-a-woman Ms. Abramović had made No. 5 on the Art News Power List and was the first listed artist. The show is a follow-up from the same at London's Serpentine Gallery and we were told we were to be blindfolded. Ms. Abramović said something or other to me about the KGB as I was stowing my jacket and mobile in a locker. I attached my black blindfold. A young woman led me out into the nothingness, telling me to raise my hand when I felt I'd had enough.
You are gradually sensitized when blindfolded. The colors are vivid at first, then they soften. You sense a draft. An opening? A thrumming, like a sea, or winds, began to take on the tonalities of murmuring voices, but made no sense. Disturbing. Hands brushed my body. Soft, female hands. Then were gone. I danced, as I tend to. Time passed. Now and again, bodies bumped into me, other hands made contact, passed on. I continued to dance, occasionally doing the One Potato, Two Potato thing, as a guesstimate of the time passing. At last I raised my hand, was taken off the floor, removed my blindfold.
I learned I had been on the floor an hour and 20 minutes. "You were dancing with Rufus Wainwright and his husband," somebody told me.  Hello, You Tube..
Tony Guerrero of Whitebox was walking into the now teeming gallery as I left. "Marina is like a rock star," he said.
So to the Planthouse on 29th and 7th for "The Floral Ghost," a show of drawings and engravings by artists including Fred Tomaselli and Philip Taaffe, curated by May Castleberry of the Museum of Modern Art and Raymond Foye of the Hanuman Press. A great space with walls of white-painted brick. (That will sadly be torn down and turned into a one of those hotels that are going up in the neighborhood, I'm told.)
The opening was alive with people having real conversations. "I like flower districts," said the artist, Mr. Tomaselli. "I used to live in the Flower District in L.A. You'd think people who live in a Flower District would be laid-back. It was more: 'What you want for those roses?' 'Fuck you.' "
Jack Bond, the Brit film director, a white-scarfed dapper tough, described a meeting he had had with Salvador Dalí in the Meurice Hotel. Bond wanted to talk Dali into cooperating with a documentary but Dalí's Brit manger, who Mr. Bond said was an actual MI6 agent, had said it would never happen. Bond told the artist: "I want to get so inside Salvador Dali that I destroy his life!"  Dali shook his hand and said "This movie will be made." And it was.
That's how openings used to be! Real people. Not wraith-like consultants guarding their little black books.
Onto Hans Haacke at Paula Cooper (or had I already been there?), an austere tough-minded show from an amiable soft-spoken artist who I hadn't seen since he busted the floor of the German Pavilion at the Venice Biennale. Funny, the women artists are in short supply but the women dealers run much.
Elsewhere on the circuitry the apocalypse seemed less benign, and certainly less female.
At Pace in Chelsea there was terrific work by David Hockney, the work made with iPads and a stunning multiple video in one space but in the adjoining spaces there were abstractions by a Chinese artist, Wang Guangle. They were … uhh, perfect. Yes, each and every one. Except I found myself rather preferring the gallery floors, which were of dove-gray poured concrete, glimmery, and enlivened by interesting small flaws.
Up to the artist's website. Here Mr. Guangle references the fact that folk in northern Fujian buy a coffin when they turn 60 and thenceforwards paint a layer of lacquer every year until they die. Fascinating. But it didn't for me, so to speak, bring the work to life.
Then to Hasted Kraeutler, once a pure photography gallery, no longer. On view were three-dimensional pieces, bas-reliefs not freestanding sculptures for the most part by a Korean artist, Kwang Young Chun. Again pure perfection. I thought of some Asian instrumentalists I had heard who have breathtaking technique but no apparent heartbeat. Come to that, I thought of Pei-Shen Qian, whose immaculate mimicry of the techniques of Robert Motherwell, Jackson Pollock, Mark Rothko—innocently made, he recently insisted on "World News with Diane Sawyer," and for which he had certainly been grotesquely underpaid—somehow or other showed up in the Knoedler's inventory as "authentic" works. For some artists, planned or otherwise, fake it until you make it.
Two centuries ago, Ernest Meissonier made art for the French Bourgeoisie, often flawless images of Napoleon over and over again.
This seems the age of the Meissoniers of Abstraction.