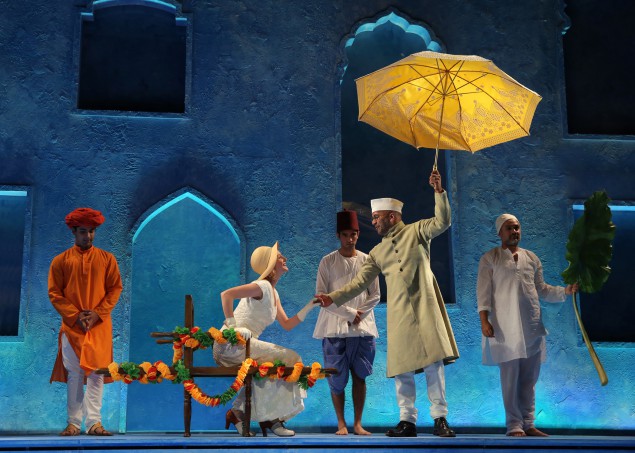 That elegantly witty playwright who wields a mean cricket bat, Sir Tom Stoppard, is back in town, with two top-of-his-game revivals. Indian Ink opened September 30 at the Laura Pels Theater Off-Broadway, and two days later The Real Thing starts previewing at the American Airlines Theater for an opening on October 30.
Good playwriting, explains The Real Thing's good playwright, is like a cricket bat, "several pieces of particular wood cunningly put together in a certain way so that … if you get it right, the cricket ball will travel 200 yards in four seconds, and all you've done is give it a knock like knocking the top off a bottle of stout, and it makes a noise like a trout taking a fly. What we're trying to do is to write cricket bats, so when we throw up an idea and give it a little knock, it might … travel."
It takes one to know one, and Mr. Stoppard is a lover of language pretty much without equal in contemporary theater. Dazzling Repartee and Clever Wordplay: A Specialty, reads his card. But the triumph of The Real Thing, as well as of Indian Ink, is in going beyond the words and finding the real thing hiding underneath them—the deeper feelings that the words usually hide. It's a heady way to the human heart.
"The older I get, the more important I think it is to move people," he admitted. "I would like audiences to go away thinking of these plays essentially as love stories."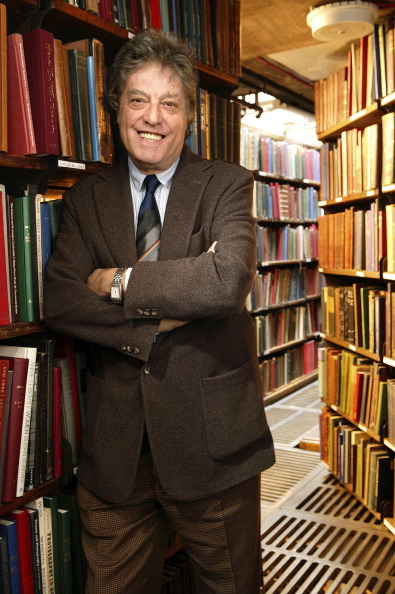 For a person of his conspicuous intellect, Mr. Stoppard has surprising pockets of inspiration—cricket and rock, for starters. Pink Floyd founder Syd Barrett can be found in the dramatic mix of Rock 'n' Roll, his most recent (2006) play, and the band's music was used for scene transitions. In 2013, Mr. Stoppard wrote a radio piece for BBC called Darkside, celebrating the 40th anniversary of Pink Floyd's album, The Dark Side of the Moon.
Many of Mr. Stoppard's musical guilty-pleasures have been ascribed to Henry, the outwardly glib but inwardly guarded playwright in The Real Thing who hates "music" but loves the "noise" of rockers. Like Noel Coward, he knows the potency of cheap music. How cheap? Well, the play's recurring anthem is The Monkees' "I'm a Believer," and the curtain falls on "I'm a believer / I couldn't leave her / If I tried."
Not to apply undue pressure to the upcoming Broadway debuts of Ewan McGregor and Maggie Gyllenhaal, but Mike Nichols' original production of The Real Thing won Tonys for Best Play, him and the two leads, Jeremy Irons and Glenn Close, and the 2000 revival that director David Leveaux brought over from The Donmar Warehouse won for Best Revival and its leads, Stephen Dillane and Jennifer Ehle.
"That last one was a production I liked a lot, and, obviously, Mike Nichols' version is one of the events of my life and career. I'll remember everything about that forever."
In particular, Mr. Stoppard remembers the 17-year-old Cynthia Nixon, who not only played Christine Baranski's daughter in The Real Thing but also—simultaneously, a few blocks away—another role in another Mike Nichols show (Hurlyburly).
Now, three decades later, Ms. Nixon finds herself in Ms. Baranski's role. How does that casting make Mr. Stoppard feel? "Very fatherly," he quipped warmly.
The Real Thing begins, teasingly, with the unreal thing—a play-within-a-play called House of Cards, in which we see Max, in a silk smoking robe, waiting for his wife, Christine, to return from her latest affair. When he accuses her of adultery, a brittle battle of bon mots erupts and continues till they decide to call the whole thing off.
 In scene two, we realize that Christine is actually married to a playwright, Henry, who wrote the play for her, and that Max is an actor whose wife, Annie, is having an affair with Henry. When Annie admits as much to her husband, he reacts—contrary to the witty repartee of his stage performance—with messy emotionalism and sobs.
It's easy to imagine some real Stoppard seeping through the cracks of all this calculated verbiage—and that's reinforced by his off-stage relationship with Felicity Kendal, who originated the role of Annie in London. He contends that he developed the plot before she entered the picture, but she did seem to scuttle his second marriage and she did stick around for the lead in Indian Ink, a play he considers even closer to him—primarily because it is the only play in which he drew from his childhood in India.
Mr. Stoppard left his native Czechoslovakia the day it was invaded by the Nazis and settled with his family first in Singapore and then in India. "My father was killed in the war, and my mother remarried a British Army officer called Stoppard. We were in India for four years, until the war ended and we all moved to England to live."
But that exposure to India at an early age lingered in his dreams and eventually took shape as a play. Unlike the other Stoppard plays, Indian Ink bypassed New York completely and had its U.S. debut on the other coast—in 1999 at San Francisco's American Conservatory Theatre, directed by ACT's artistic director, Carey Perloff, who is helming the current Off-Broadway production. 
Its slowness in reaching New York he chalked up to a problem that is no longer a problem: the scarcity of good Indian actors. For Ms. Purloff's San Francisco version, she was compelled to import Indian actors from England, including Art Melik.
Indian Ink employs two different time zones to tell a generation-spanning story—a device he used in Arcadia and The Invention of Love. "I've done it more than once?" he asked, feigning surprise. "I think I'd better stop." 
Here he bangs together simultaneously India of the '30s and England of the '80s, making the point that one can never really grasp the past.
A would-be biographer (Neal Huff) is trying to reconstruct the last days in India of a controversial poet (Romola Garai) by interviewing her elderly surviving sister (Rosemary Harris) 50 years later in England. Wickedly, the playwright can't resist using his twin settings to refute one era's assumptions with the truth of another.
At one point in the play, a character defines the Indian word rasa as "what you must feel when you see a painting or hear music. It is the emotion which the artist must arouse in you."
It's a heavy onus to put on an artist but Mr. Stoppard seems to have no problem being felt above his words.