[youtube https://www.youtube.com/watch?v=pBPhp5a3EnM&w=560&h=315]
TJ Miller, the guy who plays Erlich on Silicon Valley, is headlining at Gotham Comedy Club tonight. The hilarious Mr. Miller totally took some time out of lending his voice to a mucus commercial this week to tell us all about his upcoming set. Here are some facts gleaned from our convo (and Google stalking):
1. This is Mr. Miller's first headlining gig in NYC, even though he spent the summer living here (instead of his usual home of LA). Over the summer, he was too busy compulsively writing a movie called The Nihilist, a dark comedy with "violence, philosophy and some pretty funny physical gags," he said. "At one point, I smash a bunch of chips in a deli."
2. Mr. Miller likes Gotham Comedy Club because "it's classy there. You can wear a suit and not feel out of place." See photo of him in suit at right.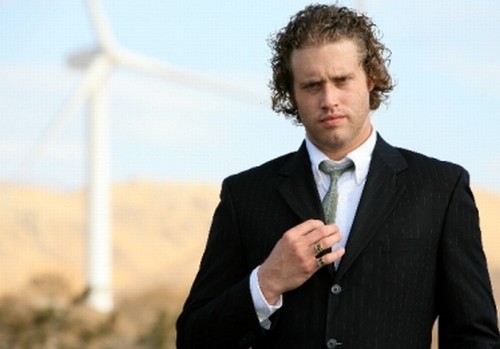 3. At his set tonight, he will debut new material he's been working on for about six months. It will deal with death anxiety and the "misogynistic pummeling of women's minds in America." Also, giraffes and the nickname "Old Broccoli Dick."
4. Previous standup bits by Mr. Miller may change the way you feel about champagne.
5. Mr. Miller correctly asserts that New York is cooler than LA. "It's kind of more our speed," he said (he was talking about himself and his fiancée, not employing the royal we).
6. Comedy runs in his family; his sister is active at Upright Citizens Brigade. The two of them did an improv show over the summer called Miller Time.
7. Mr. Miller has been doing standup for about 10 years, and he has no plans of slowing down, even now that he's officially ~made it~ as a star of one of the funniest shows on TV, Silicon Valley. "I'll do standup forever," he said. "I'm a comedian, not an actor… [With standup,] there's no barrier between you and the audience. You produce it, write it, direct, perform, edit it – all that stuff. It's very important to me."
8. Right now, his goal is to help people to release their death anxiety through his comedy. "It's a really easy thing to do," he said. "It's not like people have been trying to do that since Ancient Greece."
9. He is very similar to his character on Silicon Valley, proto-neckbeard Erlich Bachman. "I'm an excellent con artist, obviously," he said. "I'm not very talented [false!] and I've found quite a bit of success. Like Erlich, I feel like I don't need to do the research. It's more about the confidence."
10. The performance starts at 7 p.m.