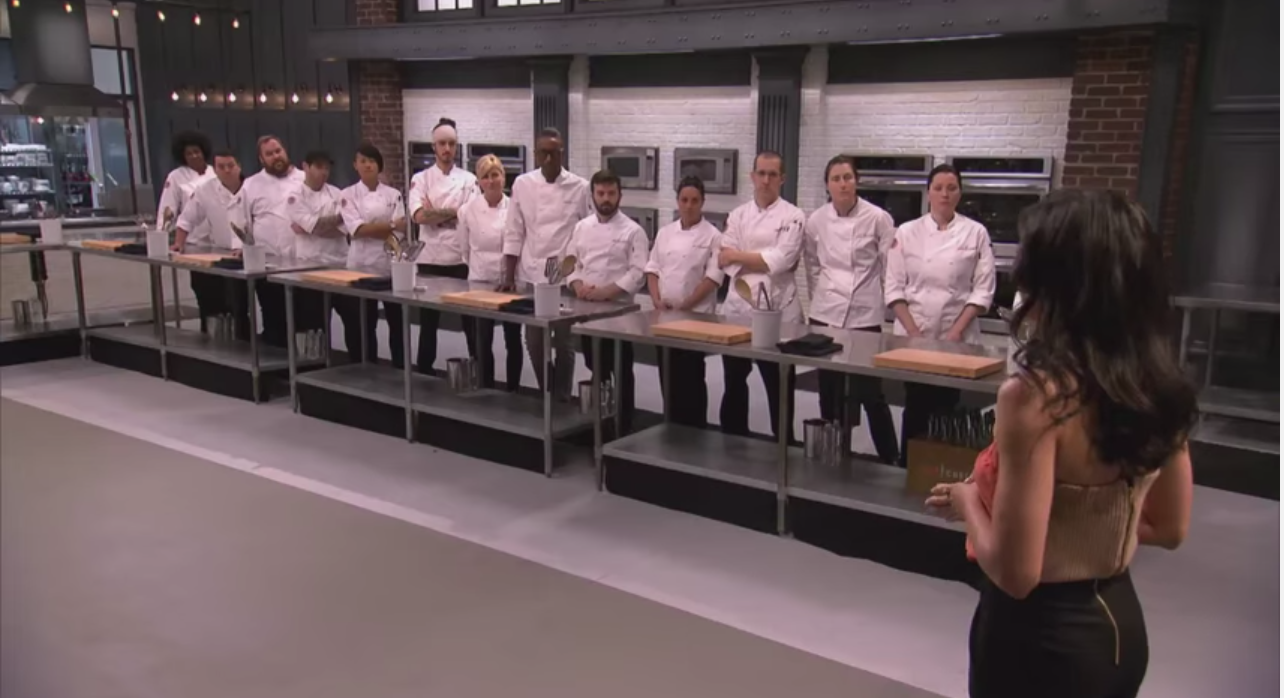 You can stop trying to fill the void with three-hour blocks of Chopped! or as many minutes as you can stand to watch of Cutthroat Kitchen: Top Chef is back for a twelfth season.
Television is a lot more crowded with cooking competitions than it was in 2006, when a younger nation awaited the crowning of its very first Top Chef. In some ways, Top Chef feels a little quaint now — the contestants aren't ordered to combine a novelty candy with venison for an entree, or given the opportunity spend prize money sabotaging each other.
Instead, Top Chef provides so much of what makes (some) reality television so great — genuine competition, big personalities throwing shade at each other, smart-but-tough judges who help us imagine what the food tastes like and demand it get more or less salt next time, and Padma Lakshmi, there to look awesome and remind us she likes spicy food but even she thought this was too spicy.
This season brings Top Chef to Boston, a city I lived in during college — which means I have visited many of its great cheap restaurants (and binge-drinking establishments) but have dined at none of the fancy restaurants the chef'testants are likely to hit up this year.
While many things about Top Chef remain comfortably the same, there's a new addition this year to the show's recurring stable of judges — Richard Blais, runner up of season four and winner of Top Chef All Stars. In his first appearance as a judge he doesn't put forth a ton of personality, but I'll give him the benefit of the doubt because I still daydream about a Nutella and burnt marshmallow milkshake I had at his burger joint in Atlanta a few years ago. Also, I liked watching him roll his eyes at techniques like "bacon powder" and "olive oil powder" which are soooo Top Chef season three.
The first episode offers a brief introduction to some of contestants at the start. There's the ridiculously fusiony guy — Katsuji Tanabe, who owns a Mexican-Kosher restaurant (no wonder the judges later complain his food is too complicated). There's the fat chef who works in the South, Ron Eyester, who promises to go against the hipster Top Chef archetype: "I'm here to prove you don't need to wear skinny jeans or have tattoos to win Top Chef." There's a bubbly blonde woman who declares she won some random best chef ever award, Keriann Von Raesfeld (of course that's her name). There's the guy in skinny jeans with tattoos that Ron was talking about, Adam Harvey. There's the hometown gal with a bad dye job, Boston chef Stacy Cogswell.
We get right down to it with the Quick Fire Challenge — an elimination quick fire. The chefs are tasked with a "mise en place relay race" (or: a prep your food relay race, for those of us who are less fancy) that involves teams of four breaking down four different pieces of seafood: lobster, mackerel, oysters and clams.
The challenge gives us yet another Top Chef stand-by: Feuding members of the same team. Two chefs, George and Gregory, argue over who should get the mackerel. George eventually gives up — only to regret it when Gregory is slow with the mackerel and leaves George to struggle brutally with shucking clams. The two combine to make their team the slowest; George was slower than Gregory, putting him up for elimination — but he can challenge another chef and cook his way to safety.
So of course George challenges Gregory, blaming him for stealing the mackerel, to a cook-off using their just-prepped ingredients. George cooks a self-proclaimed "simple" mackerel dish. Gregory uses the mackerel, oysters and lobsters in a trio: "If you come at me you better come correct because I'm gonna bring it." Richard Blaise says the oyster dish in the trio is "a really great first kiss. I got tingly inside." The first kiss wins, and George becomes our first casualty of the season: you might say he's dead as a mackerel.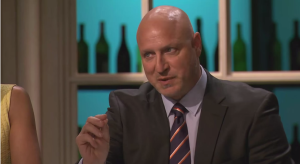 For the main challenge — when we finally get to see Tom Colicchio and everybody's fave lady foodie, Gail Simmons — the chefs are tasked with adapting the first recipe they ever learned to cook into something fancy they can serve at the "first ever" Top Chef food festival. There's the standard Whole Foods chaos, followed by some kitchen sniping between the chef who is doing too much (Aaron Grissom, braising pork belly in three hours) and the chef who is doing not enough (Katie Weinner, making broccoli salad — seriously, that's your plan?).
Among the stand-outs at the food festival are the mackerel thief, Gregory, who managed to make scotch bonnet peppers spicy but not too spicy, and Doug, a Texas chef who made fried chicken with watermelon. But the winner is Mei Lin, who made a high-end version of congee, a rice porridge, that involved caramel and fish sauce and looked very tasty.
But of course, more interesting than the good food is the judges' skewering of the bad. Tom on the broccoli salad: "There was a couple of clunkers, North Dakota broccoli?" Padma on the pork belly: "It's a mess. Mess mess messy mess." Gail rolling her eyes at Padma complaining about fatty pork belly: "Well, pork belly is sort of all fatty." Then there was a 20-ingredient dish with "petroleum" in the name from Katsuji, the fusion dude, that the judges found more complicated than complex.
But none were worse than the dish from Michael — a chef who annoyingly proclaimed himself an artist — who made a chilled corn soup with pickled cherries and sriracha caviar that the judges unfavorably likened to fish cereal. The judges told him to his face they didn't like it, during the festival. Afterward, he sniped: "I personally loved the sriracha caviar, and I tasted it and I got the heat, so I'm not sure what went wrong with their palates."
Michael made matters worse at judge's table — when he first said he too thought the caviar was fishy, but it was on the menu and "it just wouldn't look good if I'd take it off." Of course, Tom challenged him on why he would serve food he didn't like, leading Michael to say "I didn't think it was too bad," leading Tom to say that meant he didn't think it was good. Then, a full 180 from Michael, but too late: "I liked it. I didn't think it was too fishy."
And that was the end of Michael, who Padma gently asked to pack his knives and go.
So begins a season that has promised us a Thanksgiving meal at Plimoth plantation, a meal on the field of Fenway Park, and many other delightful romps through Boston. And don't forget, in the new world of Top Chef, nobody is really gone until they get knocked out of Last Chance Kitchen (just ask Top Chef Kristen Kish!), so our two losers — George and Michael — will have their chance to get back into the game, though they'd need to beat an awful lot of people to do it.
Top Chef always gets me wanting to cook — something I like to do to de-stress from my actual job, writing about politics for this paper — and while I can't (or won't) make sriracha caviar, I was inspired to cook the first dish I ever learned, too — tomato sauce.
Not just tomato sauce. Sunday sauce. The kind that simmers all day, the kind that forms the base of a giant afternoon dinner where a bunch of Italians yell-talk at each other on Staten Island. Sometimes I add meatballs (made from veal, pork and beef and cubes of Italian bread soaked in milk) and sausage, but to keep it simple I figured I'd share my basic, simple marinara sauce, which I learned from mother and have adapted slightly over the years. Anyone can do this — it's barely a recipe — and it's way better than a jar.
To give it that Top Chef updated flair (and also to try to not gain tons of weight), instead of serving it over pasta I served it over "spiralized" zucchini (yes that is a thing) which looks a lot like spaghetti.
You will need: a can of crushed tomatoes, a can of whole peeled tomatoes, a large sweet onion, fresh basil, a head of garlic, olive oil, Italian spices, bay leaves and pecorino romano cheese.
Chop up the onion and about four cloves of garlic. Put them in the bottom of a big sauce pot, and drizzle a healthy dose of olive oil over them. Cook over medium heat, stirring often, until they smell really good but not so long the garlic gets brown and bitter. Add in the can of crushed tomatoes. Add in the can of whole peeled tomatoes, and, before they get too hot, crush them by squeezing with your hands. You can also crush them separately in another bowl to prevent burning yourself, but then you have to wash the bowl.
Add a little water — I usually swish it around in the tomato cans first — a healthy handful of chopped or hand-torn basil, and sprinkle in a bunch of dried parsley and dried oregano and two bay leaves. Bring the sauce to a boil, then, reduce the heat and let it simmer. For a long time. Stir it occasionally, but be patient. To help thicken it up and to add some salty goodness, sprinkle in a healthy handful of grated pecorino romano cheese.
When it's done (which for me is whenever I'm tired of waiting, but try to let it reduce for a few hours) remove the bay leaves and serve over pasta or veggies or chicken parm or all three. Top with a ton of grated pecorino romano, enjoy with some pinot noir.