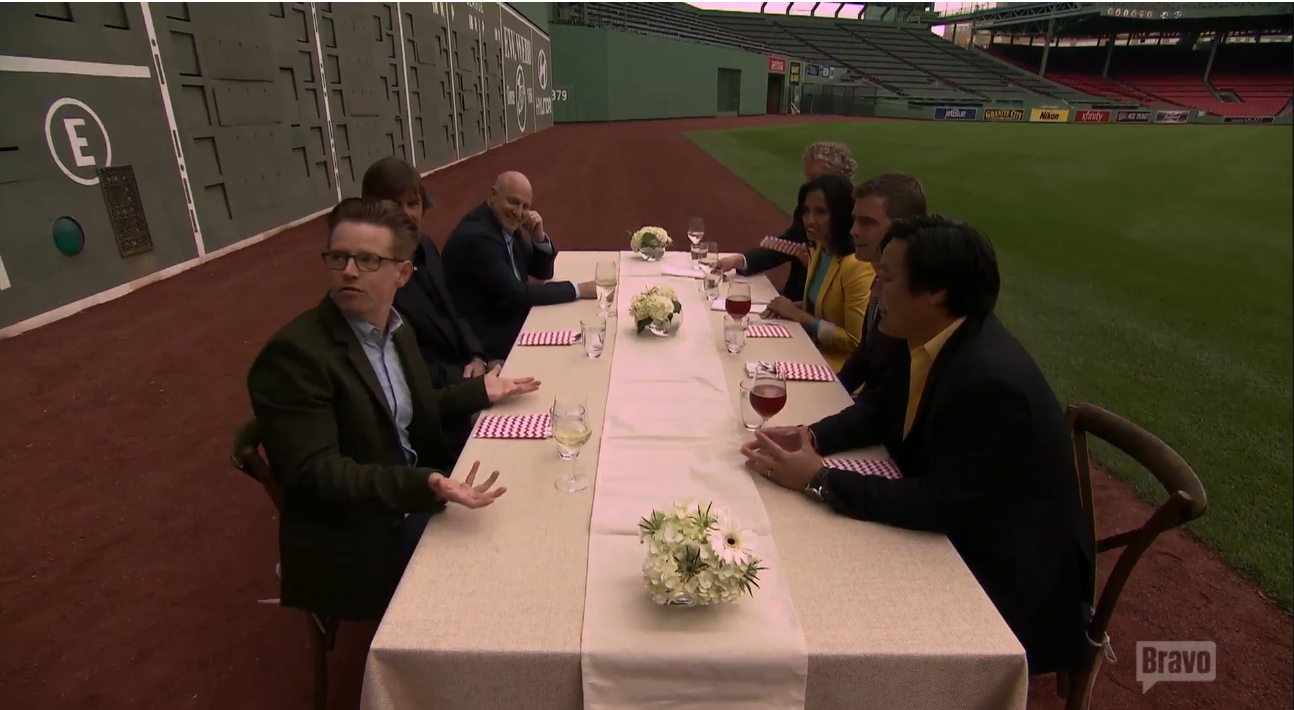 I hope you like baseball metaphors, because this week's Top Chef will be pitching them at you like so many…baseballs.
Last night Top Chef brought our chefs to that cathedral of Boston, Fenway Park, to cook upscale versions of low-end concession food. Some will hit it out of the park. Some will strike out. Do you see where this is going?
But first our contestants start with yet another Quickfire Challenge based on something that happened in colonial Boston. We did Paul Revere last week, so this week it's the Boston Tea Party, and chefs have to cook a quick tea-inspired dish for Ming Tsai, our celebrity chef guest.
We watch as Ron burns a beautiful duck breast, but is smart enough to toss it out and serve one that is properly cooked, and ends up in the top three dishes after repeatedly being on the bottom (that vanilla salad last week was his idea). Rebecca boasts that she's a double threat because she is both a sous chef and a pastry chef, but delivers a boring tea cake and ends up on the bottom.
And then there's Aaron — the Marcel of this competition, the guy everyone already hates, who is quite clearly intended to be our villain. He spends a lot of time picking on other chefs, particularly the less aggressive women contestants: Keriann (with whom he feuded last week) and Katie. Like Ron, Aaron knows he's made a big mistake — he overcooked monkfish — but he serves it anyway, only for Padma to tell him it was "hammered." He winds up the loser of the challenge.
The winner, meanwhile, is Gregory — who has been doing really well since his turn making scotch bonnet peppers tasty in episode one — with strawberry tea tuna crudo. As we all continue to learn the chefs names together, here's a quick description: Gregory has cool hair, and also apparently used to have a serious drug problem, we learn in the middle of the episode. Now he does yoga instead.
Like the first episode, the Quickfire is an elimination one — so Aaron is able to challenge someone of his choice and, if he wins, both stay, but if he loses, Aaron goes home (or, to Last Chance Kitchen). Keriann, his foe from last week, is just dying for him to make good on his promise to cook her under the table. But he wimps out and chooses Katie, who he made fun of for her broccoli salad in episode one and whose culinary style "really bores" him.
Greg further endears himself to everyone by pointing out that everyone is "secretly rooting" for Katie. But of course, this is Top Chef, so the villain simply can't get sent home this early. Even though Aaron's shrimp roll — which is made of shrimp he boiled in a bag and mushed into a spring roll "wrapper" — looked utterly unappetizing to me, it beat out Katie's under-seasoned pasta (let us never forget that salt is the biggest factor on Top Chef).
Done with the Boston Tea Party, it's time to move on to another Boston thing — baseball. The chefs pick a ballpark food and have to make a fine dining meal to be served at Fenway Park. People who don't care about sports — or worse, people who root for New York teams, like chef Adam — are subjected to much-loved and much-hated and much hate-loved Boston Globe writer Dan Shaugnessy waxing poetic on the ballpark. The Boston chef, Stacy, is teary-eyed.
I've been to Fenway a few times — I lived a couple blocks away when I was in college — and even attended a senior week barbecue there that was pretty cool, I guess. It's a great ballpark. It was fun to watch the chefs cook in tiny concession kitchens. But man, the Boston branding is already starting to feel aggressive. We've had repeated history lessons, treacly challenges with marathon first responders, overly worshipful baseball stuff…and you know more sports is coming because New England Patriot Rob Gronkowski is in the previews. I felt, for a moment, like I wanted to fast-forward to other challenges with broader appeal — like the teases we've seen of the judges shopping in Whole Foods to make their own food. Or even things that are Bostony but less Bostony, like the chefs cooking Thanksgiving dinner like pilgrims or going to a cranberry bog. And I love Boston. I'm nostalgic for it. But as I said last week, the setting can feel a little jammed into the show's story line.
At Fenway, a few chefs learn some lessons. Adam learns not to overcook his halibut (you think he'd have gotten that after Aaron's debacle). Katie learns not to doubt herself. She cooks a pop-corn inspired dessert in homage to her late dad; it comes out wrong, she introduces to the judge's as a bad dish, and surprise, they love it for what it is, rather than hating it for what she meant to make. It's like when I send a story to an editor and start out with "it's too long and not that good" (like this recap). This is not generally a good idea. Just pretend it's good, and maybe it will be.
Hometown hero Stacy has a home run with picked peanuts, but it's Greg — who had immunity anyway from winning the Quickfire — who wins the challenge, with a duck breast everyone loves. Richard Blaise, back this week, says: "This is a money ball." Really. Still, I liked Richard better this week than the first.
Unfortunately, Aaron's food comes out pretty good, not great, and he remains safe. His foe Keriann makes bad shortribs that nobody likes and aren't tender. Katsuje, the guy who always uses too many ingredients — wait for it — uses too many ingredients. Ron makes a popcorn soup with a gigantic fish ball in the middle of it. Those three end up on the bottom.
Again, with all the critique coming in real time, and all the contestants judged together, we lose some of the drama. Aaron still manages to cram some in with a fight with Katsuje, telling him he made bread pudding which "is what a five year old cooks." (Aaron made a mushy hot dog thing, which is what five-year-olds eat.)
Katsuje is advised to be a better editor. Keriann to cook better stuff. But it's Ron who's going home for his giant portions of unrefined food and his baseball themed fish ball in the middle of a soup. Sometimes, Tom says, soup should just be soup. (OK, fine, then stop theming all your food challenges after baseballs and stuff!)
A teary Ron insists he's going home ahead of his time, while worse chefs remain. But the big chef is unrepentant about his big food: "All these little miniature entrees that these kids are making, that's not what I do."
Keep cooking big, Ron. Bring it to Last Chance Kitchen.