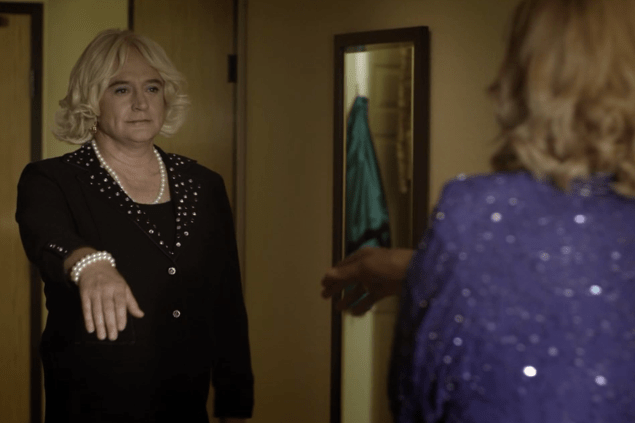 "No one has ever seen me but me!" hears Maura from the bathroom in her hotel room. It is 1994, and she is dressed far more gaudily than she dresses in 2014. Moments later, Marcy emerges from the bathroom. We met Marcy in the last episode as "Mark," the fellow cross-dressing magazine aficionado at the bookstore. Dressed as a beautiful blonde bombshell, she couldn't look more different than she did then. (And, given that we learned in the pilot that Maura habitually dates Jewish women named Marcy, I have a feeling that Marcy's appearance here is meant to give us a clue about the types of women Maura finds attractive.)
Truly "seeing" each other for the first time, Marcy and Maura introduce themselves to each other, leading to what is essentially Maura's origin story. Maura introduces herself as Daphne Sparkles, which Marcy derides as "too stripper-y." After a moment of thinking of a more "elegant" name, Marcy re-names her Maura. Maura looks back at her, frightened yet confident, as if this truly is the first time anyone in the world has "seen" her.
"Moppa" is about perception. More specifically, it is about the ways in which the insular Pfefferman clan is seen by outsiders, be they friends, lovers, or strangers.  The title, a word that combines "Mama" and "Poppa," refers to the name Ali, rolling on MDMA, gives Maura when Maura comes out to her. It's a moment of clarity that Ali can only have while stoned, detached from the immediate reality of her family. By morning, Ali's drugs have worn off, the truth of Moppa's identity has set in, and she joins her sister and Maura for brunch at the Beverly Center.
On their way to the restaurant, Sarah, Ali, and Maura pass through a department store cosmetics section and are stopped by a fabulous and excitable man asking to try products on them. Maura jumps at the chance to experiment with makeup, as does Sarah, who drags a reluctant Ali along. The three Pfefferman women respond to their makeovers in completely different ways: Maura is eager to explore the beauty world, deciding that she "should buy a great many of these products"; Sarah texts a selfie of her new "dewy-ass cheekbones" to Tammy; Ali covers herself in foundation and powder, refusing all offers of color and eyebrow-plucking.
The scene is beautiful and bittersweet. Seeing Maura treated normally, like every other woman who would walk over to a mall cosmetics counter, is touching. Her identity and appearance is never questioned, and she's permitted to be as feminine as she wants without judgment. But while that acceptance works for Maura, a woman actively wants to be seen as feminine, it's not nearly as comfortable for Ali, who suffers through every moment of her makeover. Later in the episode, Ali cuts her hair short at a barbershop and scrubs her face clean in her bathtub, in an attempt to remain true to her own gender identity. The cosmetic salesmen see the Pfefferman women as equals in their gender, which is a wonderful thing, but the nuances in how each embodies their genders are lost to the unobservant gaze. Still, the equality that Maura and her daughters experience at the makeup counter is precisely what makes the moments that follow all the more painful.
Early in the episode, when Ali asks Sarah if they should tell Josh about Maura's transition, Sarah refuses, explaining, "Outing a trans person, it's like an act of violence. It's like stripping someone naked in the middle of the cafeteria and making them go eat by themselves. Google it." She has apparently forgotten her own advice mere hours later, because after paying for their beauty products, they take a trip to the restroom. Ali and Sarah encourage a nervous Maura to join them in the women's room, and as soon as they walk inside, Sarah tells Maura, "Dad, if you have to go in front of me, that's fine." Sarah has unwittingly outed her Moppa as trans to the rest of the women in the restroom, causing a chain reaction of verbal abuse and discrimination that can't be undone. Maura's reticence suggests that this is not the first time she's encountered problems in a public restroom, and her ultimate coping strategy – holding it in until she can use a Port-a-Potty at a nearby construction site – is crushing in its realness. In a single day, Maura can be "seen" as both a woman and an imposter, meaning that the battle she's been fighting for over twenty years is far from over.
Meanwhile, Josh struggles to comprehend the perceptions of himself and his family harbored by his lovers. First, we see him in bed with Ali's friend Syd. At Josh's insistence, Syd promises that their affair will stay in her "cabinet of Pfefferman family secrets," along with Ali's Valium drug dealing in high school and Josh's affair with his babysitter. Josh scoffs at Syd's description of his relationship with Rita. "You mean every fifteen year old boy's wet dream?" he asks. Syd illustrates her discomfort by pointing out how odd the dynamic would seem if Josh had been a fifteen year old girl, sleeping with a much older man, but he refuses to listen.
But something about Syd's comments hit a nerve in him, so later, Josh visits Rita to ask the questions he's never considered. "Did my parents know we were…what we were doing?" "Of course they knew," Rita tells him. "Everybody knew." When Josh questions how normal that is, Rita reminds him, "Your parents are strange people, honey." So while Syd and Sarah saw Rita to be creepy and predatory, and Josh saw Rita as his first love, Maura and Shelly saw her as…healthy sexual experimentation? It's unclear how Maura and Shelly are "strange" (because being a trans woman isn't "strange") and what that strangeness might have to do with enabling the sexual abuse of their son. We still know so little about Rita that it's hard to say exactly what the Pfeffermans though Josh might be doing with her. I'm hoping for an episode where we're able to see a bit more of Rita from her own perspective, so that we may be able to "see" her as Josh does. Until then, she will remain one of the more mysterious secrets in Syd's cabinet.