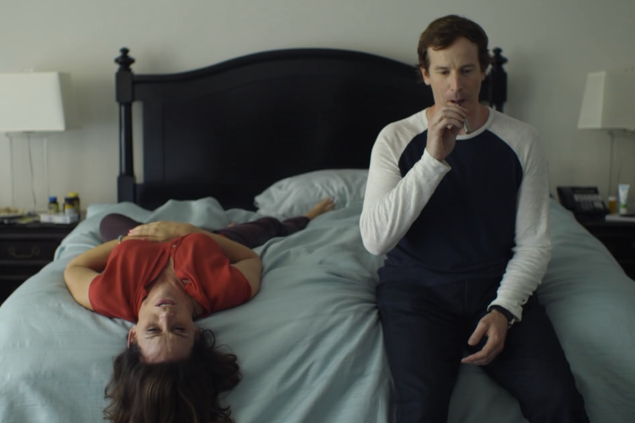 Despite their differences, the Pfefferman kids share a few personality traits. Next to the narcissism, their biggest commonality is their inability to maintain healthy relationships. Sarah is frustrated by Tammy's controlling tendencies, so she starts to lust after Len again (yes, the same Len who we last saw wielding a knife at Shabbat dinner). Josh tries to woo Rabbi Raquel, even though we all know that she's too good for him, and even though his relationship with Syd is ongoing and his caretaking of Bianca feels just a tad lecherous. And Ali is still shaken by her experience with Dale, so much so that she's unable to process the news that Syd is sleeping with her brother and has had a crush on Ali since they were teenagers.
None of the Pfefferman kids are making smart relationship choices, and our knee-jerk reaction, as an audience, is to think: Well, of course not. They're children of divorce. They grew up with a hovering, status-conscious mother and a closeted transgender father. Who could walk out of that unscathed? But it's not so simple. In "Looking Up," we learn that, while Shelly and Maura had serious problems that led to a necessary divorce, they now have a beautiful, trusting, intimate friendship, proving that their relationship is healthier than ever.
In flashbacks to 1994, Mort admits to Shelly that he attended Camp Camellia and that the academic conference was a cover story. "It's a room full of straight men in dresses?" Shelly asks, in an attempt to understand. "Guys bring their wives," Mort tells her, "and it's not what you think." Mort invites Shelly into this part of his life, culminating in a later scene, when Shelly meets Maura for the first time.
Shelly can't believe that the person in front of her is her spouse. "How long has it been you?" she demands. "Was it you when we met? Was it you on our wedding night?" "Yes," Maura reveals, finally coming out as the woman she's always been. But Shelly can't handle it. "I can't. I'm done," she tells Maura, signaling the start of their divorce process.
A lot can change in twenty years, though. Until now, the show has led us to believe that little has changed for Maura and Shelly – we never see them interact, for starters, and we don't know what Maura has told Shelly about her transition. Finally, however, we learn that they do have a close companionship. Maura turns to Shelly after Sarah, Josh, and Ali abandon her at Trans Got Talent. Shelly confides in Maura when she's overwhelmed by Ed's declining health and can't find solace in her children. If nothing else, Shelly and Maura are able to share a bond over their mutual disappointment in their children.
The bond that Shelly and Maura share – wherever it may come from – is what is finally able to unite all five Pfeffermans under one roof. With Ed's illness rapidly deteriorating his quality of life and Shelly's ability to cope, Shelly and Maura ask the kids for their help in euthanizing Ed. "We're gonna ease Ed into the next transition," Maura tells them, her newfound understanding of "transitions" shaping her view of the world. Shelly expresses her gratitude for Maura's help, and while she stumbles over correct pronoun usage, she listens to Maura and acknowledges her for who she is. The validation is twenty years in the making, and it wouldn't have come about if Shelly and Maura weren't steadily working towards healing and understanding in their own interactions. The example they set for Sarah, Josh, and Ali is one that we can only hope will be followed.
The subtlety with which Shelly and Maura's friendship was lovingly depicted was not the only aspect of "Looking Up" that deeply moved me. I also wanted to take a moment to acknowledge how beautifully the episode depicted euthanasia. The decision wasn't made lightly; Shelly has done her research (in her words, "Sometimes, I do some Googling"). She and Maura make sure that the whole family is together so that they can create the most warm and peaceful departure for Ed.
As for the act itself – Transparent opts for the symbolic and ambiguous approach, rather than the graphic one. While Shelly, Maura, Sarah, and Josh sit in the kitchen and discuss shiva arrangements, Ed stands up, unlocks the front door, and wanders out of the house. What follows is a breathtaking point-of-view shot in which we see all of the places where Ed likes to wander – the pool, the stone path, the lake with the ducks. Since Ed is so ill, I find it doubtful that we are meant to take this scene literally. Could he really just wander out of bed like that if he's so weak and frail and close to the end? It's possible that the confusion that caused him to wander in "Wedge" is acting up again. My own interpretation, though, is that it doesn't matter if Ed is literally able to wander outside anymore. What matters is that, in his final moments, his mind is able to take him back to the places that brought him peace toward the end of his life. While his family compassionately frees him from his body, he's able to leave Shelly's life as gently as he came into it. It's the perfect send-off for the character, and a touching end to the season's penultimate episode.