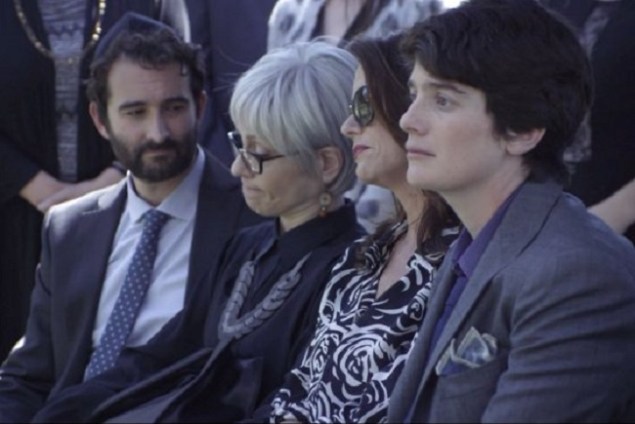 Earlier this week, I watched Shawn Levy's new film This Is Where I Leave You. He's jokingly referred to it as "the first definitive shiva movie," though the film's understanding of Jewish grieving rituals is limited to sitting low to the ground and being stuck in a house with relatives you don't particularly like for seven full days. Transparent's season finale explores shiva customs in a bit more depth, positioning Ed's death as the catalyst for necessary Pfefferman catharsis.
"Why Do We Cover the Mirrors?" is when the frustration with family secrets finally overpowers the need to actually keep them, and a funeral and shiva is the ideal vehicle for bringing all the characters and storylines under the same roof at the same time. Len is the first to articulate his exhaustion with secrecy. To be honest, I'm still shaken over the knife incident at Shabbat dinner and confused as to why he's allowed to be in the Pfefferman house and around his kids, but everyone else – especially Sarah – seems to have moved on from that disturbing incident. Sarah's growing annoyance with Tammy leads her to nearly hooking up with Len in the laundry room, but before they get that far, he stops her by saying, "I don't want to be your fucking secret. Just because you're from this family doesn't mean you have to be like this family." He wants to have a relationship with his wife, not a secret affair inspired by her temporary growing pains with her new partner. Sarah knows she can't give him that, so she proposes to Tammy instead.
Meanwhile, Rabbi Raquel is willing to keep up with the secrecy and hide her relationship with Josh while presiding over a family funeral, but Josh encourages her to be out and open. She does, by gushing to Ali about her feelings. But Ali, still bitter about Josh and Syd's secret love affair, implies to Raquel that there are still too many secrets from Josh's past that she has yet to learn. Raquel decides not to fall down the inviting rabbit hole of keeping and maintaining Pfefferman family secrets, so she walks out on Josh in the middle of shiva. He tries to stop her by telling her that he loves her and wants to have her babies, a mirror of what we heard him say to Kaya at the start of the season; it's clear that this is more of a reflection of what he wants to feel, rather than what he actually feels. Even though there's something refreshing about seeing Josh's secrets bite him in the ass, it's hard not to feel genuinely bad for him when Raquel dumps him.
Josh's desire to be a father is still ringing in our ears when he walks back into the house and comes face-to-face with Rita and the secret she's kept from him for over a decade: their teenage son, Colton (Alex MacNicoll). It's actually a sweet and hopeful moment for Josh, and the more he and Colton begin to talk and get to know each other, the more it seems that an adult child whom he doesn't need to actually raise is exactly what he needs. I'm curious to see where their relationship goes next season.
But it's Ali, perhaps more than anyone, who is finished with Pfefferman secrecy. Her anger has been steadily growing, first with the discovery of Syd and Josh's relationship and then with Shelly and Maura's willingness to euthanize Ed, but the funeral and shiva put her over the edge. She asks Raquel the titular question while they walk around the house putting bed sheets on top of all of the mirrors. She's envious of Raquel's religious knowledge, and though she's learning what she can – covering mirrors, shoveling dirt into Ed's grave alongside her family members, cutting her tie as a symbolic rending of garments – she feels that a piece of her education is missing, which she blames on the fact that she didn't have a Bat Mitzvah. (Something about the timeline of events feels off, because we were led to believe that the Bat Mitzvah was canceled at the last minute, which would have been after Ali had already completed the education necessary to have a Bat Mitzvah. What else would she have learned about Judaism in those final days or weeks that she wouldn't have already been able to access? But, okay, suspension of disbelief, I'll roll with it.)
Her frustration mounting, Ali approaches Shelly to ask why, exactly, she was allowed to cancel her Bat Mitzvah. That's when the final closely kept family secret comes to light – "Your father wanted to go to dress-up camp that weekend. Camp Woman Wonka." The revelation about Maura's weekend at Camp Camellia leads to what is arguably the most uncomfortable moment of the season, when Maura and Ali's anger at each other reach a boiling point. While I can understand why Ali would be upset to learn that Shelly had known about Maura's identity for twenty years and that Maura had put her own needs before her family's when canceling Ali's Bat Mitzvah, the hostility that they express toward each other in this scene is difficult to watch. By all accounts, Ali and Maura have maintained one of the closest relationships in the family. Maura's accusation that her financial support of Ali is the only reason why Ali speaks to her is particularly cruel (though maybe a little bit true) given the gentleness we've seen between them throughout the season. Their relationship is far from perfect, but I never would have anticipated the level of anger in this scene. Though, perhaps, that's exactly the point.
"Why Do We Cover The Mirrors?" is a high-intensity end to the season. There's a brief reprieve at the very end, when all five Pfeffermans (plus Colton) put aside their anger and resentment and join together for a family dinner, but there's still so much uncertainty in the season's final moments. Will Sarah and Tammy get married? Will Josh make a second attempt at winning back Raquel? Will Ali and Maura forgive each other? Will Davina stop subjecting herself to profoundly awkward Pfefferman family gatherings? Will Shelly relax about the mustard? I have a lot of questions about where season two will take Transparent, but if this season was any indication, it'll be an entertaining ride.