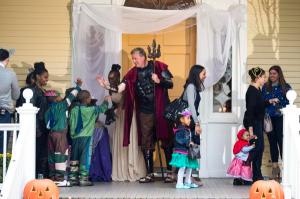 Mayor Bill de Blasio and his wife Chirlane McCray were decked out in Greek finery at Tuesday's Gracie Mansion Halloween party, and they didn't have to pay a single drachma.
The First Couple's Halloween costumes were paid for by Broadway Stages, a Brooklyn company whose employees donated $25,000 to Mr. de Blasio's campaign. The outfits were rented from Abracadabra for $350.
Broadway Stages, a film, television and music production facility, was responsible for the mayor appearing on The Good Wife in March.
The company also paid for the costumes of 100 children from city homeless shelters who attended the Gracie monster mash.
City Hall spokeswoman Rebecca Katz focused on the charitable aspect when the New York Post asked why the mayor didn't fork over money for his threads.
"Hundreds of kids enjoyed a very happy Halloween at no cost to taxpayers," Ms. Katz told the Post.
That's great, but it doesn't quite excuse their host's ungodly action.