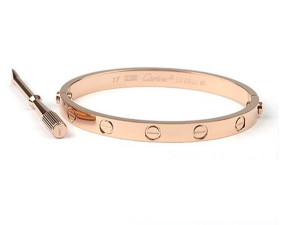 If diamonds are a girl's best friend, then TrueFacet is the newest BFF.
The word "couture" doesn't really cut it. TrueFacet is drenched in designer, from Cartier to Chanel. Tiffany's and Bvlgari sit beside Gucci and Hermès. And for young professionals seeking more bling for their buck, up to 70% off means they might just be able to afford Marco Bicego AND Mikimoto.
"We're in the middle to provide that best pricing through our price movement so both shoppers and sellers can have a fun, transparent experience and get that luxury grade that they deserve," Mr. Kamdar said.
In fact, "transparency" is key for this CEO. The whole point of his web store is to give buyers what they want for less while also allowing vendors to reap higher profits. And don't worry, there's no way you'll get a "Louis Vuitton" from one of New York's fake stands. Every item is verified by a team with over 50 years of combined experience in their field.
"The ultimate vision is to become the go-to place for secondhand luxuries knowing that every single item is authentic," Mr. Kamdar said.
For now, TrueFacet is dealing primarily in watches and jewelry, but according to the founder, possibilities are endless. Scarves, bags, shoes, apparel—who knows what the future could hold?
Already, people are sending in $12,000 accessories. However, Mr. Kamdar's favorite is a little more reasonable. He cited the Cartier 18kt gold Love Bracelet, which runs on TrueFacet for $4,950, as the star of the show.
There may be more to come, but he thinks that jewelry's definitely the place to start.
"The great thing about jewelry is that if you refurbish it, it looks like it's brand new," he said.
A bright and shiny De Beers band for nearly a quarter of the original price? Why not? After all, these rocks don't lose their shape.
e: https://www.truefacet.com/cartier-love-bracelet-in-18ky.html