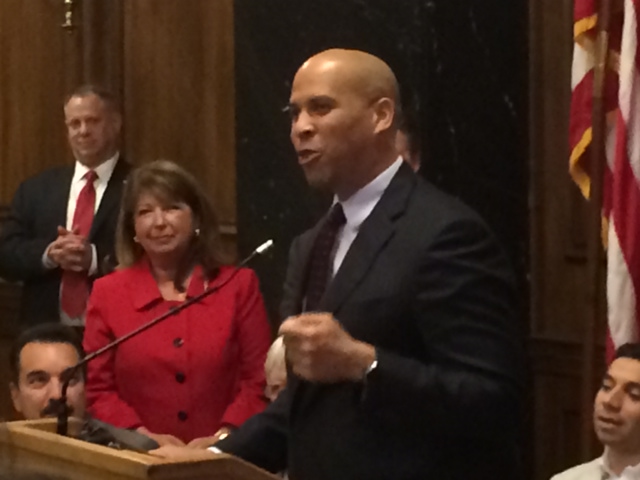 JERSEY CITY – U.S. Sen. Cory Booker (D-NJ) defended himself against the argument that, despite wide leads in both the polls and sizes of campaign war chests against Republican challenger Jeff Bell, he has yet to achieve a notable legislative victory.
"We've been getting traumatic brain injury centers to [stay] open," said Booker on Tuesday, referring to his co-authorship of measure that sets up a program to help veterans with such types of injuries that was included in a larger bill passed into law. "We've been helping hundred of families in Cumberland County qualify for loan stabilization. We've been helping get grants to create jobs in our state.
"On top of all that, we've fought some good fights down in Washington," Booker added, noting his participation in the push to increase the minimum wage as well as his work on comprehensive criminal justice reform, an initiative on which the prominent Democrat has collaborated with Republican U.S. Senator Rand Paul of Kentucky.
Booker, who spoke to PolitickerNJ on Tuesday after the official opening of an immigrant advocacy center in Jersey City, took office in October 2013 after winning a special U.S. Senate election held following the death of U.S. Sen. Frank Lautenberg (D-NJ). He is now seeking a full six-year term.
Booker inferred that despite being in the Senate for only 11 months, he is ready to do more.
"We've delivered help for our state to improve our infrastructure, help education and keep cops and firefighters on the streets. That's a pretty good record in just 11 months," Booker said. "We're going to get some great things done in the years to come if New Jersey should return me to office."