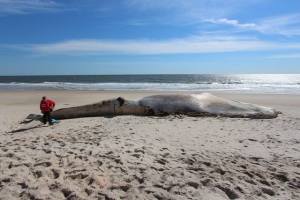 This summer brought an abundance of whale and shark sightings in the waters surrounding New York. Another sighting occurred Thursday morning, but this time it was much more macabre. Beach goers in Smith Point County Park found the body of the 58-foot fin whale lying on its shores and this afternoon, it was determined that the whale died from "blunt force trauma."
The Riverhead Foundation, a nonprofit marine research and preservation organization, concluded its investigation into the whale's cause of death. According to the organization's Facebook, their necropsy concluded that the whale's injuries were consistent a "vessel strike." The organization is waiting on analysis of these samples before confirming that the whale was indeed hit by a ship.
As more animals are spotted near the shores, the chance of accident increases. This event mirrors another collision which occurred near the Hudson back in May of this year, when Norwegian Cruise Ship collided with a whale and dragged its body up the river.
This August, the Guardian wrote that the increased sightings of marine life is due to cleaner coastal waters. Paul Sieswerda of the Gotham Whale "Citizen Scientists" marine tracking group, told the Guardian that he attributes the influx of animals to the cleaning up of the Hudson. The fish move inwards to cleaner waters, and the whales follow.
The body was also found with shark bites on its belly. Biologist Kimberly Durham said this is to be expected. "Sharks will be attracted to whale carcasses," she told the Wall Street Journal.