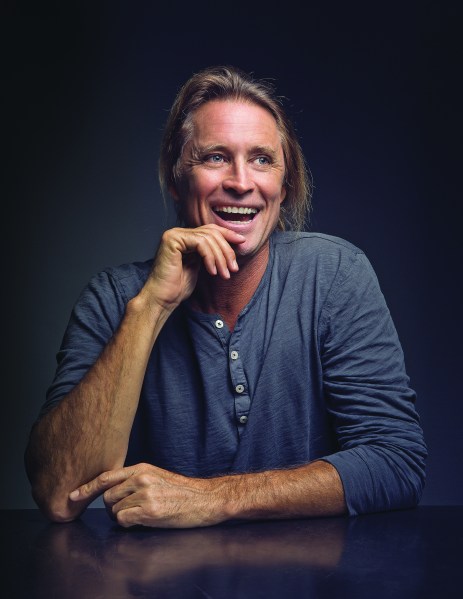 Everyone with a pulse is familiar with the Victoria's Secret ad campaigns and their runway Angels. It takes a village to achieve such glamorous looks of course, but over the past decade, one man has pulled it all together, photographer Russell James. Now 52, his soon-to-be-released book Angels charts the visual revolution that moved Victoria's Secret from olde-worlde lingerie store to global glamour hub.
"What I try to do more than anything is make the subject feel that we are the only two people in the room," he explained, of the methods he uses to achieve the relaxed mood that accounts for a lot of the success of his Victoria's Secret photographs. "I try to speak within a couple of feet from the models. I'm not yelling across the room 'That's fantastic!' " 
With twinkling blue eyes and blonde hair pulled back in a ponytail, there is more than a touch of the buccaneer about Mr. James. Charming and disarming, it was kind of easy to imagine him putting girls in their underwear at ease in front of the camera. Because that's what it's got to be about at the end of the day, if you're the guy shooting the Victoria's Secret images. "I think it's important the talent is connected with you," he added, "If someone is not connecting I will stop the shoot. I'll go over and say, 'How are things?' I'll talk about anything from food to your holiday until I feel like we've reconnected and then I'll quietly ease back."
A New Yorker since 1996, when the Observer caught up with Mr. James, he had just spent time with a group of young women from his foundation, Nomad 2 Worlds, taking them around the Victoria's Secret headquarters on their first visit to New York. The foundation supports young people from indigenous and marginalized communities, particularly in his native Australia. To the cynic, it sounds a little strange, possibly even shady to imagine a glamour photographer carting a coterie of young female innocents around the globe, but closer conversation reveals the truth. "I grew up in a part of Australia where there was incredible inequity between Aboriginal Australians and non-Aboriginal Australians. It was all I saw, so I thought that's just how it was."
"How it was" meant prevalent domestic violence, depression and suicide within the Aboriginal community, especially amongst young women who can find themselves economically and sexually trapped upon reaching adolescence. Many found themselves pregnant or working in difficult-to-escape domestic slavery. Profoundly struck by the disparities, Mr. James started Nomad 2 Worlds to help specifically lift them out of dangerous situations and on a path to a different kind of life. Essentially, the organization provides marketing and distribution opportunities for local handcrafted goods and the otherwise un-utilized "raw creativity" of these communities. At the forefront is a line of perfumes aptly named Raw Spirit. "We've got the best blenders in the world—Harry Fremont, the rock star master perfumist—does our blends." Mr. James believes strongly in the teach-a-man-to-fish philosophy, he explained, "economic success leads to self esteem, Nomad 2 Worlds creates a traceable impact on the communities."
It took a while for Mr. James' own creativity to kick in. The photographer left school aged 14 to work in a steel factory making trashcans. "I never went back to formal school because I struggled too hard with sitting still!" he chuckled, while sipping chamomile tea. "There's probably some fancy name for it now, all that fidgeting around, but anyway, I went to a technical college and later joined the police force, where I got a great education." He joked about his possible ADHD being his best asset. "Since school, what has really kept me stimulated is multitasking. I think that's why I adapt to photo sets, because while I'm shooting the subject, I'm thinking about production—the hair, the makeup—and I'm thinking three shots ahead. That's when I'm most relaxed and comfortable."
Playing to his strengths and utilizing his admitted "stubbornness," Mr. James eventually gave up on conventional career options. In true sea-dog fashion, he wound up living on a boat and sailing around Sweden, where he lived for several years to keep his expenses low enough to travel and build his portfolio. "I'd fallen completely in love with photography. It was a kind of stubbornness, an obsession that I couldn't let go of, but I was backed into a corner. I had no formal education, and there wasn't a high demand for adult trashcan makers!"
After six years in Sweden, Mr. James finally headed to New York City, convinced his portfolio was strong enough to establish him as a photographer. His first experiences were admittedly difficult. Not knowing anyone, coupled with a less than enthusiastic response from agents, left him close to giving up. However, he fell in love with the city.
"One thing I noticed was that you didn't get judged by the car you drove, or the apartment you lived in. In fact, struggling artists attained respect in New York. That's not something I saw in a lot of other cities where there was a prestige factor." 
"On my last financial leg," he confessed, an agent finally signed him and sent him to see W Magazine and Sports Illustrated in the same week. Mr. James was miraculously booked for both jobs and shot what would become one of the most iconic Sports Illustrated covers in the world, featuring Tyra Banks on the beach in a polka-dot bikini. The 1996 cover was the first Sports Illustrated to feature an African-American model alone, and drew him eventually to the management at Victoria's Secret; the company signed him in 1997. "I was very proud of that cover," admitted Mr. James, citing the Sports Illustrated moment as his big break. His work has since featured in exhibitions across the globe and at the Camerawork gallery in Berlin alongside personal heroes Irving Penn and Helmut Newton.
"I studied Penn's work, it was hugely influential for me. Understanding how to capture sunlight, the one light source." In addition to Victoria's Secret, Mr. James has shot ad campaigns for Rolex and Revlon to name just two, and portraits of President Bill Clinton, Scarlett Johansson, Hugh Jackman and Barbara Streisand, are among his most famous clientele.
"You have to be willing to get your hands dirty," is the most he will say on his rise to success. "People come to me and they say, 'I have a degree in photography and I want to work,' and I'll say, 'You really want to learn this business? Great, then pick up that sand bag because we have to stack this wall.' I still carry equipment, and I'm still the first person off the boat on the beach, because I know the quicker we're on the beach, the quicker we're shooting."
As we end our interview, Mr. James tells me the rest of his day will be spent with his protégées. After their morning spent at the Victoria Secret headquarters, they were heading off to meet Donna Karan, a personal friend and source of inspiration for Mr. James. The trip is intended to bolster the girls with a sense of self worth. "The take home is don't put limits on yourself because of your gender," he explained, but after only an hour spent with the vanguard photographer, I'd say one could more accurately take away "Don't put limits on yourself" period.