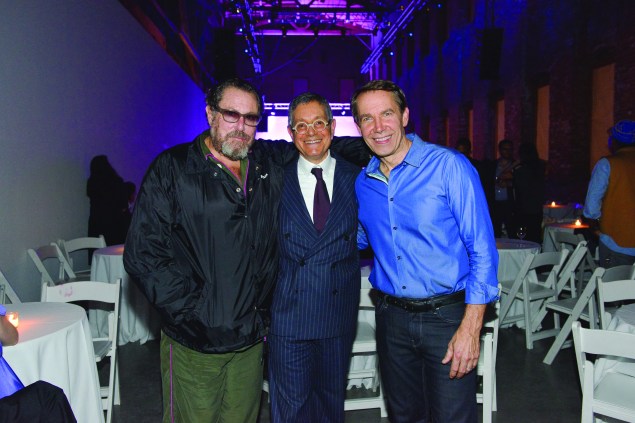 The first thing I saw when I entered Jeffrey Deitch's Oz-on-Acid fairly bonkers performance-stuffed party last Friday celebrating Live the Art—a brick of a coffee table book out from Rizzoli that documents the 15 years of his beyond wacky, insanely important art space, Deitch Projects—was the name of the impresario's beloved bygone space done up in the font and design of a Brillo Pad. This wink at Warhol is only to be expected from Mr. Deitch, as the dealer's backdoor string-pulling within the scene was rivaled only by Andy, his hero and master.
But now, it may remind attendees not of Mr. Deitch's Warholian taste for The New, but rather something of the past: his turbulent tenure as director of the Museum of Contemporary Art, Los Angeles, where he was forced out after staging daring but divisive shows on topics such as James Franco, Hedi Slimane, and, yes, Warhol.
So now, a year and change after he stepped down under pressure from the board, and returned home to continue pursuing his strange obsessions, the release of Live the Art at Pioneer Works doubled as a belated New York homecoming party.
"I like Los Angeles, too, but New York has by far the most dynamic art community, the best, most sophisticated artists—this is the best place to put on an exhibition," Mr. Deitch told me as a crush of well-wishers tried to swoop in for a hello.
Since coming back to town, the question that's dogged Mr. Deitch most is when he will open a new version of his heralded art space, that mixture of gallery and salon and nightclub and twilight zone. He insisted to me that he hasn't yet locked down a location for Deitch Projects 2.0, and in the meantime, Friday night's revue was a glorious spin through the a past and a peek at the future.
"Everything is something that we presented at Deitch Projects," he said, his impeccable Italian pinstripe suit standing out against the outré wardrobes of the artists and their ilk. "The Cold Crush brothers were part of a famous show we did on the history of hip-hop, and then in there you have the Karen Black girls, sort of our in-house performance art … oh, hey Ed!"
It was Ed Scheetz, the owner of the Chelsea Hotel, where Mr. Deitch had just curated a show of pictures of Debbie Harry in honor of the 40th anniversary of Blondie.
"He did it all—we just provided the space and the catering," he said, slapping Mr. Deitch on the back. "It was a perfect location for a punk exhibition."
"Where Sid Vicious killed Nancy Spungen!" I said.
"That's right!" Mr. Scheetz said.
The performance art Mr. Deitch mentioned was The Voluptuous Horror of Karen Black, an ongoing project by the artist Kembra Pfahler, which in this case was manifested as a dinnertime performance on a riser that ran beside the tables where attendees ate dinner. More than a dozen stark naked women completely body painted in garish purples and red—with their faces done up in devil makeup—writhed on the riser, and occasionally would all rise up in a synchronized movement.
A similarly Deitchian stunt involving nudes as table centerpieces at a MOCA gala didn't go over so well, but in New York, well, it just seemed normal. As I walked over with a plate of food to take a seat right next to the performance, extended scary nudity and all, my date for the night pointed out the variations in hairstyles down below.
Outside, a girl asked us for a light for her friend, and her friend turned out to be Julian Schnabel, who had curated Mr. Deitch's first show during his stint out West: a collection of artworks by the late, great Dennis Hopper (which should have been a hit in Tinseltown, but the critics were out to get Mr. Deitch from the start).
"He belongs here," Mr. Schnabel said of Mr. Deitch. He had gotten dressed up for the occasion—instead of the usual pajamas, the artist was wearing a full tracksuit.
"It was good that he went out there, he went on. "He went out there, did what he does. Fought a lot of battles. And he was a museum director! That's not a bad thing for an art dealer to become a director."
The pieces of Mr. Deitch's past would flit by. We saw Jeff Koons say hello, briefly—Mr. Deitch had gone nearly bankrupt funding the creation of perhaps Mr. Koons' best show, "Celebration." Urs Fischer was in good spirits—"Not now, not now!" he barked in response to a reporter's simple inquiry, and went back to the table of food. LCD Soundsystem frontman and all-around Brooklyn deity James Murphy attended, too—he was at one point supposed to co-curate a show at MOCA about disco, but it was so poorly received Barbara Kruger and Ed Ruscha left the board of directors.
But the roller coaster tenure of Mr. Deitch in the City of Angels could not damped the vibe at Pioneer Works. Santigold took the stage to perform a few songs while a few of the body painted naked women—now clothed, but barely—twerked beside her. There were two Harajuku girls swinging their arms in tandem on either end of the stage, and guys doused in red wearing speedos flailed and twirled about.
And there, in his tailored suit and thick glasses, was Mr. Deitch, basking in the weirdness, which is his weirdness. It was a new Deitch Projects for a day. Let's hope he finds that permanent space soon.