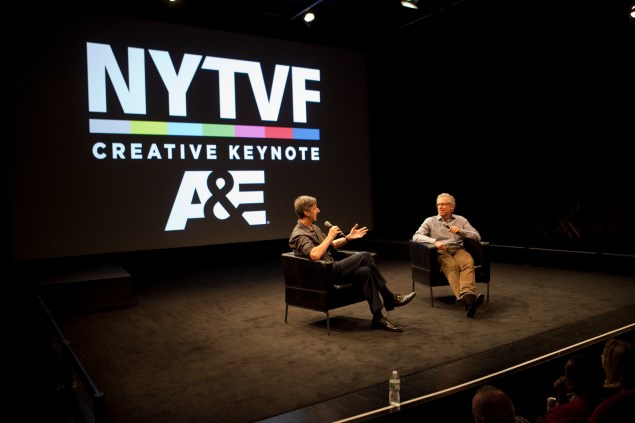 "I remember Damon [Lindelof] came into my office the day the pilot debuted and he said 'Does this mean we have to keep fucking doing this?'" Carlton Cuse said with a chuckle remembering the unexpected moment the Lost  phenomena began.
The writer/producer who brought TV audiences everything from smoke monsters on a deserted island to Don Johnson in three piece suit, let us in on how he became one of most sought after show runners in the business. During the hour long discussion at the New York Television Festival moderated by the New Yorker's Andy Borowitz, the Emmy-winning show runner–who, in addition to Lost, wrote the now heavily rerun classics Nash Bridges and The Adventures of Brisco County Jr.–spoke with both transparency and self-deprecating humor as he outlined the creative process, the development of Lost, Bates Motel and The Strain, and his surprising connection to The Fresh Prince of Bel Air's Carlton Banks.
What You Don't know about Lost
The show, developed by JJ Abrams, Jeffery Lieber, and Damon Lindelof, almost never happened.
"Lloyd [Braun] knew he was going to get fired so it was kind of his final fuck you to ABC that he green lit this hugely expensive pilot."
Mr. Cuse almost passed on the show because he was under contract with a different studio.
"It was this moment where I decided to make a decision and take a leap based on passion. I remember calling my agent and saying 'I want you to get me out of studio deal. I want to go work on Lost' and my agent was sort of like 'Are you nuts?'"
Everyone thought the show would fail, including him.
"That show was 12 and out. They basically only ordered episodes because they spent so much on the pilot."
A contumacious approach that saved the show.
"I approached it thinking 'I don't  care. We'll make 12 cool episodes of television and if it does fail how bad can that be? Everyone is already expecting us to fail.'"
The Good Old Days of Lost 
"We would sit and have breakfast in my office every morning– eating out of these plastic containers from the Disney commissary– and if something we'd say was cool, it would go in the show." Mr. Cuse explains. It's easy to imagine the man who would become a show runner in charge of over a over 400 person crew in these causal brain storming sessions. As he speaks, he sits somewhat slouched, legs languidly crossed at the ankles exuding the kind of down to earth approachability not often seen in Hollywood. He credits "inherent optimism and perseverance" for his ability to think outside the network's box. Fearlessly breaking the rules of conventional television drama proved a shot in the arm of creativity for the show's creators, who knew early on the beginning and end of the show but relished the opportunity to creatively fill in the gaps.
"We knew that we wanted the show to open with Jack's eye opening and it was going to end with Jack's eye closing."
Early on "We knew we wanted Hurley to be in charge of the island."
The writers were mostly driven by both creative freedom and unforeseen variables.
"Like Mr. Eko, great character, we loved him but he did not want to be on Lost. He was from London and Hawaii did not suit him and he wanted off the show. We had to truncate Mr. Eko's part and have him get killed by the smoke monster."
This unexpected twist left room to create new characters and widen the expanse of the show. Enter Ben Linus.
"Michael Emerson was supposed to be a three episode guest star part and we loved him so much we wrote eight episodes for him in the second season and the in third season in became a regular. Now it's hard to imagine Lost without Benjamin Linus."
"That's the creative process. I don't think it emerges all once. I think that anyone that claims that is not being truthful." Mr. Cuse stated absolutely.
 On Breaking the Rules
"A lot of what we thought was cool broke the rules of conventional television."
"Having a 16 person regular cast at a time when you're supposed to have 6 actors."
"Having them do really bad things– like murder people–which feels very de rigueur on television now but in 2004, on network, you didn't do that."
Perhaps most revolutionary was the deliberate approach of "Intentionally ambiguous story telling where the audience had a role in interpreting things."
"Those things that you were not supposed to do where the very things that made Lost special and different. It was really all about not having the fear of failing."
But before Lost made him a highly sought after show runner, Mr. Cuse struggled to find is footing as a TV writer. During Tuesday's discussion he joked about his early days of making a made-for-TV movie in Montana with Amy Grant where her tour bus breaks down in a small, deserted town (Sound familiar?) Nash Bridges and Brisco County Jr. are a few of his better know early endeavors.
The Adventures of Brisco County Jr.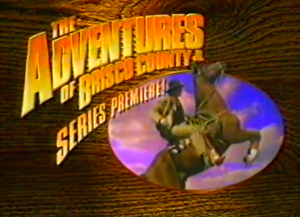 When Bob Greenblatt called and asked if he would do a TV version of Indiana Jones, the young writer immediately began writing. Literally.
"Literally on some Southwest cocktail napkins I sketched out this idea called The Adventures of Brisco County Jr. This thing just popped into my head and I love the incongruity of it."
The show was inspired by serials from the 1930s.
"I watched a lot of serials and most of them either science fiction or westerns and I thought 'Why not just combine the two?'' (i.e.The magical orb)
Bruce Cambell, star of the show, made a lasting impression during the audition.
"He came in to audition for the show and did a standing backflip in our office, which went a long way towards getting him the job. "
Nash Bridges
"Its funny how small little things can change your career in very dramatic ways" Mr. Cuse said about the not-so-small Nash Bridges. The show that ran for 121 episodes, began with a phone call during a tennis match with pal Gary Ross (director of the Hunger Games) inquiring about his interest in a new show Les Moonves was developing with Don Johnson.
Not suprisingly, TV shows are often more business than bursts of creativity.
"Les Moonves has taken over as the head of CBS and he basically inherited a commitment from Don to do a television series." explained Mr. Cuse.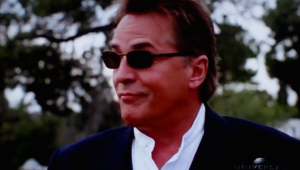 "I took the meeting and I thought Don was charming and funny. Miami vice was so nihilistic I thought we could do something that was funny with him. I thought, Oh he could be that type of guy.'
A final surprising moment when Mr. Horowitz, and long time friend of Mr. Cuse, admitted the character Carlton Banks on his show The Fresh Prince of Bel Air, was inspired by none other than Carlton Cuse. This is the kind of statement you immediately begin Googling because the two Carltons could not be more opposite, but in fact it is true.
"I would say named after, not inspired by" Mr. Cuse added.
From scifi-western mash ups to one of the most popular television dramas to date, it seems optimistically breaking the rules and maintaining a sense of humor has served Mr. Cuse well.