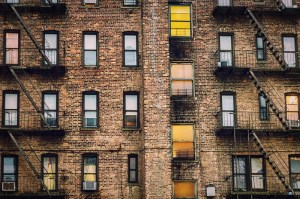 Today, public advocate Letitia James released the worst landlords watch list, a five borough-wide compilation of the city's most terrible companies to rent from. By and large, the worst offenders, who had to have an average of at least two serious open violations per unit (B and C class as determined by the Department of Housing Preservation and Development) in smaller buildings and at least three per unit in larger buildings, were concentrated in the outer boroughs, with the highest number falling in Brooklyn. (Which, given that many New Yorkers now consider Brooklyn the non plus ultra of the good life, may come as a slight surprise. But for those who cannot afford to partake of the borough's bourgeois bohemian banquet of goods and services, leaving a sub-standard apartment is often unfeasible, giving landlords outsized power over tenants.)
Topping the list of 100 most terrible landlords was 3525 Decatur Ave. LLC., with head officer Robin Shimoff, which owns 7,780 units, spread over 13 buildings in the Bronx that total 3,352 violations. Second on the list is 1985-1995 Creston Ave. HDFC, with head officer Rawle Isaacs, which has 14 Bronx buildings with 3,040 violations. Third is 81 Realty Co., helmed by Joseph Podolski, with 5 buildings in the Bronx and Northern Manhattan.
Most of the buildings with high numbers of violations are located in poor neighborhoods and serve lower-income tenants who may not be able to afford to take landlords to court.
Notably, few of the landlords who made the list are recognizable names, which may, in part, be due to the fact that many large property owners create LLCs for each property or group of properties as a means of shielding the principals from large-scale financial and legal responsibility. Also, whether intentional or not, it makes it more difficult for tenants to remember which landlords to avoid. Though, with a very low city-wide vacancy rate and hence, little choice at the lower end of the market, tenants don't always have the luxury of steering clear of rent-stabilized housing stock, even when the owners are known to be bad actors.
While a prominent purpose for publishing the list is to shame landlords into better behavior, the public advocate's office admitted that many on the list are repeat offenders "who have buildings in some of our poorest neighborhoods: Brownsville; East Harlem; Morris Heights and others." The office recommended that additional actions, including more severe HPD penalties against repeat offenders and additional 7A proceedings against landlords, which allows the city to take management away from a negligent landlord.
The number of buildings included in this year's list also ran much higher than in years past, topping 6,712 (by contrast, 2012's list included only 360 buildings). The Public Advocate's office said that the much higher number did not indicate that the number of bad landlords had increased dramatically from previous years, but just that more data sources had been used to compile this year's list—the HPD was able to provide the office with a larger data set.
The worst landlords list was started in 2010 by then-public advocate Bill de Blasio.