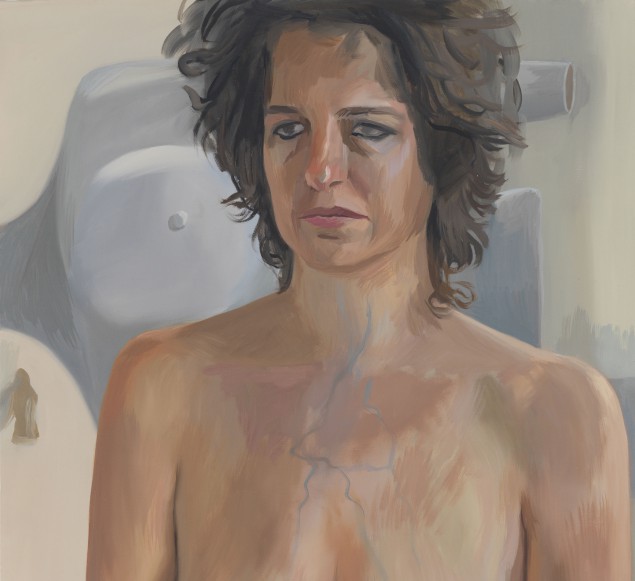 On October 29, Sargent's Daughters, a Chinatown gallery at 179 East Broadway, will host the first solo show of Brad Jones. But don't mistake Brad Jones for the next up-and-coming, New York-based male art star to take the art world by storm. Brad Jones is the name Jennifer Rubell and painter Brandi Twilley have given to their ongoing collaboration. Searching for a way to incorporate painting in her next project, Ms. Rubell, best known for her large-scale performance and installation projects (and her family of collectors), posted an ad looking for figure painters.
The initial idea for the project? To find male painters who would paint Ms. Rubell in the nude for set durations of time. Instead, she was blown away by the work of Brandi Twilley, who replied to the ad with paintings from her 2008 "FLDS" series,  rigorous and stylized portraits of members of the Mormon sect. Ms. Twilley was hired for the job, and entered into a contract with Ms. Rubell to paint nude portraits of the artist three times a week, for sessions lasting several hours—even punching time cards to document the work. But somewhere along the way the project shifted, and the relationship between the two women and the work they were making together began to be undeniably a collaboration and not just work-for-hire.
The result was "Brad Jones". Ms. Twilley paints Ms. Rubell, in the same pose, in the nude, working simultaneously on two canvases that together form a diptych portrait. The paintings, and there are a lot of them, range from tightly controlled variations in line and form that bear a striking resemblance to Ms. Rubell to looser, almost furious eruptions of paint that just barely come together.
The Observer met with both women at Ms. Rubell's Greenpoint studio, surrounded by the work, to talk more about Brad Jones.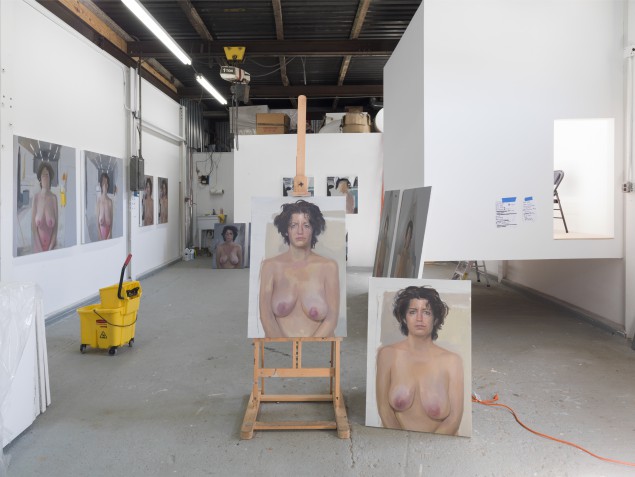 AM: Brandi, I'm sure you've painting from live models before. Was this a significantly different experience?
BT: I spent a lot of time painting myself, so this is quite a bit different. Painting myself is really psychologically brutal, to do it for hours and hours, which I have. So it's nice to have Jennifer as a subject.
JR: For me to be the punching bag!
AM: What made you settle on this particular pose?
JR: I think it was the right pose for both of us. It's very confrontational and it deals with the idea of looking at a nude woman in painting. It is a continuation of a long history of nude women in painting. The humanness of the depicted individual is insisted upon through that pose.
BT: And I'm really interested in her portrait.
JR: In some ways the pose has more in common with traditional clothed portraits of powerful people. It has a lot more in common with a presidential portrait, or a royal portrait, or even a military portrait, then it does with a painting of a nude.
AM: Who came up with the name Brad Jones?
JR: I did. It's a little combo of our names. But really, the origins of Brad Jones were to attach an artist's name to these paintings that sounded like a great artist. Brad Jones sounds like a name that would be on the wall label of a major museum anywhere in the world.
AM: Why did you then choose to still make it a male name?
JR: Because if you look at wall labels in museums all around the world most of them are male names.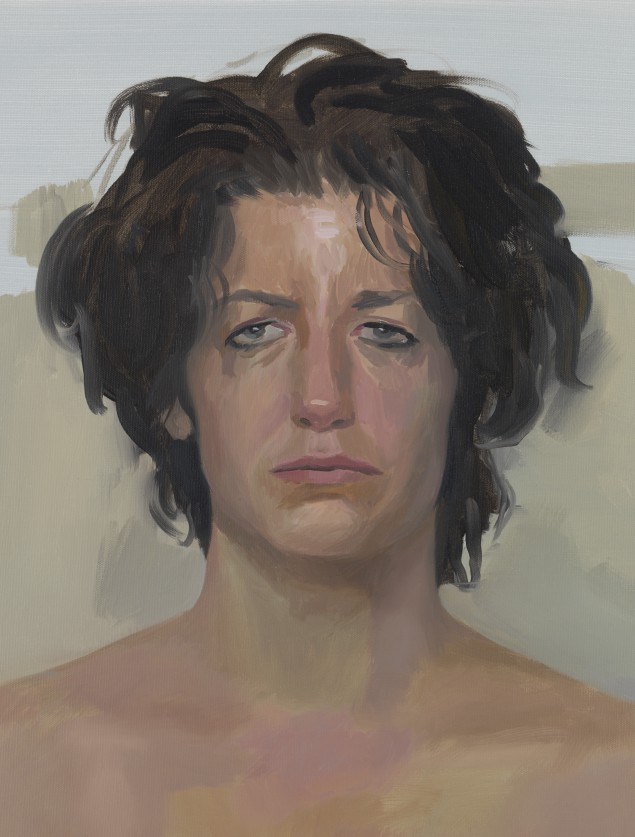 AM: Is that something you'd like to see change?
JR: We both have a lot of thoughts on the topic!
BT: We had a list on our laptop of all the prices of top selling paintings, and it was pretty much all men and maybe three women, and their prices were just a fraction of the highest prices for men.
JR: The thing with the market is that people will save the art that's worth the most money. You can only save so many objects from a given time, and the objects that will be saved are those that have not only cultural value but market value. Those are statistics, they're true, and it's real. But, I always think it's the individual that can change a situation.
[The name] wasn't so much a statement about women not being at whatever level, it's more just that chances are that if you have some great painter, for a variety of reasons, that painter's name is going to be some white guys' name.
Brad Jones is not a pen name. We're the artists, it's work made by female artists, but it just makes sense to give the collaboration a name that would feel comfortable in the context that we're interested in being in.
AM: Jennifer, how do you like posing?
JR: The physical process is very simple. I take off my clothes, and I sit down in the chair. The psychological process was very brutal for a time. The difficulty Brandi spoke about—psychologically—in painting herself, I certainly felt in being depicted, and then the paintings began to feel very iconic to me.
I remember a specific moment: I was in a restaurant, and the back of the bar had a mirror. I was in the middle of a conversation and I just caught a glimpse of myself in passing and I saw the painting. It was a big relief to resemble a painting rather than look at myself in relation to ideas of myself, or in relation to other women. Now, I look at myself almost exclusively in relation to my depicted self, which is actually a relief.
AM: Is there documentation from the beginning of the project, the creation of Brad Jones, that will appear in the show?
JR: In the crudest sense, Brad Jones has more to do with the relationship between the work and the art world than anything that happens in the making of the work. To me, every artist has their Brad Jones on. Every artist goes into the studio and is vulnerable, scared, open, interested, and then engages with the art world where they're like the "cool guy at the opening." Brad Jones is a fiction that is the name we've attached to our collaboration, but Jackson Pollock is a fiction that's a name that's attached to Jackson Pollock paintings.
AM: What's in the future for Brad Jones? Do you think you'll ever switch roles?
JR: We will definitely never switch roles. You would not want to see the results if we switched roles. I'm sure Brandi would be a fine model, but we would definitely, 100 percent, never switch roles.