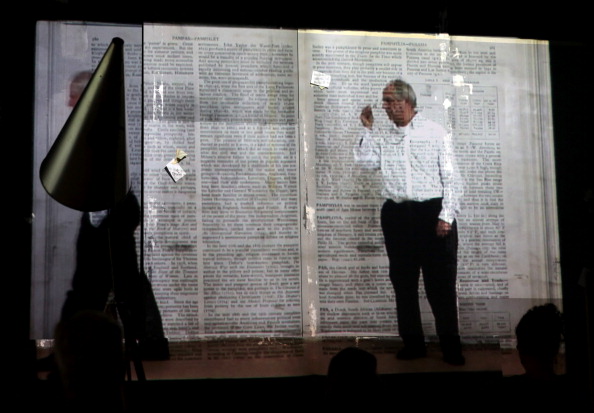 Artist William Kentridge and composer Philip Miller have been collaborators for nearly 20 years now. Their partnership began with the 1994 film Felix in Exile, the artist's fifth film that was completed by altering 40 drawings to an animated feature, a singular process Mr. Kentridge has developed and mastered over the years. Tonight, their longstanding collaboration comes full circle with "Paper Music: A Ciné Concert," at Carnegie Hall's Zankel Hall.
The performance is part of the "Ubuntu: Music and Arts of South Africa" festival, and will feature several of Mr. Kentridge's films. This includes Tide Table (2003), Other Faces (2011), a selection from Carnets d'Egypte (2003), and new songs for Paper Music with music written and performed by Mr. Miller.
The work they've made together blends Mr. Miller's South African-influenced musical scores with Mr. Kentridge's animated visions in an ongoing synesthetic experiment. "We always start together. Sometimes an image, text, or sound starts the process. Then we'll separate and develop it," said Mr. Miller by phone to The Observer while waiting to board a plane in Johannesburg. He explained that working with a video artist like Mr. Kentridge "has allowed interplay to happen in a very safe environment."
Mr. Kentridge, whose work is a blended mixture of many mediums from drawing to theater (a reflection of his own diverse training), elaborated on the back and forth process he has developed working while with Mr. Miller in a series of recorded answers he sent us by email. "Gradually it has turned into an ongoing conversation about the relationship between sound and image," he said. "What music makes you see and what an image makes you hear. We're still interested in the way in which changing the tempo of a piece of music changes the meaning of an image, and how an image gets you to hear something in a clearer, different way."
With Paper Music the two artists revisit the fruits of their artistic marriage, as well as debut their newest work together, including "some older ideas we've wanted to work on for many years," said Mr. Kentridge.
And just as Felix in Exile provided a picture of South Africa just before its first general election, Paper Music is a timely look at a still-changing landscape. "The last section is a sort of laboratory for sound and image exploration, and also as we discovered—sort of to our surprise—it's a political portrait of Johannesburg at the moment in 2014," he revealed.
William Kentridge recorded his answers to three questions we sent him from his studio in Johannesburg on October 22, 2014. Listen to the full clip below.