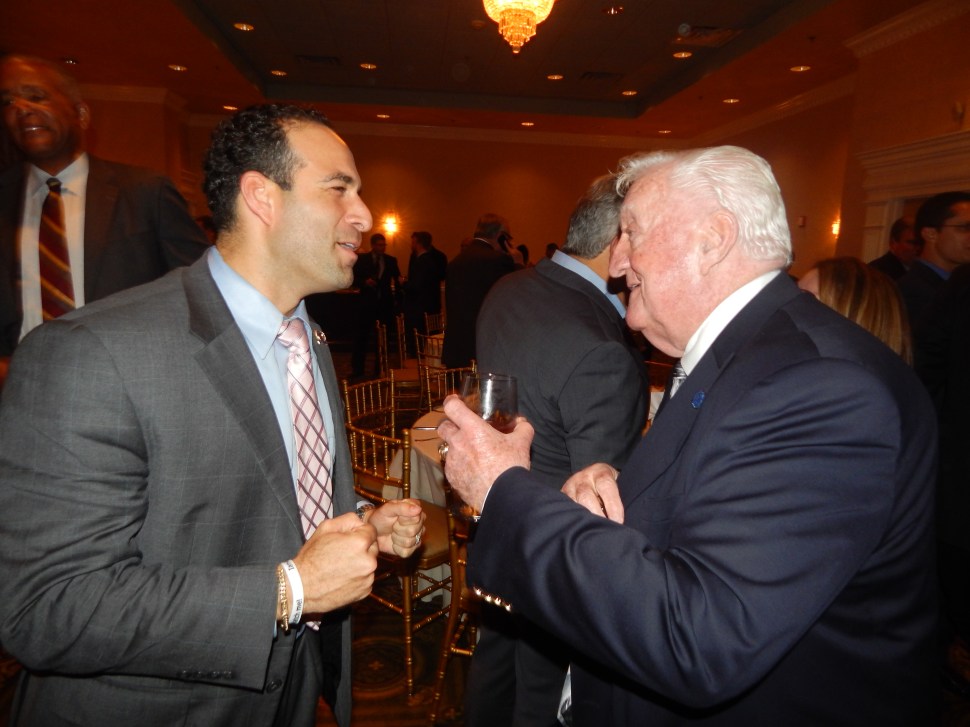 WINNERS
Joe Cryan
The Assembly on Thursday overwhelmingly passed the veteran Union County assemblyman's bill, which aims to make New Jersey higher education more affordable by freezing costs for the duration of a college student's years in school.It is a fitting victory for the veteran Cryan, a favored candidate for sheriff in his home county and likely in his final days as a Trenton lawmaker.
Roy Cho
The 5th District Democratic challenger has been almost Bill Pascrell-like in terms of work rate and his ability to block out the naysayers who say he has no shot against well-financed incumbent U.S. Rep. Scott Garrett (R-5). It's paid off apparently, as a Monmouth University poll this week shows Cho within five points – closer than the arguably more closely watched CD3 tilt.
Frank LoBiondo
Monmouth University released a poll this week that shows the veteran incumbent Republican U.S. Congressman burying his Democratic Party challenger by 21 points. A Stockton Poll issued earlier in the cycle saw a closer contest, but Patrick Murray has a longtime outstanding record of getting it right.
Vincent Prieto and Nick Sacco
The 32nd District lawmakers held fundraisers last week (Sacco) and this week (Prieto) that between them drew the state's political classes in droves. Sacco's event offered a cast of thousands (someone said he saw Oliver Reed in his Gladiator/Proximo costume at the bar), while Prieto's party was the more intimate, "insiders only" event.
Dale Florio and Norris Clark
Ragan PR Daily recognized Florio's Princeton Strategic Communications together with WSW (Winning Strategies Washington) and Princeton Public Affairs Group for "Best Cause Advocacy" in Ragan's PR Daily's 2014 Digital Awards for their TheRacetoYes.Org campaign raising national awareness regarding new therapies for children facing Duchenne muscular dystrophy. #PRDAwards finalists included the Chandler Chicco Agency for Novartis Pharmaceuticals and the Association of American Medical Colleges. Clark managed the project in question.
Cousin Brucie
On the invitation of Assembly Minority Leader Jon Bramnick (R-21), the legendary pop radio host was gracious and classy as the Assembly honored him for his life's work.
Tom MacArthur
The 3rd Congressional District candidate has a ten-point lead over his Democratic opponent in a poll issued this week by Monmouth University. MacArthur is competing to succeed retiring U.S. Rep. Jon Runyan.
LOSERS
Scott Garrett
The Republican congressman from the 5th District has frozen out the media in his re-election campaign against Democratic challenger Roy Cho. Great strategy! Garret's lame stream campaign has enabled Cho to get within striking distance (five points) of the New Jersey delegation's most conservative congressman.
Chris Christie
David Redlawsk, polling director for Rutgers-Eagleton, found that for the first time since August 2011, "more New Jersey voters have an unfavorable impression of Christie than a favorable one." After enduring a seven-point decline during the past two months, Christie has a favorable image with just 42 percent of registered New Jersey voters, while 45 percent feel unfavorable.
Muhammed Akil
Beaten up for making racially insensitive remarks 20 years ago, including the comment that white people have a little Hitler in them, Jersey City Mayor Steven Fulop's chief of staff resigned.
Aimee Belgard
The 3rd District Democrat has money to compete. But the latest poll shows her candidacy in peril.
Barack Obama
It was a health crisis, so good for the President to make that his priority. But much grinding of teeth from his own Democratic Party allies accompanied the lead up to his aborted fundraiser in Union on Wednesday. Those most delighted by the cancellation of the negative poll-encumbered prez? Some of those very Democrats who had been scheduled to be in attendance at the big wig event.