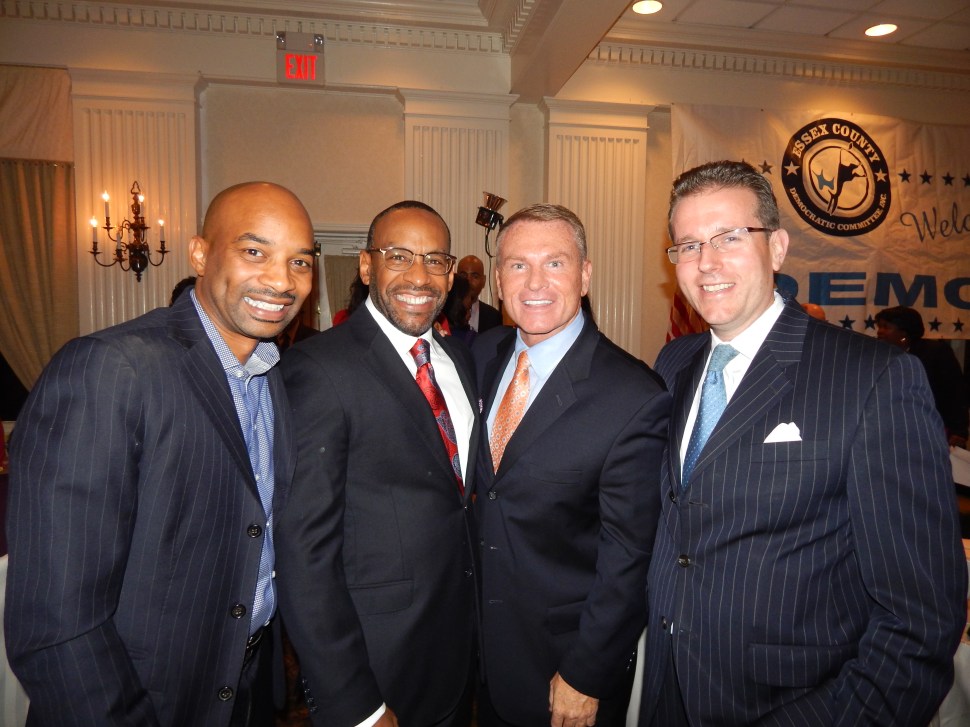 WEST ORANGE – A couple of rivers removed from Essex, the austere, unmistakable din of Sacco-Prieto-Fulop chest-thumping continued in a buildup reminiscent of "Also Sprach Zarathustra" that for the moment is all timpani and glockenspiel and no horn section.
The implication is that the full dramatic release will come in time for the 2017 governor's race.
Lacking a clearly formed gubernatorial competitor at present, the Essex County Democratic Party tonight fell back on the charms and competitive rhetoric respectively of its county chairman and county executive.
"I am moved and humbled by this turnout," said Essex County Democratic Chairman Leroy Jones, looking at a group that included state Sen. M. Teresa Ruiz, state Sen. Nia Gill (D-34), state Sen. Dick Codey (D-27), all the Democratic assembly people from Essex and numerous mayors and clumps of political operatives.
U.S. Rep. Donald Payne, Jr. (D-10) attended.
Bergen County Democratic Chairman Lou Stellato – briefly – attended.
Essex County Clerk Chris Durkin was in the room, as was Sheriff Armando Fontoura.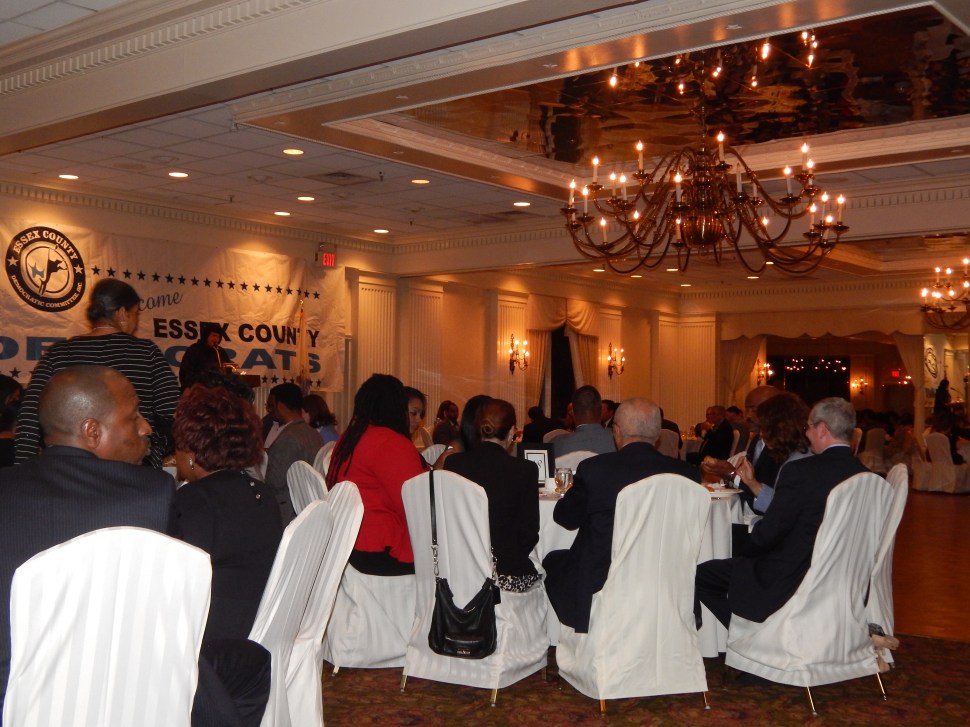 Five-hundred sets of silverware clanked away in the Elvin mead hall-sized Mayfair Farms banquet room as U.S. Sen. Chris Coons (D-DE) did a turn at the microphone in inter-state good fellowship as U.S. Sen. Cory Booker (D-NJ) listened attentively.
No, actually it was the senator's lookalike brother, Cary Booker, up from Memphis, and good-heartedly making the rounds on behalf of Cory, who had been in attendance earlier.
But more than Coons, the "listen up" remarks of Essex County Executive Joe DiVincenzo hung pointedly in the air as Hudson Democrats partied simultaneously at Jersey City's Casino in the Park.
"Leory has taken us to another level," exclaimed DiVincenzo. "Three years from now another governor will be running. Whoever runs statewide will have to come through Essex County."
That's in fact what happened last year, only it was Republican Gov. Chris Christie, who harnessed his campaign message to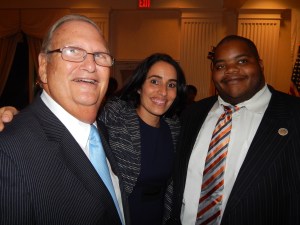 DiVincenzo's cross-the-aisle endorsement on his way to burying Democratic nominee Barbara Buono.
Taking a moment of silence to honor his mentor and predecessor former Essex County Democratic Chairman the late Phil Thigpen, Jones projected political big-heartedness in a county that might have – with different leadership, or so ran the suggestion – been politically punctured by a contentious May mayoral election in Newark.
The notoriously off-the-reservation state Sen. Ronald L. Rice (D-28) got a big hand.
Former Speaker Sheila Oliver (D-34) was in political rehabilitation mode on party committee emcee duty.
And there was Newark Mayor Ras Baraka – who felled the party establishment earlier this year, who rarely attends party functions.
He appeared, paying his respects to the chairman, and contributing to the optics of Essex getting along.
With DiVincenzo and the county freeholders on the ballot Nov. 4th against token opposition and Hudson persistently powerful under the auspices of Speaker Vincent Prieto (D-32) and state Sen. Nick Sacco (D-32), much of the scuttlebutt in the room circulated around who would serve as the next freeholder president.
Three candidates drew the most attention: Rufus Johnson, Pat Sebold and Brendan Gill.
Party members advanced various arguments.
Johnson's close to Rice, who's enjoying a resurgence thanks in part to Baraka's victory in the mayor's race.
Sebold's a steady hand – a veteran.
Then there's Gill, Booker's campaign manager, who has helped the incumbent senator build a 16-point lead over Republican challenger Jeff Bell.
Locally, four candidates competing in the West Orange mayor's race made for some acerbic back chatter.
"Rob's [sitting Mayor Robert Parisi] going to be fine," someone pointed out. "The question is whether Eldridge [Hawkins, Jr.] will come in third or fourth."
Hawkins served as mayor of Orange before losing in 2012 to Dwayne Warren.
He moved back to this neighboring suburban town and returned to the political game this season with his challenge of Parisi.
"We schooled him," Warren told PolitickerNJ. "Whatever he does over there he learned from us, the result of the old school campaign we put on him."