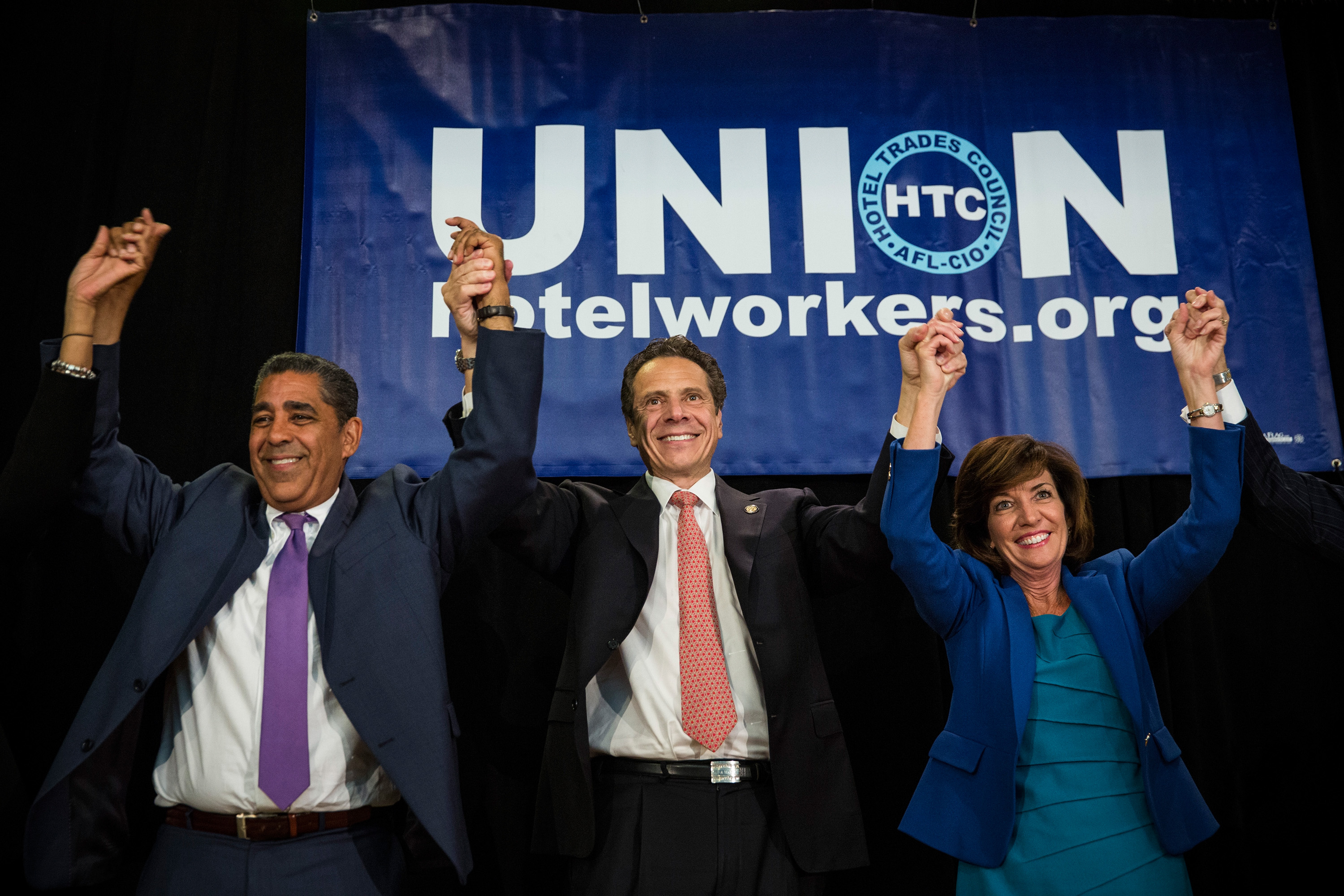 She glad-handed at a senior center in Crown Heights. She rallied with the mayor at City Hall. She even strained to speak Spanish–"voten para me"–in Washington Heights.
But since Primary Day, Kathy Hochul, Gov. Andrew Cuomo's candidate for lieutenant governor, has practically shunned New York City, campaigning almost exclusively north and east of the five boroughs. The former Buffalo area congresswoman never seemed comfortable in the swarm of reporters and the cacophony of a city so different than her sleepy upstate home–and now, having vanquished her glamorous opponent in the Democratic primary, she can spend her time elsewhere.
"It's smart strategic politics. Let's look at the fact that in a Democratic primary, 52 percent of the vote came from New York City. She was least well-known in New York City," said Bruce Gyory, a Democratic consultant unaffiliated with the Cuomo campaign. "You guys all bought into notion she was on the verge of losing, which she never was, so she concentrated on where the majority of votes would be cast."
In the general election, Mr. Gyory said, the city typically accounts for only about 30 percent of the vote. He doesn't expect Republican gubernatorial contender Rob Astorino to even outperform Joseph Lhota, the Republican candidate for mayor last year, who won about a dismal quarter of the electorate. "It's natural with 70 percent of the vote coming from outside of New York City, she would be bolstering ticket where she is strong and swing voters are key."
Since defeating Tim Wu, the running mate of Mr. Cuomo's Democratic rival Zephyr Teachout, Ms. Hochul has stumped in places like Syracuse, Long Island, Poughkeepsie and Palmyra. But in the primary, a threat seemed to exist of Mr. Wu, a law professor and celebrity in collegiate circles, besting the little-known ex-congresswoman–many pundits argued that Mr. Wu, despite his fund-raising disadvantage, could perform unexpectedly well in New York City's vote-rich liberal quarters.
Ultimately, Ms. Hochul won by 20 points. A frenetic campaign schedule–as Mr. Cuomo shunned campaigning altogether, Ms. Hochul was on the trail almost every single day–a superior war chest and the last minute help of many city elected officials helped push her past Mr. Wu, though the underdog netted one consolation prize: he beat Ms. Hochul in Manhattan.
A spokesman for the Cuomo and Hochul camps said Mr. Hochul has appeared once in New York City since her win on September 9: a luncheon for the Women's Equality Party at the Plaza Hotel in Manhattan. Ms. Hochul will come to Manhattan tomorrow for another rally before speeding on a campaign bus to Hauppauge, Long Island.
"Kathy spent the first part of the summer traveling around this state sharing her and the governor's vision in areas where Kathy was not well-known as a first-time statewide candidate and that meant being in New York City for a larger percentage of the time," explained a spokesman for the State Democratic Party.
The time spent north and east of the city may be a relief for Ms. Hochul, who fled a pack of aggressive reporters on the steps of City Hall after a rally with Mayor Bill de Blasio. The press corps never tired of grilling Ms. Hochul about her past as a right-leaning Democrat, when she opposed many of the pro-immigration measures that are now integral parts of Mr. Cuomo and Mr. de Blasio's platforms.
But her time spent trying to win over voters in the more conservative Buffalo area can actually be an asset in the general election, where she will be deployed in territory more hostile to a Democratic governor who engineered some of the strictest gun control measures in the nation.
Polls show Mr. Cuomo, who is now running on a single Democratic ticket with Ms. Hochul, has a huge and likely insurmountable lead over Mr. Astorino, the Westchester County executive. But after a weak primary showing against Ms. Teachout, those in Mr. Cuomo's orbit say he desperately wants to crush Mr. Astorino in the general election.
To do that, he needs to dominate in New York City and not let Mr. Astorino eat away at his support in the suburbs and upstate. In 2010, Mr. Cuomo routed Republican Carl Paladino but performed much more poorly in the Buffalo area, where Mr. Paladino is from. That outcome, some insiders say, is one reason Mr. Cuomo tapped Ms. Hochul to be his running mate in the first place.
"Hochul's of better use in areas outside the city that are more moderate where Cuomo isn't doing as well," said a Democratic operative unaffiliated with the campaign. "She can help win over Western New York counties with her moderate stance on immigration and guns yet will be an asset for Cuomo's Women's Equality Line."