The building at 400 Park Avenue South, a luxury condo-rental hybrid co-developed by Equity Residential and Toll Brothers City Living, occupies strange territories.
Standing between 27th and 28th Streets, in what realtors were once content to call Flatiron, the building's developers proudly fly the flag of Nomad, that edgy moniker for the advance of the hip sallying from the Ace Hotel. The dual developer arrangement, while we're at it, is itself unusual. And condo owners will have a separate lobby, though when the building welcomes its first tenants come December, Equity's Prism apartments—spread between the second and 22nd floors, with studios starting at $3,400 a month and three-bedrooms at $15,900—will hardly be serviced by a "poor door."
Entries divided, residents will share basement-level amenities, including a pool and a golf simulator, lest the developers be accused of anti-egalitarian spirit. (The most modest, one-bedroom condo listing currently asks $1.97 million.)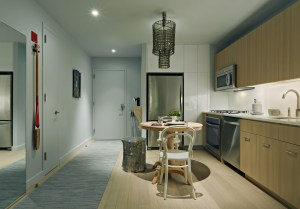 Collectively, the edifice will resemble a rocket ship, Equity vice president George Kruse told us during a recent tour of rental floors, with twin flanking structures that drop away like boosters into the shade of an upthrust central spire. Interiors, on the other hand, seemed influenced more by the industrial-to-residential conversions that have lately come into vogue than by futuristic trappings of interstellar travel.
"We priced each unit individually," Mr. Kruse said of the apartments, which have angular, jigsaw-reminiscent floor plans that dole out light, air and scenery in disparate portions.
Finishes, generally, are light, clean, medium-luxe: stainless steel Whirlpool appliances, blonde strip wood flooring, synthetic cabinetry, spacious, glass-enclosed showers.
But imparities crop up even within units. A two-bedroom on the eighth floor had a wide, open living room with walls of angled glass that seemed to cantilever over bustling Park Avenue South, a clever effect achieved in many of the dwellings. The master suite, however, huddled dimly against an interior courtyard, as did many of the Prism's studios.
"We don't think having the master in the back is a downside," Mr. Kruse reasoned. "We actually think it's a plus."
Standing shadowed in one apartment, a near-identical version of which had been leased on another floor, Mr. Kruse recounted a sales pitch. "It is slightly dark," he said. "But we just kind of went with the dark. We didn't try to make it anything that it isn't."