A bevy of high-power politicians–United States Senator Charles Schumer, Mayor Bill de Blasio, Council Speaker Melissa Mark-Viverito, Public Advocate Letitia James and State Senator James Sanders–fired up a hundreds-strong crowd of supporters of the labor-backed Working Families Party last night with speeches vowing to keep Republicans from controlling the State Senate, to raise the minimum wage, to create a public financing system for state elections and to organize low-paid fast food and airport workers.
The crowd, a mix of union members and activist groups like Vocal-NY and New York Communities for Change, crammed into the basement of Manhattan's Saint Vartan's Armenian Cathedral for the event, entitled "Justice for Workers." The evening started with a reading by poet Maria "Mariposa" Fernandez, who read a piece detailing the difficult life of a Hispanic service worker that simultaneously railed against pollution, an America "ruled by warmongering men," "U.S. colonialism and imperialism" and the Atlantic slave trade.
The global themes of the poem seemed strangely discordant with the definite and immediate political agenda the elected officials laid out–getting and keeping as much power as possible in Democratic hands, so as to pass key elements of the Working Families Party left-leaning platform.
"We're not going to take back one Senate, we're going to take back two Senates, one in Washington and one in Albany!" said Mr. Schumer, recalling his long relationship with WFP, which dates back to his first successful run for his seat in 1998–when Republicans dominated both houses of the federal legislature. "We sent Al D'Amato back to Island Park, and we put Newt Gingrich on the midnight train to Georgia. Now we're going to do that again!"
The senior senator from New York went on to blast Republican Party donors Charles and David Koch and to call for a higher minimum wage, gender pay equity, taxpayer-financed elections, immigration reform and greater unionization of the workforce–all notes picked up by subsequent speakers, who emphasized the importance of voting for Gov. Andrew Cuomo and other Democrats on the WFP ticket.
"Make no mistake–the optimists in the WFP Party here in this room are the driving force behind the historic moment, a state government that can pass a people's agenda, an agenda that Gov. Cuomo signed at the convention in June," said Ms. James, who first won her Brooklyn Council seat against a Democratic candidate on the Working Families Party line. "To win justice for workers, and women, and tenants, to change the power dynamics in Albany, to put the body politic of Albany on its head, we need to have a strong, powerful showing on the Working Families line on Election Day."
Ms. Mark-Viverito–whose Progressive Caucus in the Council is closely tied to WFP–issued a harsh warning to the State Senate's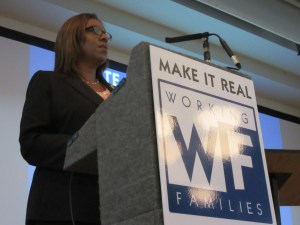 five-member breakaway Independent Democratic Conference which in 2012 formed a power-sharing arrangement that allowed the minority GOP to retain control of the upper house of the state legislature. Liberals have blamed the IDC for the state's failure to pass many of the WFP's initiatives, and the splinter faction agreed in June to reunite with the mainline Democratic conference next year–though some claim the new deal will not hold.
"Those of that renegade coalition in the Senate that have made a commitment that they will stand with all of us need to know that they are being watched. That we are not going to allow them to end-up the progress that we need to make in this state. That we are going to raise the minimum wage, that we are going to pass the DREAM Act. That women's reproductive rights are not going to be compromised," Ms. Mark-Viverito said. "They are being watched. They are the ones that are between us and that progress."
Mr. Sanders, the state senator who has sponsored a bill in the State Senate to raise the minimum wage to $10.10 an hour, highlighted the WFP's central issue of income inequality.
"I think that something different is happening and something is changing and that change is happening right in here. I think that working people have gotten tired of being stripped by society, because we deserve to eat too. W.E.B. DuBois once said that 'before anybody has cake, we all should have bread,'" Mr. Sanders said to raucous applause, emphasizing the need to both raise the minimum wage statewide and grant localities the power to increase it independently. "We should have it at the state level at $10.10 an hour, and then we should go further. If the city needs to raise it higher than that, we should raise it higher than $10.10. We should raise it to $13. Why not?"
The goals laid out are ambitious, and Gov. Andrew Cuomo has sometimes wavered on whether he will support all of the party's liberal initiatives. Mr. de Blasio–one of the earliest supporters of WFP, and who brokered the deal that secured Mr. Cuomo its endorsement this year–pointed to his struggle to attain the mayoralty last year as a source of inspiration.
"I just want to say, I am your poster child! Whenever somebody tells you something can't be done, you can't win the election, too far back in the polls, people won't come out, just have them call me," Mr. de Blasio said. "Anybody who tries to tell you the people aren't listening, they don't understand. Anybody who tells you that the people aren't going to vote their own interest, their own economic interest, misunderstands this momentum here."