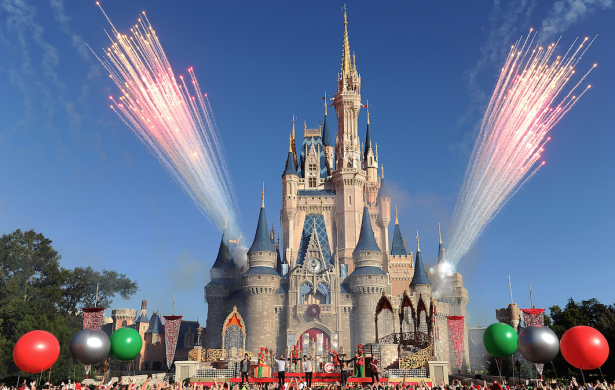 Bitcoin has had a history of milestones: the first pizza paid for with Bitcoin, the first house bought in Bitcoin, the first sports team sponsored in cryptocurrency — but for the first time in history, Bitcoin is about to bring two people together in crypto-anarchic matrimony.
This weekend at Walt Disney World's Magic Kingdom, Bitnation's David Mondrus and Joyce Bayo will have a wedding ceremony that concludes with the newlyweds recording their wedding agreement on the Blockchain via Bitcoin ATM. It's the world's first ever "Bitmarriage" as the Bitnation blog puts it in a post that's the world's first love-story/blockchain-explainer hybrid.
"She stole his heart [in the Philippines] when she fed him pineapple on a boat," the blog says. "He stole a kiss from her the following night and she has been trying to get it back ever since."
Not without his private key, she won't, amirite!?
The nuptial agreement doesn't seem to include a legally binding wedding license, which could easily also be stored on the Blockchain through a service like Blocksign. Without any of the legal protections of an actual marriage, this Bitmarriage seems to be more of a cryptographically stored agreement that also lacks the legally binding baggage that can lead to family courts and pricey divorces.
"We believe that like the blockchain, our love and marriage are forever and that our relationship is not defined by governments or the church," the blog quotes the groom as saying. "So enshrining our commitment to each other in the blockchain in front of our friends is very dear to us."
The wedding will be officiated by Liberty.me founder Jeffrey Tucker at Coins in the Kingdom, a Bitcoin conference at Disney World where "fun is mandatory" — though no government body or centralized entity can enforce that mandate, AMIRITE!?
You can livestream the wedding at 10:30 a.m. this sunday at this link. Also, check out the impromptu engagement video below, which includes a rambling explanation about Bitmarriage and the "financialization of romance," as well as an awkward tangent where we learn the groom's nuanced ideals of what constitutes cheating in the context of a threesome:
[youtube https://www.youtube.com/watch?v=vUWW7YrObE8]