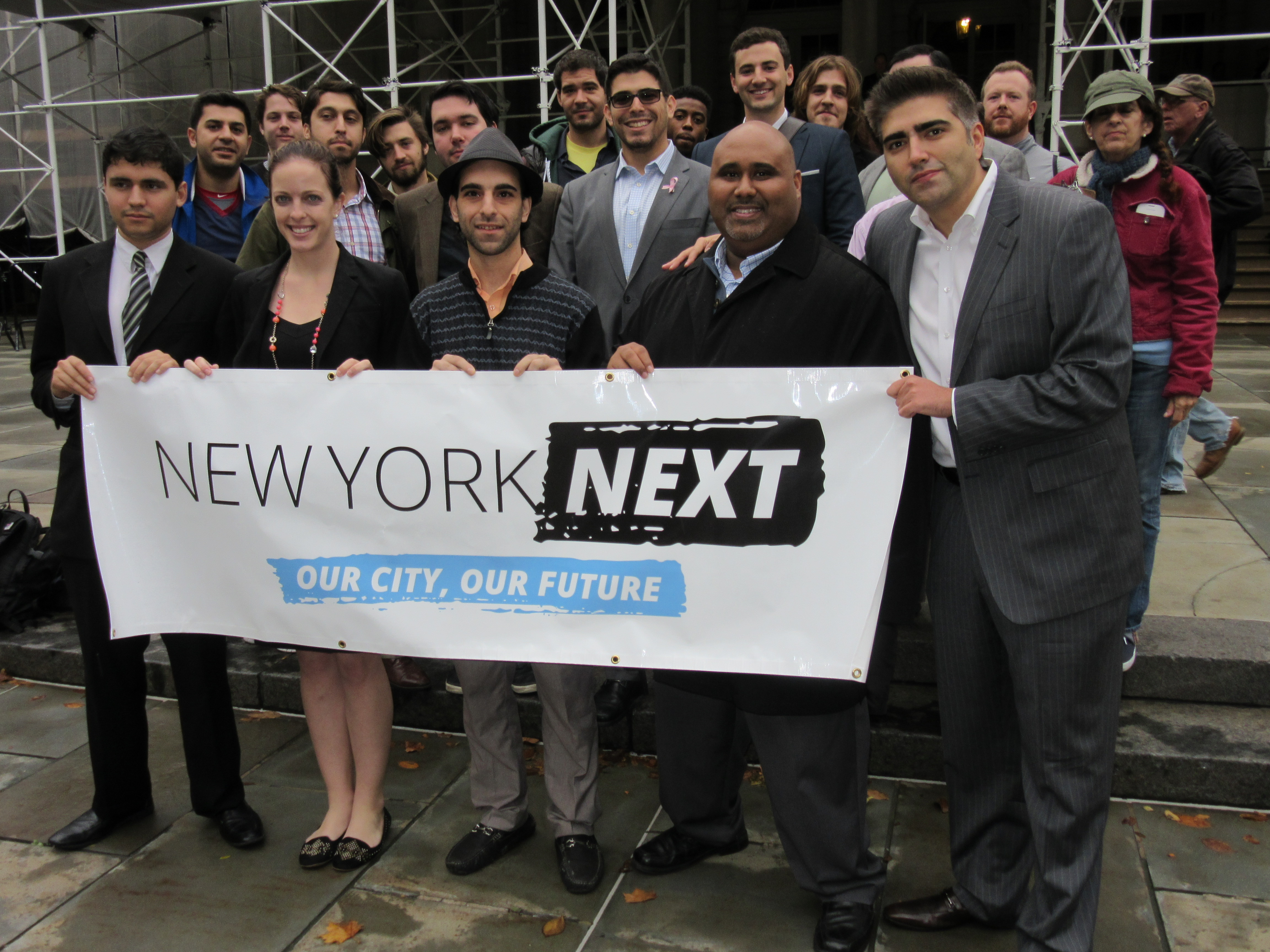 The Manhattan, Queens, Brooklyn and Richmond County Young Democrats clubs today injected themselves into the contentious contest between Republican Congressman Michael Grimm and Democratic challenger Domenic Recchia Jr., launching a new coordinated expenditure called New York NEXT.
Leaders of the clubs said the new PAC would fight for issues critical to young professional New Yorkers–such as cost of living and student loan debt–starting with the Grimm-Recchia race. New York NEXT promised to commit hundreds of volunteers and $10,000 to Mr. Recchia's door-to-door get-out-the-vote operation.
"New York NEXT as a PAC is dedicated to trying to elect politicians, candidates that understand our issues," said Manhattan Young Democrats political coordinator Matthew Ward. "Previously we worked alone by ourselves. But this year we've come together united because we get one important reality: that young professionals and young workers are getting priced out."
Mr. Ward said that the PAC would devote its resources on the fight for the 11th Congressional District because it is the only one currently represented by a Republican, and because it is expected to be such a close battle. Its assistance will take the form of a two-day joint drive with Mr. Recchia's campaign to get Democrats to the polls.
"The Recchia race is going to be very close. It's going to be about a 5,000 vote margin. But we believe we can target young voters and help close that gap," Mr. Ward said.
The PAC founders argue that twenty- and thirty-somethings have a special energy to offer a campaign that could make the difference in the race.
"We are historically the voting bloc that has the most potential to go out and knock on the doors, to make the phone calls, to do the work that is necessary to elect good candidates for office and good policy reforms," said Brooklyn Young Democrats president Stefan Ringel. "It's about working together to elect future congressman Domenic Recchia and being the linchpin that gets him over the hump."
Mr. Ward also fired some of Mr. Recchia's familiar rhetorical fusillades at Mr. Grimm, who faces 20 criminal charges for tax evasion and lying under oath related to the operation of a restaurant he owned prior to his 2010 election.
"Michael Grimm is under a 20-count indictment and that should probably say it all. He might not have the job in four months, and it's confusing why he's even running for the job to begin with, again. And he's really done nothing to advance our interests. He doesn't get who we are," Mr. Ward said, reserving some of his volleys for the incumbent's political outlook. "Michael Grimm as a Republican fundamentally believes we should all pick ourselves up by our bootstraps, that the free market economy is enough to move us forward. But, you know what, we're graduating with massive student loan debt, we're not getting job availability, we're not being able to grow roots here. And his political philosophy and the world that he comes from just doesn't understand that."
The clubs said they intend to continue to operate New York NEXT after the election, though they have yet to select races they intend to get involved in next year.
"In the longer term, the New York NEXT PAC continues on and will try to advance legislative reforms and to get candidates elected in future cycles," Mr. Ward said.
Mr. Grimm's camp reacted by again blasting the Democratic challenger for his widely publicized gaffes, and for deciding to run for the seat after failing to secure support for bids for city comptroller and Brooklyn borough president. The Republican team went on to paint New York NEXT as a group of outsiders dabbling in a local race.
"Why is Recchia running for Congress when he is clearly clueless on the issues? Maybe because he was pushed aside by his own Democrat party bosses for comptroller and Brooklyn borough president, and after hearing Recchia struggle to discuss even the most basic issues, is there any wonder why?" said spokesman Nick Iacono. "Now that the voters have seen in cringe-worthy detail how unfit, uninformed, and unqualified Recchia is, his spiraling campaign is desperately calling in support from progressive Manhattan liberals, who, like him, are completely out-of-touch with the hardworking middle class families of Staten Island and Brooklyn."