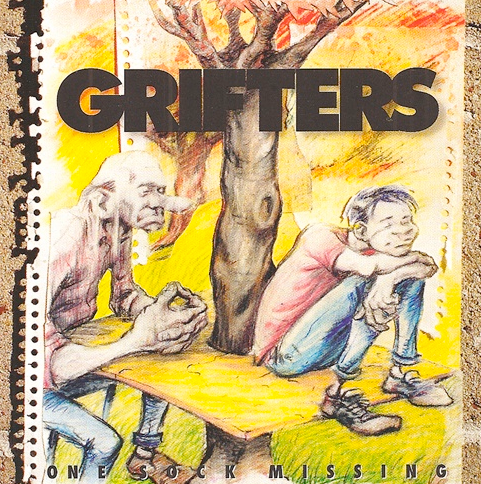 For those of us who survived the '90s, and the subsequent, curious generations who followed us, one question burns: which indie rock reunions do I pay attention to, and which ones can I skip? If there's one shambolic, cheeks-flushed-with-warmth, college-radio '90s rock fave on the don't-miss list, it's the Grifters.The Memphis group drops into New York City this weekend for two much-anticipated shows packed with the sweaty promise of energized nostalgia. The gigs come just over a year since the band—begrudgingly, it seemed—played a 2013 reunion in Memphis with the release of Meanwhile in Memphis: The Sound of a Revolution, a documentary about the still-iconic Memphis indie scene.
The Grifters are known for fitting sloppily into a niche—and yet somehow also not at all—carved out by the Pavements and Guided by Voices of the time, but with a fuzzy, dirgey, propulsive, and sorta drunk sound all their own. The band's early LPs, like Crappin' You Negative and One Sock Missing, carved out an identity for the group on Memphis imprint Shangri-La. An offshoot of one of the city's great record stores, the Shangri-La label was known for some odder acts in its heyday, among them Strapping Fieldhands (and for a brief, weird moment, Kelley Deal 6000) but none made their mark more than the Grifters. The band's messy guitar-submerged pop, always threatening to either blow up triumphantly or just fall apart, garnered them a signing at SubPop, a career move at that time still considered a possible step-ladder to the indie heavens. The band's last LPs for the Seattle label did not, unfortunately, vault them higher than their earliest triumphs, and the band hung up the distorto-bass quietly in the early 2000s.This weekend's shows should offer longtime fans a chance to warm up and be left wanting.
Friday the band will perform at soon-to-close Glasslands, a once-marginal music venue turned legal concert space. Sadly, the space gained legitimacy (and decent bathrooms) just in time to be erased—the same hipster-cannibalistic development of South Williamsburg art spaces is also taking down beloved nearby venue Death by Audio. Saturday, the band crosses the Williamsburg Bridge to the Mercury Lounge. Both shows are supported by Detroit experimental-retro-pop band Turn to Crime.