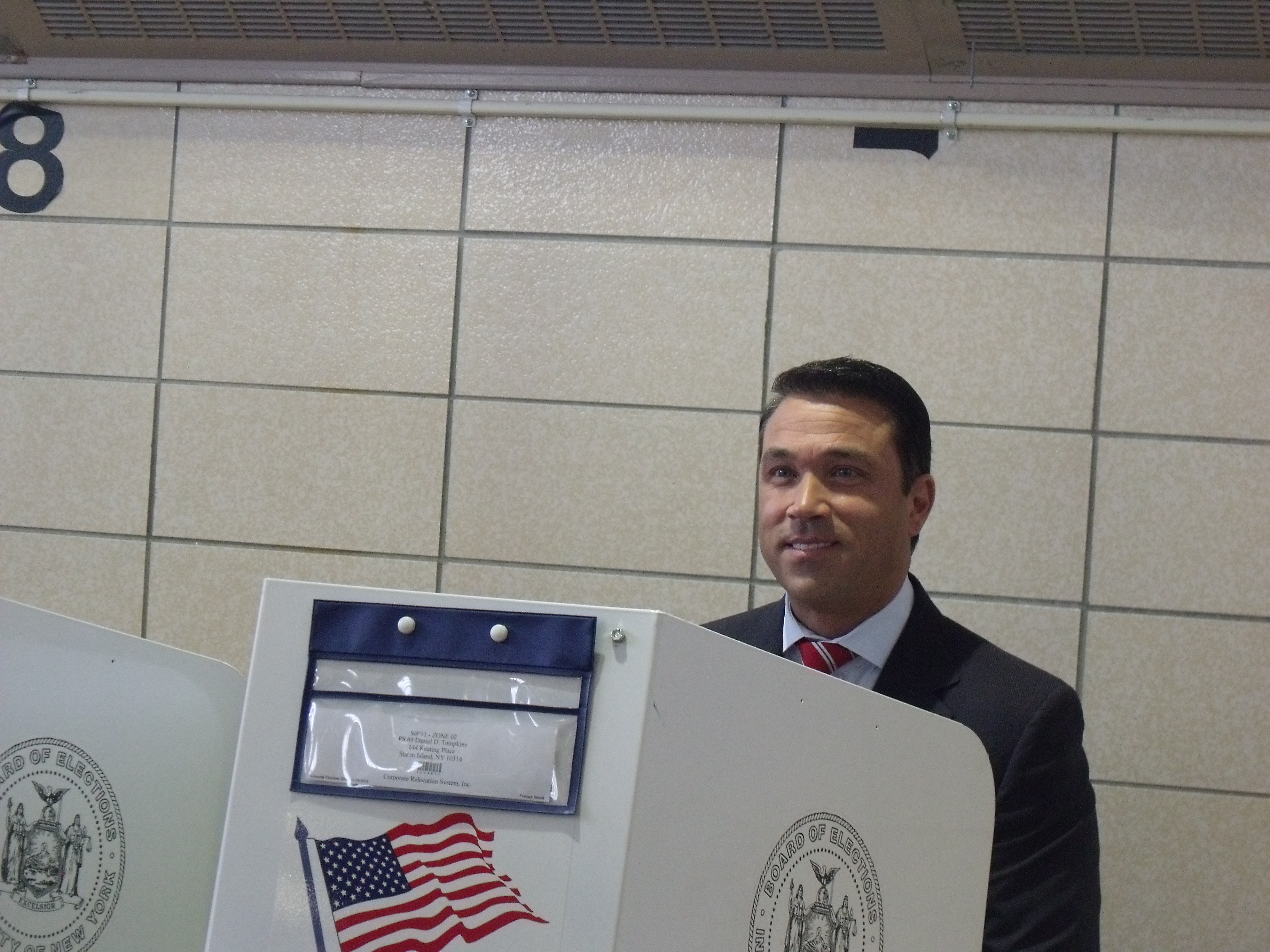 As he voted in an elementary school gymnasium this morning, Congressman Michael Grimm didn't look like an under-funded, under-indictment incumbent fighting to keep his seat.
He looked like he was ready for his victory lap.
Mr. Grimm, a Republican, received a round of applause from poll workers and voters alike as he strolled across the wooden basketball court at P.S. 69 in his New Springville neighborhood of Staten Island. He smiled widely, shaking hands and telling people how good it was to see them, as a throng of television cameras and newspaper reporters watched. After filling out his ballot behind a privacy screen, the congressman made sure to peek his head up, so the cameras could see him.
"If the people of Staten Island come out to vote, then we should have a good victory," Mr. Grimm told reporters after voting.
The congressman is facing Democrat Domenic Recchia Jr., a former councilman from Brooklyn sliver of a district that lies mostly in Staten Island. While many predicted Mr. Recchia would win the seat after Mr. Grimm was indicted in April on tax fraud charges relating to a restaurant once co-owned — and while Mr. Recchia has raised vastly more money and benefited from a barrage of television ads recounting Mr. Grimm's legal woes — the latest poll in the race showed Mr. Grimm up by an astounding 19 points after Mr. Recchia committed a slew of gaffes on the campaign trail.
"I wouldn't even begin to speculate on the numbers, I don't think it matters — a victory is a victory, a win is a win, and that's what we're looking to do," Mr. Grimm told the Observer when asked if he believed that margin would hold up today. "Of course, the larger the margin, the better. I do think that if it is a large margin, it's as much a referendum, I think on two things: one, the negativity of the campaign — I think that people are rejecting the negative and the personal attacks by my opponent."
But Mr. Grimm was also hoping a wide margin would echo in the halls of Brooklyn's federal courthouse, where he is set to stand trial in February.
"I also think it would be a referendum on the justice department, and that's why we will work every day until we're acquitted, and then we can really move on and go onward and upward," Mr. Grimm said.