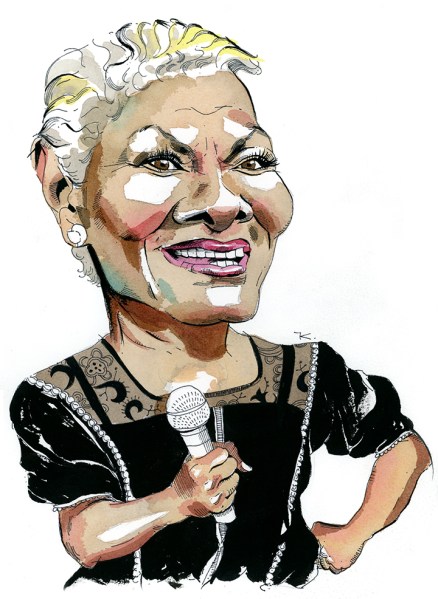 On her new album, Feels So Good, Dionne Warwick, 73, follows Tony Bennett's lead, singing duets with several younger artists, including CeeLo Green, Ziggy Marley and Ne-Yo. Her voice remains supple and sweet. But in a recent telephone conversation, edited and condensed below, the same could not be said of her tone.
You lived in Brazil. Do you travel there? Oh yeah, I still visit Brazil.
How long did you live there? What does this have to do with my record?
Well, I'm just trying to get into things. Let's talk about what I'm more excited about—and hope that you are, too.
All right. Your voice has a nice maturity on the album. It reminds me of the jazz singer Jimmy Scott. Really? What a compliment. What a compliment. Thank you so very much.
You've got quite a few Burt Bacharach and Hal David songs on the record. You've said that their songs are difficult to sing. Have any other songs challenged you in the way theirs did? I'm not quite certain, first of all, of your information.
I've read previous interviews in which you said that their songs were hard to sing. No, that's not what I said. I said that Bacharach melodies are not the easiest to sing and most people would find them difficult. Fortunately, I have a music education, where I read music, and although there were challenges and he challenged me with every single recording, I had the ability, thank God, to rise above it.
Do you still talk to Burt Bacharach? I saw him yesterday.
What did you talk about? None of your business, O.K.? Come on, pal, let's get to what you're supposed to be asking me.
So, tell me what you wanted to convey on the record. I wanted to have people understand the songs that I've been singing over the past 53 years. Hopefully it will give people what the title of the CD is—a feeling of goodness.
The Ziggy Marley cover of "Raindrops Keep Falling on My Head" is fun. Have you done reggae before? No, I've not done any reggae in my recording career, but I've known Ziggy since he was born. His father and I were friends. Bob [Marley] was an incredible man. Very spiritual. Beautiful thoughts about life and what life should really represent throughout the world.
You knew Marlene Dietrich, too. What was she like? Burt Bacharach was her musical conductor, and I was coming to Paris to perform at the Olympia Theater in the early '60s. He asked her if she would mind taking care of me. She treated me as if I was her daughter, and I affectionately referred to her as "Momma." She was a wonderful lady. She taught me the word couture, much to the chagrin of my accountants.
Which records have you returned to through the years? I listen to my peers. I listen to Johnny Mathis. I listen to Gladys Knight. Frank Sinatra. Ella Fitzgerald. Sarah Vaughan. I listen to a lot of Brazilian friends.
Do you feel like you can find good bossa nova in the States? Well, when it's brought in by Brazilian musicians, yes.
That's saying a lot. That's saying the truth.