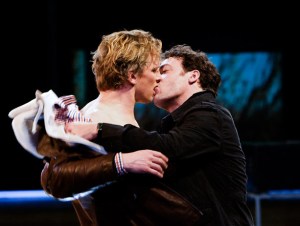 When Tony Kushner's Angels in America premiered on Broadway in 1993, it felt physically immediate. It felt like one of our own neurotic, stressed-out New Yorkers showing us to ourselves in familiar locales like Central Park's Bethesda Fountain or the steps of the New York State Supreme Courthouse in Lower Manhattan, but during extended moments of heart-rending difficulty. Twenty years ago, our awareness of the AIDS crises unfolding among our various neighborhoods was palpable in the daily life of the city. Angels in its sprawling length, its hectic incident and wordy wit and passion was a Balm in Gilead for very local frayed nerves and bruised spirits.
In late October, the Brooklyn Academy of Music's Next Wave Festival presented Toneelgroep Amsterdam's lean and lingering production of Tony Kushner's dystopian epic in two parts, "Millennium Approaches" and "Perestroika". It was as if the original Angels, which had been divided into two separate performances, had, tired of its own excesses, packed up shop and decamped to a vegan spa in The Netherlands and emerged back on Fulton Street in downtown Brooklyn at BAM's Harvey Theatre twenty years later, still recognizable but thirty pounds lighter and in fighting trim.
Toneelgroep's general director Ivo Van Hove pared down the effusive "gay fantasia on national themes" and placed it on a stage bare except for a small table with two deejay-style turntables, a rolling IV drip and evocative slow-moving video images projected on the set's back wall.
The play portrays two gay men (here Fedja Van Huet and Eelco Smits) reeling as their relationship disintegrates under the pressures of the AIDS epidemic. Their relationship is shown in counterpart to a Mormon's lawyer's (Marwan Kenzari) to his valium-popping wife (Helene Devos); their marriage is falling apart as he struggles to suppress his same-sex attractions.
Supertitles showed the English version of the dialogue spoken by the uniformly excellent company of eight Dutch actors. (Particularly strong were Hans Kesting as a fictional version of the AIDS-infected Reagan-era political operator Roy Cohn not going gentle into that good night and Marieke Heebink as a Mormon mother taking no prisoners as she tries to rescue her wayward son.)
Kushner's wild leaps of imagination and flamboyantly intellectual wordplay, not to mention wings of feathers, seemed so essentially the essence of the highly lauded original production of Angels (not to mention star-packed Mike Nichols-directed HBO miniseries of 2003), that the efficacy of this simpler interpretation came as a surprise.
How dislocatingly strange yet oddly right, therefore, when towards the end of this radically reinvented Angels in America, several of the characters remain on stage in silent reverie. Director Van Hove portrays these usually talky, maniacally moving New Yorkers in a rare calm between storms, thinking and feeling as other lives and stories swirl around them. As one character muses "In this world, there is a kind of painful progress. Longing for what we've left behind, and dreaming ahead."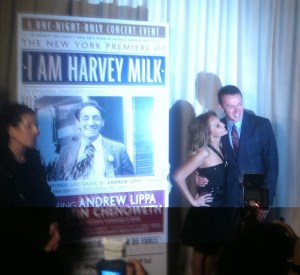 BROADWAY COMPOSER and lyricist Andrew Lippa, (who penned The Addams Family, and Big Fish and is currently working on an musical adaptation of a Jules Feiffer story), took on the role of Harvey Milk earlier this fall in a sixty-minute "oratorio" of his own composition for an audience at Lincoln Center's Avery Fisher Hall.
Gay activist Harvey Milk's story, that of a milquetoast camera store owner who became politicized during the seventies and was subsequently dubbed "The Mayor of Castro Street", has become part of cultural lore. The 2008 Gus Van Sant Milk biopic won Academy Awards for screenwriter Dustin Lance Black and actor Sean Penn, who elfishly proclaimed to the masses "I am here to recruit you!"
Milk, the first openly gay elected official in California, became an icon of the Gay Rights movement after being assassinated along with San Francisco's Mayor, George Moscone on November 27, 1978. The killer was a man named  Dan White, a disgruntled and Twinkie-crazed former City Supervisor.
 I Am Harvey Milk was commissioned by the San Francisco Gay Men's Chorus along with the gay choruses of Atlanta, Dayton, Denver, Los Angeles and Twin Cities, and premiered last year to acclaim in San Fran. This most recent concert staging, introduced by Whoopi Goldberg, was a benefit for a new "Harvey Milk Arts Fund" at the Hetrick Martin Institute, which supports queer and questioning youth.  Lippa was joined by the Orchestra of St. Luke's and the new All-Star Broadway Men's Chorus, under the baton of Joel Fram and directed by Noah Himmelstein. Broadway diva Kristin Chenoweth rounded out the cast with Noah Marlowe as the young politico.
The piece, comprised of twelve songs exploring different moments and perspectives from Milk's life, doesn't strive for narrative cohesion but rather a more impressionistic feel. In the opening number, the young Harvey dreams of his life playing out with the full-feeling of an opera, Chenoweth's affecting "Was I Wrong?" has Milk's mother questioning her responsibility for his death, and there's even a song where the chorus takes on the voice of the bullet which ended his life. The well-rehearsed and clearly emotionally-invested chorus brought power and a few twirling dance moves to the, (sorry, kinda cheesy) disco anthem "Friday Night in the Castro".
The piece leans heavily into sincere and reverent elegy, ending with a repeated and perhaps not-yet-dated call to "come out, come out, come out" which felt strangely like a demand at one point asking: "What took you so long?"