One wonders what the fuss was all about all those years ago.
Now the stuff of legend, Chris Ofili's painting The Holy Virgin Mary (1996) ignited a firestorm when it made its U.S. debut at the Brooklyn Museum in fall 1999. It was a key work in "Sensation," a traveling group show that originated in London, featuring highlights from the Charles Saatchi Collection of Young British Art (YBA). A handful of church and government officials denounced the painting after having read wildly distorted reports that the work depicted the Holy Mother surrounded by porn images and covered with feces. Boisterous anti-"Sensation" crowds condemned the show in daily demonstrations near the museum entrance.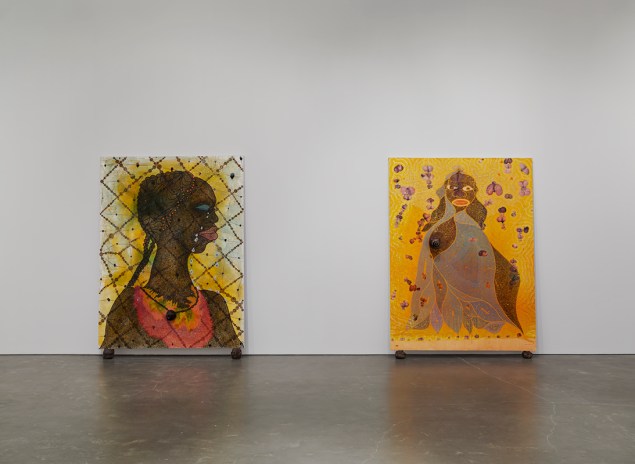 Few, if any, of these critics ever saw the painting in person, including Rudolph Giuliani, then New York City's mayor, who threatened to close the show and cut city funding for the museum. At one point, the work was vandalized by an irate visitor who attacked the surface with white paint, in effect, temporarily whitewashing the black artist's work. The painting was quickly restored and returned to the exhibition. For at least a year after that show, maybe two, The Holy Virgin Mary was arguably the most famous—or infamous, depending on your point of view—work of contemporary art in the world. The heated controversy it generated surpassed even that of Andres Serrano's photo Piss Christ, which sparked similar public outrage when it first appeared in 1987.
Today, the painting appears rather quietly demure and well-behaved in its return visit to New York; The Holy Virgin Mary appears as a glittering, gorgeous tribute to Mary and the long history of her iconography. It casually takes its place in a gallery filled with other stunning canvases of the period in "Chris Ofili: Night and Day," a spectacular mid-career survey of the artist's paintings, sculptures and works on paper on view at the New Museum through January 25, 2015.
Born in Manchester, England, in 1968, of Nigerian parents, Mr. Ofili was a practicing Catholic at the time he produced the work.There is nothing demeaning about this stylized, imposing figure. It has universal appeal as an earth goddess, a hopeful symbol of fertility and wellbeing. Wearing a traditional pale blue robe, and surrounded by a shimmering field of gold and yellow, she has the countenance of a Byzantine icon, albeit with a funky, up-to-date twist.
Up close one can see that the gilt surface, made of dense layers of paint and glitter, is activated by small collaged elements: snippets of photos of female genitalia and buttocks taken from magazines, alluding to the figure's role as a fertility goddess. Attached to the canvas at the right breast is a ball of beaded and bejeweled elephant dung—a substance held sacred in some areas of Africa as a symbol of growth and regeneration. Two similarly adorned balls of dung, several inches in diameter, placed on the floor, serve to prop up the large canvas, which is not hung, but simply leaned against the wall.
Accompanying the "Madonna" in the room are 11 related works of the period, identical in size (96 by 72 inches) and similar in format. All feature rich palimpsests of color and glitter, with masterful drawing of bold, cartoonish imagery with erotic overtones. Outstanding among them is Monkey Magic—Sex, Money and Drugs (1999), which features a stylized monkey at center with a long, upward curving tail. Inlaid into the background are patterns of colorful dots radiating from the monkey. The dots motif recalls the "spot" or "pharmaceutical paintings" by the artist's onetime YBA colleague Damien Hirst. Well-known Chris Ofili paintings in this gallery, such as Foxy Roxy (1997) and The Naked Spirit of Captain Shit and the Legend of the Black Stars (2000-01), look as fresh, sexy and provocative as ever.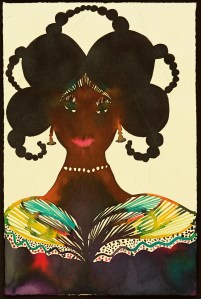 An optical workout for visitors is in store elsewhere in "Night and Day," which was organized by the New Museum's artistic director and curator Massimiliano Gioni, in collaboration with assistant curator Margot Norton. In one gallery, Mr. Ofili created a darkened space to present his large, near-monochrome "Blue Rider" series of paintings. He began the series after he relocated his studio from London to Trinidad in 2005. In interviews, he likens the myriad blue tones in the series to the Caribbean island's mysterious twilight skies. Resembling to some degree The Rothko Chapel in Houston, Mr. Ofili's space in the show has a hushed, meditative atmosphere.
Benches are provided for museum goers to contemplate the large (over 8-by-6-feet) canvases; but, ironically, they are best seen if one moves around the room. Shifts in the subdued lighting illuminate subtle differentiations in the color and surface. Suddenly, fragments of images emerge—figures and scenes that are at once disturbing and mesmerizing. In the show's excellent catalogue, artist Glenn Ligon explains that the figures refer to the "blue devils" of Paramin, a mountainous town north of Port of Spain, where Mr. Ofili lives and works. At Carnival time, residents of Paramin cover their skin and costumes in blue powder for predawn celebrations.      
The influence of Trinidad on Mr. Ofili's art, in terms of light, color and exotic subject matter, is evident in the recent examples on view in the show. For one of the exhibition's most exciting displays, he painted all the walls of the gallery with stylized vegetal forms in glowing shades of purple. Against this backdrop, Mr. Ofili hung a series of large canvases with subjects based on tales from Ovid.
It is admirable and thrilling to see the artist evolve in unexpected ways, and these paintings represent a significant departure for him in terms of style and approach. The sensuality of the imagery, the lively brushwork and vibrant color remain intact, but gone is the glitter—as well as the dung balls—featured in his earlier paintings. Stylistically, and in terms of technique, the more recent works bear comparison to paintings by his Trinidad friend and neighbor Peter Doig. However,
his imagery—surrealist-tinged and up-tempo jazz-inspired—is quite distinct from Mr. Doig's melancholy scenes. 
Another gallery features a selection of works from "Within Reach," the artist's memorable show at the Venice Biennale in 2003, when he represented Great Britain. The Afrocentric theme in these works focuses on ideas of black love and liberation, and Marcus Garvey's concept of Africa as a paradise. Mr. Ofili restricted his use of color in this series to those of the Jamaican political leader's Universal Negro Improvement Association Flag: red, black and green. In the Venice pavilion, the artist created a heady environment to show these paintings, using skylight filters of red and green. At the New Museum, it is a treat to see the works illuminated more conventionally, without distorting the actual colors of the canvases, which are gorgeous. Hallucinogenic images of intertwined couples in verdant settings, in compositions such as Afronirvana (2002) and Afro Apparition (2002-03) are even more potent now.
The only disappointments in the show are the four sculptures. Mr. Ofili's unique vision and sensibility do not seem to translate well into three dimensions. They lack the vitality and originality of the paintings, and appear like rather awkward modernist figure studies.
Still, there could be for Mr. Ofili some breakthrough in sculpture yet to come. Meanwhile, as this show proves, and as other critics have noted, Chris Ofili summarily dismisses all detractors. His work, consistently provocative as it is beautiful to behold, leads paintingtoward new horizons. n