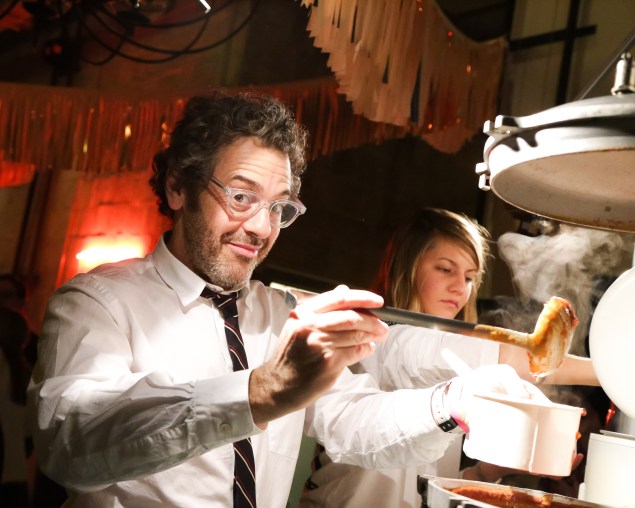 On Saturday morning we woke up in a strange-looking basement in a cot, surrounded by others in cots identical to ours. It was too large to be a Williamsburg loft, too small to be a prison, too decadent to be any house we would ever live in…—wait, where were we?
And then came the shouting.
"Get up! Get up! Get up!"
It all came back: We had succeeded in enduring the Creative Time fall gala, which this year was an arty sleepover complete with arty PJs hosted by NeueHouse, the arty Soho House alternative workspace and occasional party pad on 25th Street. It was an all-night event, and we stayed for the whole thing, because who doesn't love a sleepover?
Untangling ourselves from our sheet, we took stock of the ragtag crew, numbering around ten, stumbling upstairs towards a table of breakfast snacks. Nearby, several intimidatingly peppy people were brewing Matcha.
"It was first imported to Japan from China to help the Japanese emperor recover from hangovers!" a woman pipped cheerily.
Her colleague asked how the night had been.
"Still going," said a young man in a onesie.
Where to begin the story, we thought, when the story ends with men in onesies?
Well, we guess it begins the night before, when the crowd finally streamed in around 10:00 p.m. Things were less than normal. A cabaret troupe called The Citizens Band had began its second performance of the party, and Andrew Kuo and Mike Boner's group Hex Message had just played. Dustin Yellin, who through his Pioneer Works space has basically become Red Hook's culture ambassador to the world, looked unusually sullen—head-to-toe black for the artist with a Technicolor-in-glass installation right by the stairway. Max Levai, the young head honcho at Marlborough Chelsea, and Grey Area's Kyle DeWoody were there to support Marlborough guys Jonah Freeman and Justin Lowe's short film The Floating Chain played on repeat in the downstairs screening room.
And that's not all. Are you in need of a craft cocktail mixed by mixologists featuring liquor provided by the liquor sponsor? Mixologists mixed drinks with said liquor from said liquor sponsor. Are you in need of nail curation brought to you by a nail artist? Nail artists curated nail art. Are you in need of infantilization even more explicit than the conceit of holding a grown-up sleepover? There was an arts and crafts table.
There was also the artist David Colman in NSA duds standing by a door marked "Zip." He ushered us into a side room where we were told to choose between a male and a female NSA officer. We looked at the pile of used latex gloves. We chose the woman.
We read aloud a disclaimer that doubled as the rules of the game—obey our officer or repeat "I insist you stop"—and then the make-believe NSA lady led us to a too-small plastic partition.
"Take off your shoes," said our officer.
We obliged. Next, our jacket, then our sweater.
"Take off your skirt."
Um…
"Take off your shirt."
It was then that we noticed a gap in the curtains, revealing guests mingling outside.
"Take off your tights."
"I insist you stop!"
Our wishes were thankfully heeded and we hurriedly redressed and rushed away. Afterward, Mr. Colman offered an explanation.
"The point was not to get naked," said the artist, who explained that it was an interactive installation called Zip by David Colman. "It was inspired by the NSA, and it was supposed to bring to life that position we find ourselves in where our privacy is being taken from us, and we are very ambivalent about it.'"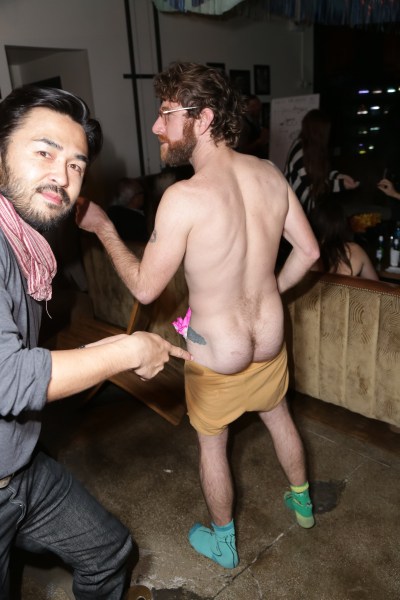 At least one person hadn't found the striptease-as-political-statement too burdensome. Later on, Mr. Yellin was completely naked save a pair of slipping-down yellow boxers and green socks.
"I feel liberated!" he pronounced to us and all those in earshot.
Good to hear, Dustin. We had to know, with all this escalating disrobing, if he thought anyone would hook up in the cots downstairs.
"Fuck yeah!"
Good to know. But who?
"It's going to be full orgy," said Mr. Yellin. "Dicks and tits flying. Everyone's going to love it because we all love each other."
Sounds like a great party, but hold on a second: there was commotion encircling a stand advertising rice and beans.
"Oh my god," someone exclaimed. "That's Tom Sachs!"
Indeed, the emulator of interplanetary missions was humbly ladling out chili to a pinto bean-crazy crowd. It was a performance titled Tom Sachs Space Program: Mars Red Beans and Rice Cart.
"Oh, more avocado?" Mr. Sachs said to the chili-lovers "Hot sauce right here, you can have red or green. One more minute, and a fresh batch will be ready!"
We went back for seconds.
By midnight, less intrepid guests had elected to slink home to their own, non-cot, non-Creative Time-branded beds. Yellin was not among them, and over the last hour, his boxers had been yanked down exposing his backside. His frontal bits were concealed with the materials at the arts and craft stand—infantilization, indeed—and when he saw that his buddy Waris Ahluwalia had arrived, he rushed to pounce and grind on the confused jewelry designer.
In another side room a boisterous karaoke session was picking up. People had started to take advantage of the Twister mats (of course there were Twister mats) and pizza and salad materialized at 1AM. We overheard something about tossing salads and suddenly, an orange salad spinner was facilitating a game of "Spin-the-Salad-Spinner-Handle." Think spin the bottle, but greener and with some Caesar dressing.
Dancing reached a fever pitch when Sasha Frere-Jones, the pop music critic for The New Yorker, took over as DJ. We looked at the time, and what time was it? That's right. It was pajama time. And then, soon, off to sleep. Hey, we thought this isn't so bad. Most galas just offer a decent dinner, and this gala offers a place to crash, and a nice bed to boot, a really nice bed…
And then dawn, and then Saturday, and then at night, again at NeueHouse, the second part of the Creative Time gala. It all felt so familiar: dance party, craft cocktails, artists acting a fool. But there was one key difference: everyone had to leave at 2:00 a.m. And so we left, and went back to the apartment we normally live in, and though it lacks DJs who work at The New Yorker and artists in their boxer shorts and video installations, it worked just fine.