In the 1920s and 1930s, the Russian émigré Nicholas Roerich was one of the most famous painters in America. His work was shown around the country and widely praised. He is surely the only painter who ever had a skyscraper built for him—the 28-story Art Deco Master Building at West 103rd Street and Riverside Drive, completed in 1929.
But today he's been almost entirely forgotten, at least in America. The only place in the country to see a collection of his paintings is in a townhouse at 319 West 107th Street. A brass plaque announces the presence of the Nicholas Roerich Museum. The massive doors, usually closed, do not invite the casually curious. The museum does no advertising and minimal, almost shy promoting. If you didn't know it was there, you wouldn't know it was there.
"We just sort of lie here throbbing and people stumble across us," said Daniel Entin, the museum's 87-year-old director, with a wry smile.
About 200 of Roerich's tempera paintings and drawings, hung salon-style, clamber up the walls and stairwells. Thematically they reiterate two of his lifelong obsessions. One was mountains. Roerich loved to paint soaring, snow-capped peaks glistening against skies so blue they seem to pulse. The other was religion and mysticism—gods, demons, saints and heroes from Buddhism, Hinduism and Russian folklore abound.
Much of the work is beautiful. Still, between Roerich's style—a kind of Deco Impressionism the art critic Joseph R. Wolin has called "a cross between Matisse and Maxfield Parrish"—and all that mythical, folkloric subject matter, one can see how he might have fallen out of favor with the art world in the later 20th century.
Yet the story of Roerich's descent into obscurity has as much to do with international politics and the occult as aesthetics. He was born in Czarist St. Petersburg in 1874, son of a prosperous lawyer. He became an instructor at the Imperial Academy of Arts while pursuing avid interests in anthropology (he was a gifted amateur archaeologist) and the esoteric. In 1912 he helped found a Buddhist temple in Moscow. In artistic circles he may be best remembered for inspiring Stravinsky and Diaghilev's 1913 ballet The Rite of Spring, for which he designed the set and costumes.
He and his wife Helena fled Russia after the Revolution. They emigrated to New York City in 1920 and were instantly embraced as celebrities. An exhibition of 400 Roerich paintings (he made some 5,000 in his lifetime, Mr. Entin says) opened here to great reviews and went on a multi-city tour. Intense, visionary and charismatic, Roerich attracted wealthy patrons, including a Wall Street broker, Louis Horch. When Roerich wanted a center to bring art, literature, music, dance and theater together under one roof, a novel idea at the time, Horch put together the financing for the Master Building, with the art spaces on the lower floors and income-producing apartments above. It opened in November 1929 with an exhibition of some 1,000 Roerich paintings, and art critics raved. The Washington Post sent a reviewer who lavished much praise, while giving rather shorter shrift to another museum that opened the same month—the Museum of Modern Art.
The art was only part of Roerich's appeal. His occult side drew not just fans, but disciples. The Roerichs were devotees of an earlier Russian émigré, Helena Blavatsky, who founded the Theosophical Society in New York City in 1875. She expounded a mélange of Western occultism with ideas borrowed from Buddhist and Hindu traditions—and, her detractors said, a fair amount of hooey. For instance, she claimed to be in telepathic communication with the Masters of the Ancient Wisdom, spiritual guardians who guided mankind's destiny from the hidden kingdom of Shambhala, somewhere north of Tibet.
The Roerichs declared that they too were receiving astral communiqués from the Masters, who instructed them to go to Asia and resurrect Shambhala as a new kingdom, which they would run, ushering in an epoch of world peace. With Horch's backing, in 1924 they embarked on an extraordinary five-year expedition up through India into Mongolia, Siberia and Tibet, where they were detained for months. They didn't find Shambhala.
Roerich's next grand idea was the Roerich Pact, an international agreement to protect cultural artifacts. The U.S. and nine other nations signed it; Roerich was invited to the White House and nominated for a Nobel Peace Prize. This is interesting in light of the way Afghanistan under the Taliban and now ISIS are racing to destroy artistic treasures. They understand, as Roerich seems to have, that one of the ways to wipe out a civilization is to destroy its cultural treasures.
The search for Shambhala resumed in 1934, with a new patron: FDR's Secretary of Agriculture Henry Wallace. Wallace was a Freemason (the Masonic Great Seal that has appeared on the back of the dollar bill since 1935 was his idea), with a strong interest in the occult. He wrote to Roerich, addressing him as Guru, and backed the painter's 1934 expedition through Mongolia, Manchuria and China. Ostensibly its purpose was to collect hardy grasses that might grow in the Dust Bowl, but Roerich was still intent on founding his new kingdom. When they got wind of it, various powers with interests in the region—the Soviet Union, Great Britain, Japan—denounced him as an American spy and provocateur. The U.S. disavowed the expedition. Wallace's support of Roerich would sink him when he ran for president in 1948 and his "Dear Guru" letters became public.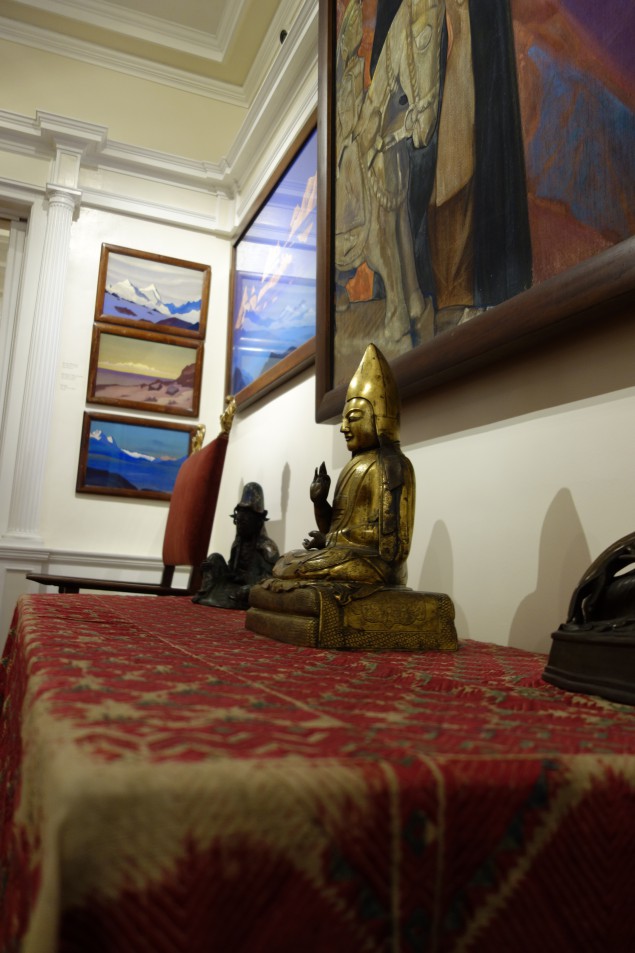 Roerich's star in America plummeted. The Master Building was hit hard by the Depression and went into receivership. Horch renounced Roerich and sued for $200,000 in unpaid loans. The IRS went after Roerich for tax fraud. By 1938 Horch had control of the skyscraper, shoved Roerich's paintings in the basement and ousted his followers. The building went co-op in the 1980s and is now called Master Apartments. Its 300-seat theater houses Zoe Ministries, a church whose pastor, E. Bernard Jordan, is known as the Master Prophet.
Roerich wasn't here for his downfall. He had wisely decided to remain in India, where he died in 1947.
"He was a great man," Mr. Entin said, reflecting on Roerich's rise and fall. "But he did suffer from a certain degree of vanity that led him into some things he maybe shouldn't have done. His ideas were so grandiose. But the idea of starting a new country in central Asia, and being the head of that country, takes more than vanity. It takes an enormous amount of ambition and ability. He was by no means a fraudulent leader. He was real."
Roerich's true disciples in New York soldiered on. They bought the townhouse in 1949 and gradually gathered enough paintings to be chartered as a museum in 1958.
Mr. Entin, a soft-spoken, white-bearded man Al Hirschfeld would have drawn all in circles and curves, has been associated with the museum since the start of the 1970s, and its director since 1983. Born and raised on Flatbush Avenue, he was 17 when he joined the Navy toward the end of World War II. After the war he became a commercial photographer. He was drawn to Sufism, which was how he heard about Roerich and the museum. "I came here and offered my help as a photographer, then began coming regularly," he said.
When Mr. Entin became director he received no salary at first, but lived, and still lives, rent-free on an upper floor. "Best commute in the city," he said. A trust established in a Roerich follower's will "pays most of the bills," including the salaries of a staff of six. Along with Mr. Entin, there's a curator, an archivist, a restorer, an assistant, and Aida Tulskaya, the treasurer, who sits at the front desk during visiting hours. She has been on the museum staff since the mid-1990s, after emigrating in 1981 from Russia, where, she said, she'd been a "big time" Roerich fan. The Soviet Union repressed Theosophists and Roerich admirers, but an underground following kept the faith. When cosmonaut Yuri Gagarin orbited Earth in 1961, he noted in his logbook that the planet's shimmering colors seen from space reminded him of a Roerich painting.
When Gorbachev embarked on perestroika in the mid-1980s, Roerich societies popped up all over Russia. In the late 1980s, the banker Boris Bulochnik, a devotee who named his chain Master Bank, funded the creation of the Nicholas Roerich Museum in a huge mansion in Moscow. Last year Master Bank shut down amid charges of laundering money for criminals. Mr. Boluchnik has fled the country, and the Moscow museum, which had all its accounts with the bank, hasn't paid its staff since, Mr. Entin said.
Still, Russians remain Roerich's most ardent fans. This October, Mr. Entin will attend an international Roerich conference at Moscow's State Museum of Oriental Art, which devotes a wing to hundreds of his paintings. Last year, a Russian collector bought a Roerich painting for $12 million at a Bonham's auction in London. It's said to be the highest price ever paid at an auction of Russian art. In New York, Sotheby's currently has two Roerichs on display (and for sale) from a private Russian collection.
Things are rather quieter on the Upper West Side. On each of two recent Saturday afternoons, maybe half a dozen visitors gazed at the works. Ms. Tulskaya said 20 or 30 visitors come on an average weekday. Sometimes a Russian tour group shows up, while the monthly chamber music concerts the museum hosts draw about 75.
"There is a public for him here," Mr. Entin said. "It's very passionate and very committed. But it's not a mass public. And I've come to realize that's the way it should be."