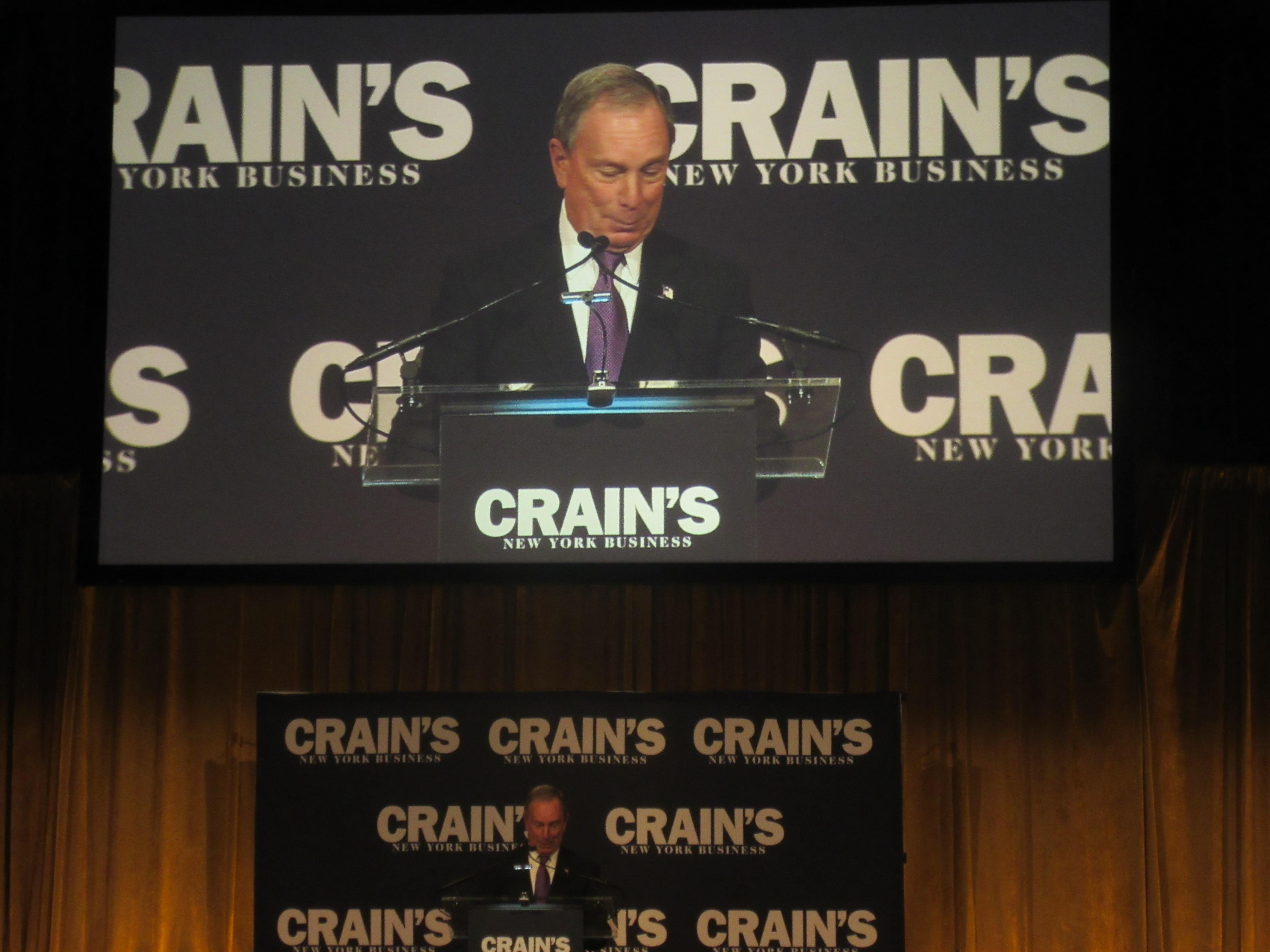 Former Mayor Michael Bloomberg today showed off a lighter side rarely glimpsed during his 12 years in office–making gibes about hitting the links and using illicit substances while accepting his induction into the Crain's New York Business Hall of Fame.
Mr. Bloomberg–whom Crain's gave a lifetime achievement award for his success founding the billion-dollar business news organization that bears his name–received a standing ovation when he took the stage. He began his speech by thanking his sister, Marjorie, for leading the cheers when former Secretary of Commerce Peter Peterson introduced him as the "best mayor the city's ever had," but noted less audience enthusiasm. Mr. Peterson declared him "the best mayor in the country."
"We didn't get as much of a round of applause for 'best mayor in the country,' but don't worry about it, I have people taking names," Mr. Bloomberg said.
He then addressed one of the earliest controversial measures he passed when he ran the city–outlawing smoking in the city's many eating and drinking establishments.
"Let me just clarify a bit here: when I put the smoking ban in, everybody was on my side, even those people who gave me a lot of one-finger waves when I marched in front of their bars," he said.
The mayor went on to recall golfing with Mr. Peterson and former Federal Reserve Chairman Alan Greenspan, and winning a two-dollar bet with the fellow billionaire that Mr. Peterson paid in pennies–which happened to accidentally include a $75,000 rare coin.
"I think it was the first time I ever heard him use profanity," Mr. Bloomberg said of the former Nixon administration official.
Keeping on the theme of his achievements on the green, Mr. Bloomberg admitted that he would prefer to have been inducted into the World Golf Hall of Fame–then tweaked Yankees' third baseman Alex Rodriguez, who was seen as a potential Baseball Hall of Famer prior to his suspension for using a cocktail of illegal performance-enhancing substances.
"In my dreams, I would be in the Hall of Fame alongside Arnold Palmer and Jack Nicklaus, no offense to my fellow inductees," Mr. Bloomberg said. "I'm also relieved that Crain's didn't believe the rumor that over the course of my career I had used performance-enhancing drugs. I actually tried, but A-Rod wouldn't share them."
Before launching into a somewhat more staid speech about New York City and the American Dream, Mr. Bloomberg saluted Crain's itself.
"I'm proud to be recognized by my second favorite business publication," he said.  "For those of you who don't know what I'm talking about; it's hopeless."