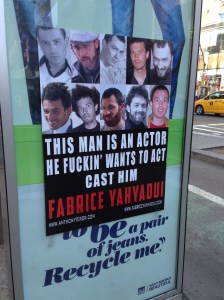 Long before the "Looking for a Girlfriend" guy took New York City by storm with his homemade ads, Fabrice Yahyaoui was taping posters in phone booths and bus stops from Midtown Manhattan to Venice.
Back in 2009, the actor decided to skip the standard black-and-white Times New Roman résumé and hit the streets with a simple message: "This man is an actor. He fuckin' wants to act. Cast him."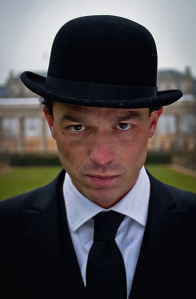 Four years later, Mr. Yahyaoui is still faithfully pinning his posters–expletives included–and he says it's working.
"Some guys, like independent directors and producers, have seen the posters and they liked the idea and the concept, they watched my Démo-Réel and they liked my work," Mr. Yahyaoui tells the Observer. "So it's the first step for me."
And, since a big chunk of acting involves drawing attention to oneself, this publicity stunt evinces some facility at that aspect.
"The posters are just the beginning," says Mr. Yahyaoui, who says his campaign his a new way of marketing. "Behind that there is a real idea … very much smarter than just to put some posters in the street."
It should be noted that he also stuck to the no-longer-than-a-page résumé rule, so bonus points for that.
You can find out more about Mr. Yahyaoui, his work and his adventures in the documentary below (he hits New York City at the 36:40 mark).
[youtube https://www.youtube.com/watch?v=R9qhgLOBoRU]