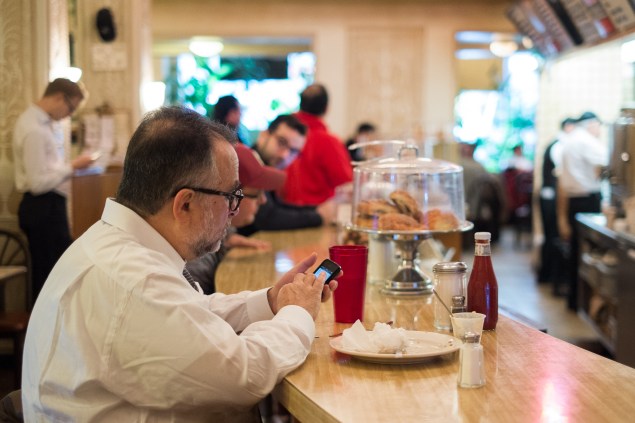 "There's always hellos and goodbyes and we'll see you laters. You know, it's just something in your heart. You miss something that's been part of you. You don't come here every day, but it's a no brainer to stop by and say hello, pass by," Roberta Newman says, a wistful nostalgia in her stance. After an Uptown morning, she's visiting one of her favorites, Café Edison. Beside her sits Conrad Strohl, the restaurant's manager. He grows restless as the lunch crowd piles in, eager to speak with all of his customer friends.
On November 6, when Jeremiah Moss broke the news that Café Edison would close at the end of the year, it set the Internet ablaze with anger and dissent. Not the Edison! Not the last reminder that Manhattan was once more than a mass-incorporated tourist trap. Not the birthplace of Broadway babes, where playwrights penned their best works. Alas, the attached hotel's owner decided to ignore history for big bucks and, after 34 years of partnership, not renew the lease for 2015.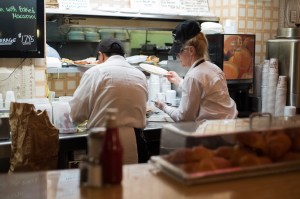 "My father-in-law and his father had a handshake agreement that we could stay here as long as we wanted. I was very flabbergasted," Mr. Strohl told the Observer.
"Devastated, devastated, devastated," Ms. Newman said, before adding, "Out of left field."
Left field, indeed. Café Edison is a New York staple. Mr. Strohl pointed out a booth where representatives of the Shubert Organization made their deals and Neil Simon wrote 45 Seconds from Broadway. During Season 5 of Sex and the City, Carrie Bradshaw graced the diner's counter with her haute couture, sipping seductively on some Joe. This is not your typical restaurant closure–there's a reason why over 2,000 people have endorsed a petition to save the café.
Mr. Strohl has signed a document that prohibits him from badmouthing the powers that be at Hotel Edison, but Ms. Newman had a few choice words to supplement.
"They are losing an icon here," she said. "They could take this place and put it somewhere else, but it's not going to be the same. It's part of the Broadway establishment… [If] you want Jewish food, this is where you come."
In a booth to her right, Tom Mercadante munched on pancakes. A New Jersey native, he's been following theater since he was a kid, and whenever he would make the trek into the city for a show, he'd sally over to Café Edison. Now based in San Diego, Mr. Mercadante flies into New York twice a year to catch the latest hits on the Great White Way. He used to stay at Hotel Edison, but it's no longer up to his standards. However, the neighboring restaurant has never lost its appeal, and he still visits every time he's in the area.
"We wake up and we come here," he said.
"I like the walls. I've always liked the walls," his tablemate, Peter Duenez, chimed in.
Across the walkway, a young entertainment lawyer, Nathan Sheffield, shared a meal with an out-of-towner who seemed taken aback that a diner could inspire so much frenzy. But Mr. Sheffield got it—he's frequented the café for 10 years, and he's the first to advocate for its family feel.
"Oh my god, it's like you've seen the same waitresses and waiters here the entire time. They get to know you so much that before you sit down, there's a cup of coffee waiting for you. And they know where you like to sit," he said.
On the opposite side of the room, in his regular corner, comedian Jackie Mason was reminiscing about 10,975 days of quality cuisine.
"I'm already mourning the place," he said. "That's why I'm sitting here now even though I ate already because I can't get over the fact that it's closing. I just want to enjoy the feeling of it still being here."
Decrying the importation trend in the food industry, he cited Café Edison as "one of the few places in the world where every dessert they have here is made here."
"Everything I did here was my favorite. [I have] a favorite French Fry. I have a favorite blintz. Even the coffee here is homemade and better. My favorite moment is whenever I'm eating anything," he added.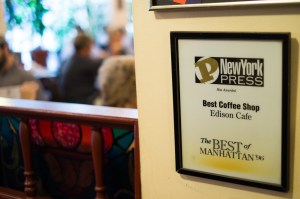 As he soaked in the scenery for the umpteenth time, his fellow Edison admirers were rallying over the Interwebs. A lunch mob has been organized for November 8, when they'll protest the hotel's greedy schemes while scarfing down Midtown's best matzo ball soup.
When asked about the impending mob and whether it would come to fruition, Mr. Strohl smiled. "I hope so. I hope so. We're ready," he said. Then, he ran over to Mr. Mason so they could commiserate together over comfort food.