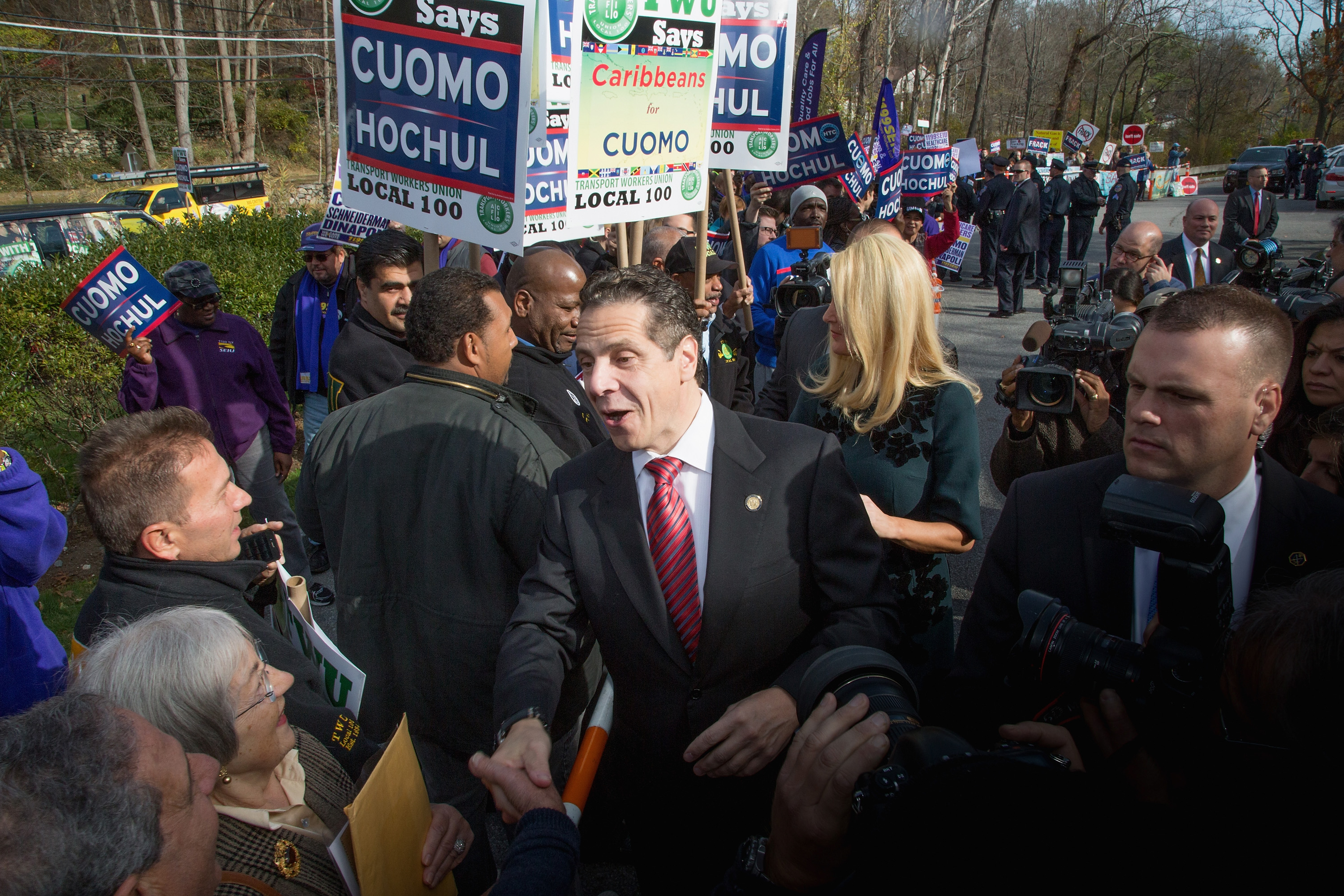 He was photographed wearing shades and flannel in a Dunkin' Donuts, a baby crowding out the bottom of the frame. He hasn't been spotted much elsewhere in the past week.
Gov. Andrew Cuomo has not held a single public event since winning re-election on November 4, returning to a schedule Albany watchers know well–minimizing opportunities for the press to scrutinize him and ensuring that the public is unaware of exactly where their governor is going or what he is doing.
For a governor who avoided the campaign trail when he could and openly resents the news media, a 10-day quiet stretch–interspersed with one radio interview–is not much of a surprise.
"None of us are optimistic that there will be any major change in Albany in the next two or four years," said Bill Samuels, the founder of the good government group EffectiveNY and a Cuomo antagonist. "He's the governor, it is what it is."
In the weeks leading up to Election Day, Mr. Cuomo was in public far more than usual. He took questions at frequent events and moved visibly across the state. The arrival of New York's first Ebola patient in October gave Mr. Cuomo an opportunity to bask in the spotlight–the governor instituted a controversial, but ultimately popular, quarantine policy for any person who had come into contact with an Ebola patient in Africa.
With election season over, it's now business-as-usual for an executive notoriously indifferent to transparency. While Mayor Bill de Blasio, who at times has had a testy relationship with the media, continues to hold several press briefings a week and distribute a relatively detailed public schedule, Cuomo watchers are left to wonder what "Governor Cuomo is in the New York City area" really means.
Mr. Cuomo skipped the Somos El Futuro conference in Puerto Rico earlier this month, where lobbyists and lawmakers like Mr. de Blaisio hobnobbed for several days. He also raised eyebrows when he did not attend a press conference on Tuesday announcing the discharge of the city's lone Ebola patient, Dr. Craig Spencer.
"It's not unusual for politicians to pare back especially when they are trying to assess a changed political landscape," said David Birdsell, the dean of the Baruch College School of Public Affairs. "A lot of people are looking around, trying to figure out what's going on."
After surviving a surprisingly strong primary challenge from a liberal insurgent, Mr. Cuomo defeated Republican Rob Astorino by a comfortable but not overwhelming margin last week. A historically low number of voters came to the polls and Republicans, perhaps not to the centrist Cuomo's chagrin, won control of the State Senate.
Mr. Cuomo ran on a number of campaign pledges, like passing the full Women's Equality Act and the Dream Act, that are likely to run into roadblocks in the Senate. Legislators are now pushing for a hike of their own pay and some advocates on the left want any pay hike to be tied to a boost in the minimum wage, a priority of Mr. de Blasio's that Mr. Cuomo is less enthusiastic about.
It's a time to negotiate and arm-twist behind-the-scenes–where the Machiavellian Cuomo appears most comfortable. But others are left to wonder whether it makes most sense to stay in the shadows.
"It's a missed opportunity to unveil the positive agenda he was criticized for lacking the entire campaign," argued one Cuomo observer. "It would have been a great chance to begin restoring his favorability rating. Instead, it reinforced his negative perceptions about his obsession with secrecy."
Mr. Cuomo's office did not return a request for comment.