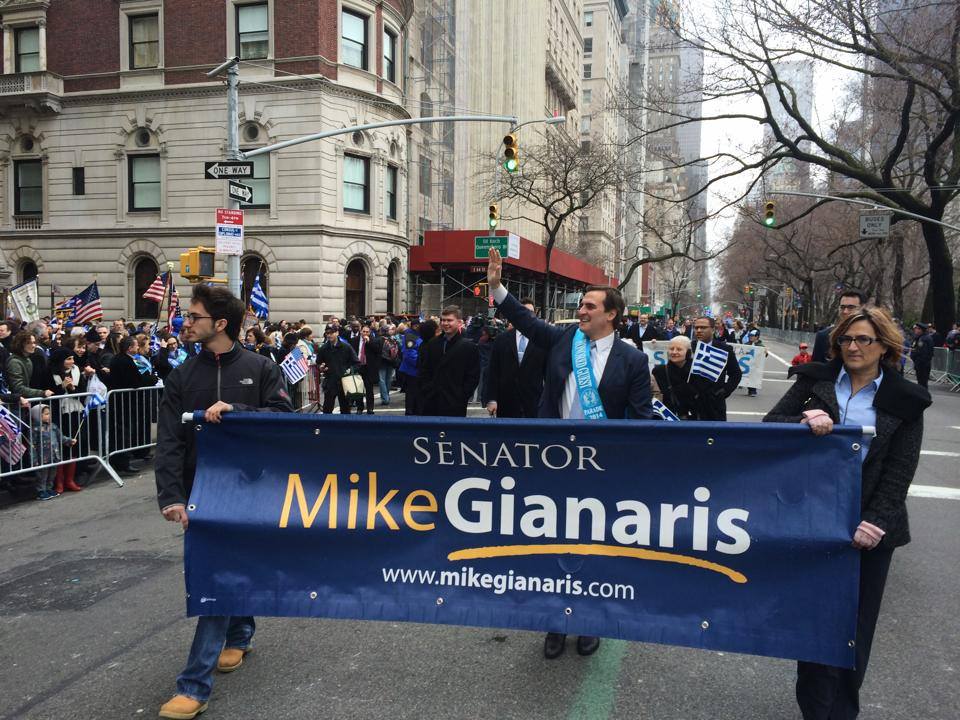 The State Senate Democrats' disastrous Election Day could mean the eventual dumping of their campaign chair, sources say.
State Senator Michael Gianaris, who has been chairman of the Democratic Senate Campaign Committee for two campaign cycles, could be a casualty of the Democrats' stunning defeats last week, though talks are still in their infancy, sources say. While a Republican wave swamped Democrats nationwide, some New York Democrats expressed frustration that so many candidates running in toss-up races were crushed.
"There are definitely rumblings of a major shake-up," one source familiar with the Senate Democrats' plans told the Observer. "Gianaris and Josh Cherwin [the DSCC executive director ] could be out."
Multiple Democratic sources said Mayor Bill de Blasio, who played an outsized role in the Senate Democrats' efforts to recapture the majority, was dissatisfied with Mr. Gianaris and the DSCC's lead consultant, the Parkside Group. Mr. Gianaris, a Queens lawmaker, is close to a partner with the firm, Queens District Leader Evan Stavisky, and DSCC-backed candidates must use Parkside to print their campaign mail, an arrangement some Democrats have long bristled at.
Ultimately, it will be up to State Senator Andrea Stewart-Cousins, the leader of the Senate Democrats, to reappoint Mr. Gianaris. Members of the conference, along with Mr. de Blasio and his top operative Emma Wolfe, will have input as well, sources say.
Even if the talk of a leadership change leads nowhere, potential successors to Mr. Gianaris are already being floated. Fellow New York City lawmakers like Brad Hoylman, Daniel Squadron and Gustavo Rivera have been discussed, along with a Gianaris ally, Buffalo State Senator Tim Kennedy.
Mr. Squadron, in a statement after this story was published, said he believed the Senate Democratic leadership "is doing a great job and I am fully supportive of them going forward" and Mr. Hoylman echoed those sentiments, praising Mr. Gianaris for transforming the DSCC "from a deeply-indebted and shambolic organization into a well-funded and nimble political operation." Mr. Rivera said he had "absolutely no interest" in the DSCC chairmanship.
"I think conversations among members are not so far along. But the whole de Blasio operation doesn't want Gianaris," a Senate Democratic source said. "It's about how much [Mr. de Blasio] chooses to weigh in." (A spokesman for Mr. de Blasio said in a statement that the mayor "enjoys a close working relationship with Sen. Stewart-Cousins, Sen. Gianaris, and the Senate Democrats," denied the mayor is unhappy with Mr. Gianaris and insisted no conversations about a leadership change had taken place–though Mr. de Blasio declined to comment on the possibility of a DSCC shake-up at a press conference last week.)
The Democrats entered Election Day with hopes that they could secure enough seats to at least be able to govern in the majority with the 5-member Independent Democratic Conference. The IDC, which has led the Senate with the Republican Party, agreed earlier this year, at Mr. de Blasio's urging, to dump their arrangement with the GOP and share power with the Democrats after the elections.
But the Republicans won enough seats to secure an outright majority. Three Democratic incumbents–Ted O'Brien, Terry Gipson and Cecilia Tkaczyk–all fell to Republicans and candidates like Justin Wagner in the Hudson Valley and Adrienne Esposito on Long Island failed to capture open seats previously held by the GOP. Mr. de Blasio began to downplay expectations days earlier, insisting the 2014 elections would lay the groundwork for a 2016 sweep, when a presidential election will dramatically boost Democratic turnout.
Mike Murphy, a spokesman for the Senate Democratic conference, said there is "no truth" to the "rumors" about a leadership change. In defense of Mr. Gianaris, a source close to the conference pointed to Mr. Gianaris' ability to retire the conference's campaign debt and other factors beyond his control, like a Republican midterm rout that led to the defeat of several House Democrats in New York.
Mr. Gianaris had a much stronger 2012 that isn't easily forgotten. As President Obama ran up the score in New York, Senate Democrats won four races that year and grew their conference enough to sit in the majority. The IDC, though, chose the Republicans instead.
Mr. Gianaris also scored an upset win in Buffalo last week, where Democrat Marc Panepinto will replace Republican Mark Grisanti.
"This year in a horrible year for Democrats, they picked up new seat in Buffalo," the Senate Democratic source said. "Remember, the chamber is still closely divided. 32 Republicans to 31 Democrats."
Will Bredderman contributed reporting. This story has been updated to include comments from Mr. Squadron, Mr. Hoylman, Mr. Rivera and an on the record statement from Mr. de Blasio's spokesman.