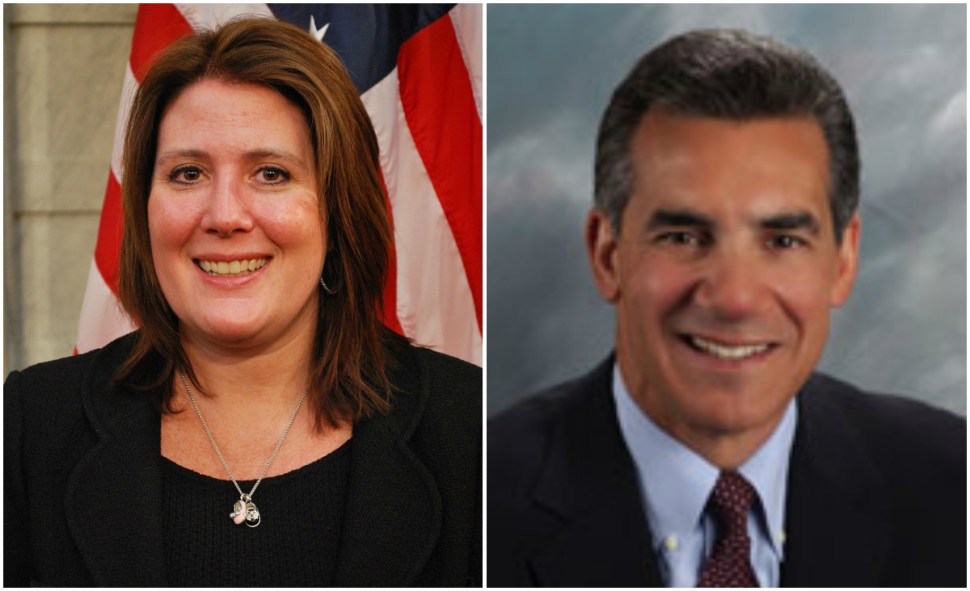 Yesterday's passage of A2270, the "Aid in Dying for the Terminally Ill Act", a bill that allows terminally ill patients to end their lives by obtaining and self-administering lethal doses of medication from a doctor, was the highlight of an otherwise predictable Assembly session, according to most insiders and observers.
The bill's fate remained uncertain even in the minutes leading up to the vote, with Assembly Democrats, lead by its sponsors, Assemblymen John Burzichelli (D-3) and Tim Eustace (D-38), working quickly to avoid pulling the measure a second time for lack of support.
One source conveyed that uncertainty to PolitickerNJ on the Assembly floor, noting that at least two Democratic lawmakers in support of the measure were absent, a number devout Catholics were expected to vote against it, and the few Republicans that expressed openness to the bill remained on the fence.
Ultimately, the success of the measure fell to those few Republicans — four of them, to be exact, to whom the position posed a particularly weighty challenge, and who, in voting for the bill, effectively went against the rest of their party.
Their move, unsurprisingly, had some fellow party members and conservative party politics-aligned observers miffed, especially after the bill's more vocal opponents on the Republican side, including Assemblymen Jay Webber (R-26) and Robert Auth (R-39), offered a slew of philosophically rigorous arguments against it on the floor.
As one observer put it, referring to the impact support for aid in dying legislation might have on a conservative's future political prospects: "Practical politics: you don't win Republicans with a vote for assisted suicide, let alone a decisive vote for assisted suicide, let alone a decisive vote for publicly-funded assisted suicide."
(Webber was the one who raised the question over whether the drugs and treatment used in physician-assisted suicides might be covered by Medicaid, while Auth noted that "the medical community overwhelmingly opposes this bill because physicians believe their role as trusted healers should be sacrosanct.").
But at least two of the Republicans PolitickerNJ talked to about their decisions offered principled defenses of their votes, arguing that it was not about "Democratic versus Republican" but about voting with their consciences. Assemblywomen Maria Rodriguez-Gregg (R-8) and Holly Schepisi (R-39) and Assemblyman Decan O'Scanlon (R-13) and Jack Ciattarelli (R-16) were the four who voted in favor.
Ciattarelli — who, along with Schepisi, also a yea vote, arguably took the greatest risk in voting against their caucus, given ongoing chatter about their future political prospects — argued that he thinks the issue's "time has arrived."
"This is one of those votes where people are coming at it from different angles, and I don't think anyone coming at it in their own way is wrong," Ciattarelli, who found his name in the mix for a U.S. Senate run earlier this year, said.
He sharply criticized Webber's question about whether the legislation could enable physician-assisted suicides to be covered by public funds, calling it "unfair and invalid" — arguing that any added cost a terminally-ill patient on Medicaid might incur would be "minimal" compared to the cost of treatment that patient likely already required over the course of their illness.
Aid in dying is a "right that people should have," Ciattarelli added, "and I have great faith in the field of medicine that this will be used appropriately."
Schepisi, for her part, recounted a number of experiences she endured with close family members who suffered "immensely" at the end of their lives, adding her support was "deeply personal."
"You know what, there are a lot of people who would never take this as an option, but for those who are suffering so tremendously, who have no hope of survival, and when you've watched first hand just how awful it's become for them, if they want that personal choice, why shouldn't we allow them to have it?" she asked.
Both Schepisi and Ciattarelli acknowledged the issue's highly controversial nature, and agreed that the bill, if it passes the senate next, is certain to receive a veto from Gov. Chris Christie, who's already expressed his disagreement with the legislation.
But Schepisi said it was about keeping "the dialogue on the issue open."
"This allows people to continue to discuss it. Were there issues that I had with this particular vote? Yes. Were there concerns about the slippery slope arguments made by Assemblyman Webber? You can have those concerns with anything that we pass or anything that we vote upon," Schepisi, whose name has circulated lately as a possible 2017 gubernatorial contender, said.
"The thing I've learned is sometimes with these types of things is, if you're not voting your conscience, what type of leader or representative are you? The politically easy thing for me to have done was to vote no," she added.