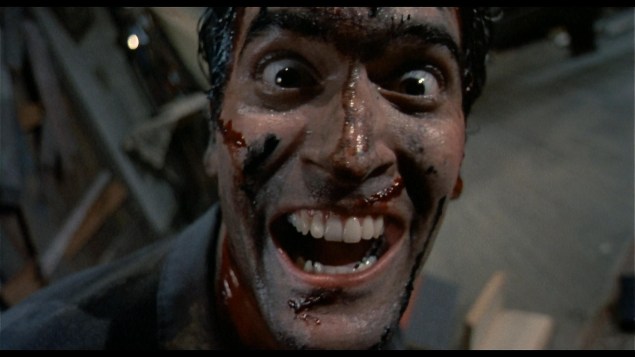 It took me a while to get this post up because following the announcement of an Evil Dead TV series I was busy pumping my fist with happiness for about 10 hours straight. The Evil Dead is fantastic, just fantastic. And I'm not even talking about the remake, which did away with a lot of the original movies' charm but, honestly, was still kind of scary. I could have done without ever seeing this, ever, thank you very much. But we're not here to talk about the remake, and neither is Starz.
"I'm really excited to bring this series to the Evil Dead fans worldwide," said the man himself, Bruce Campbell, in a press release. "It's going to be everything they have been clamoring for: serious deadite ass-kicking and plenty of outrageous humor."
If all is to be believed, the Starz ten-episode series, titled Ash vs. Evil Dead, is doing everything right. Everything. 
Just the fact that the show is on Starz is a win in my book. It needs to be on a premium network just for the subject matter alone. The main character, if I may be so kind as to remind you, has a chainsaw for a hand 90% of the time. A couple of weeks ago, NBC premiered it's demon-centric adaption show Constantine and it just felt…off? Like it's not bad, really, but you can literally feel the network constraints tying it down. I can't help but feel an HBO, Showtime or Starz (or, dare I say, Cinemax?) Constantine would be the bloody, cynical mess it is supposed to be. With Ash vs. Evil Dead landing on Starz, I see no restraints being put on Sam Raimi.
SPEAKING OF Sam Raimi, how awesome is it that this dude is actually coming back to helm his own creation? Mr. Raimi will be directing the first episode, and writing the whole thing along with brother Ivan Raimi (who also wrote Army of Darkness, an added bonus) and Tom Spezialy. I welcome Mr. Raimi back to television, and am personally glad he's gotten over the fact that he made the better Spider-Man franchise (that's right I fucking said it.) 
I'd be remiss in saying how right it is that Bruce Campbell is returning to the franchise as well. I do not care how old he's gotten or what he looks like now, he's always been Ash to me even during those three episodes of Burn Notice that I watched one time. And it doesn't even matter because Ash vs. Evil Dead isn't a reboot, it's a continuation of Ash's story.
Which, most importantly of all, is the best part of this whole idea and the smartest thing Starz and Raimi could have done. It's not a reboot. I repeat, not a reboot. What a concept in today's television, movies, plays, everything. It's ten episodes of brand new story, and God is it going to be groovy.
I hate to put impossibly high expectations for shows, because that usually ruins them completely (womp womp True Detective season finale), but nobody can tell me this won't be awesome. Not even Linda. Especially not Linda.