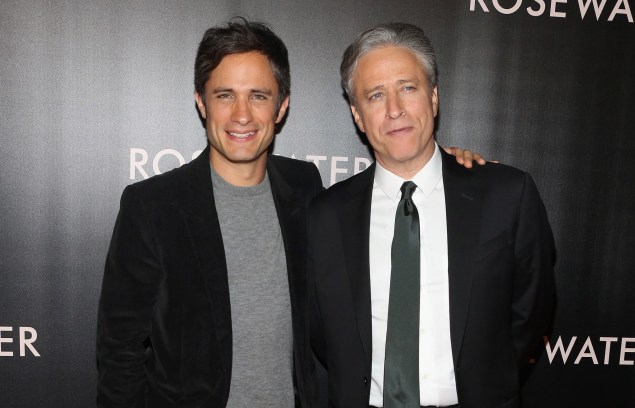 No matter how much you resist, a year on from release, Frozen won't go away. Shindigger has even heard an Armin van Buuren remix of Idena Menzel's chart-topper "Let it Go" on the dance floor. We love it but does New York's party crowd? Shindigger set out to discover the truth.
Joining Anjelica Huston to toast her second autobiography, Watch Me, at the soon-to-be-opened Chefs Club restaurant in the Puck Building, the star told us, "My editor Bill Whitworth just came in from Little Rock, we've known each other on the phone for two full books but never met."
Matthew Broderick, Jimmy Buffett, Diane Sawyer and Mike Nichols also turned up to support.
"Anjelica is actually fun. I know that's a word someone of your age never has the occasion to use," Fran Lebowitz cantankerously uttered when she first arrived. "She's smart and funny and I just enjoy her."
---

$1.3B
Estimated worldwide gross of Frozen


118
Days Rosewater's Maziar Bahari was held captive and tortured in Iran


---
Seizing the moment, Shindigger asked Ms. Huston if Frozen had any affect on her.
"I haven't seen it and I'm a little bit jealous," she confessed with a pout. "Because I'm the voice of Queen Clarion in Tinker Bell," she sighed of the animated Disney flop.
Focusing on the positive we waved a dépliant for Ms. Huston's upcoming Broadway appearance alongside Martin Sheen in Love Letters.
"I'm excited!" she replied turning her frown upside down.
Disney On Ice's production of Frozen arrived here last week, Edie Falco, Padma Lakshmi and Dylan Walsh checked it out at Barclays Center. Later that night, Shindigger (and Orange is the New Black's Alysia Reiner, who also attended Frozen on Ice) headed to the top of the Standard for The Cinema Society's after-party for the film Foxcatcher. Clutching a bottomless Patròn Mexihattan, we chatted to Haley Joel Osment about shooting the second season of Amazon's Alpha House. Eventually, we asked the actor about Frozen.
"I did not see it yet," he said to our shock or relief, we couldn't tell. "But I've got some little cousins who I'll end up seeing it with anyway."
At the Society of Memorial Sloan Kettering's annual Fall Party at the Four Seasons Restaurant, designer Charlotte Ronson made a confession. "I saw it because it made my twin sister [Sam Ronson] cry, so I had to, I loved it!" she enthused. Ms. Ronson confessed the twins related to the dynamic between the two royal sisters in the film, Anna and Elsa. "Even my brother [Mark Ronson] saw it," she laughed swaying in her Valentino frock.
Shindigger closed out the long evening with comedian and first-time director Jon Stewart for a fiesta celebrating his film Rosewater. "We're having snacks and finger foods!" he blurted, as a tray of chickpea fritters whizzed by to appease the aggressively hungry revelers crowding Columbus Circle's Stone Rose. The feature film is based on BBC journalist Maziar Bahari's torture memoir Then They Came for Me: A Family's Story of Love, Captivity, and Survival, and stars Gael García Bernal.
"I'm mostly excited that I didn't screw it up and got to see Maziar and his wife happy and proud of the film," he boasted to Shindigger. "I felt a big responsibility not to fuck it up."
We asked the TV political pundit and family man if he had given Frozen a whirl lately?
"I have a daughter who is 8 so I want to make it clear that I'm not a crazy person who just goes and watches Frozen, on my own," he laughed.