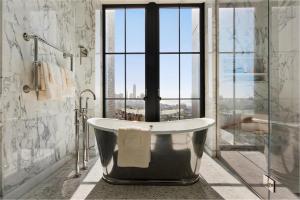 Even by the standards of New York Times lifestyle sections, last week's Home & Garden feature on the increasing prevalence in luxury real estate of glassy bathrooms offering sweeping city—and, to the winged, full frontal—views seemed to stretch the limits of silliness. (Then again, we ourselves are not above a little frivolity.) And, as Douglas Elliman broker Vickey Barron observed, "Now what most people wanted in their living rooms, they want in their bathrooms. They'll say, 'What? No View?'"
Ms. Barron, who handles sales at Walker Tower—that is, 212 West 18th Street—where Penthouse 2, last listed for $47.5 million, just entered contract, ought to know.
And if hedge fund managers, media moguls and foreign industrialists have lately developed a taste for high-wire exhibitionism, well, doggone it, someone has got to cover it! It's as yet unclear which professional guild this buyer belongs to, but his tastes appear to reflect Ms. Barron's analysis.
The richly marbled master bath boasts an enormous, silvery cast-iron tub, which stands before a pair of mullioned floor-to-ceiling windows, and for those less given to such indulgent ablutions, there's also a glassed-in shower, the better to appreciate said window. (Of course, this feature, outfitted for steam, "body sprays and rain," is hardly austere; it sounds from the listing as though an instruction manual might be useful.)
Views in the floor-through, 6,738 square-foot pad are not limited to private quarters, encompassing 360 degrees and taking in river, harbor and skyline alike. Three wood burning fire places might make for cozy retreats if, for example, the owners become a bit chilled as a result of enjoying their north-facing terrace. There are five bedrooms and a bevvy of ultra high-end finishes. The contract, broker Donna Olshan notes in her weekly report on the luxury market, represents one of the largest deals in downtown Manhattan this year.
Maybe all that business about see-through bathrooms wasn't so silly, after all.