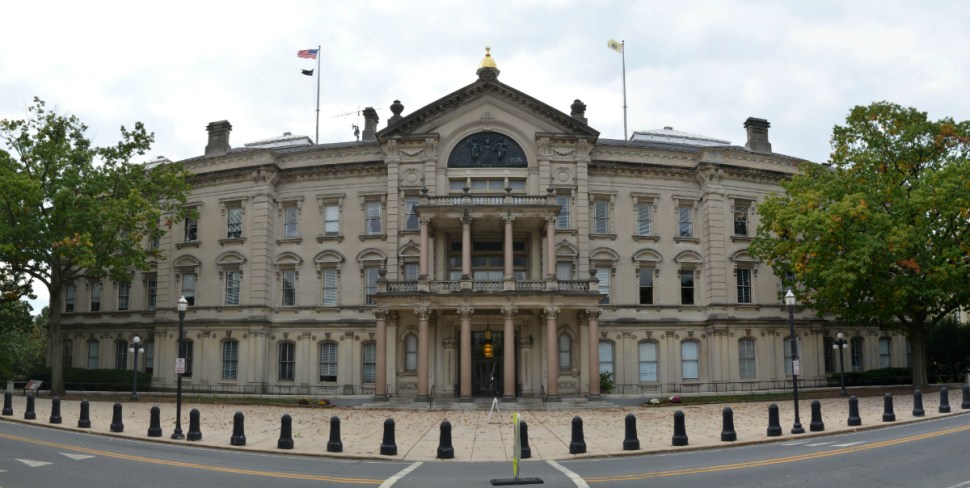 TRENTON – Following a last minute push to garner the votes needed to pass, the General Assembly today approved A2270, a bill that allows terminally ill patients to end their lives by obtaining and self-administering lethal doses of medication from a doctor.
The bill — also known as the "Aid in Dying for the Terminally Ill Act" — ultimately passed 41-31, though not without difficulty. In the hours leading up to the vote this morning, Democrats, lead by the bill's sponsors, Assemblymen John Burzichelli (D-3) and Tim Eustace (D-38), worked to avoid pulling the measure a second time for lack of support.
It's passage was complicated by Republicans who opposed the legislation on religious and moral grounds, but also a number devout Catholics on the Democrats' side who also voted against it. Support for the bill broke down to 37 D's to 4 R's.
At the same time, opponents of the measure, which include members of the disabled community and the New Jersey Alliance Against Doctor-Prescribed Suicide, held their own press conference in protest of its passage. Marie Tasy, executive director of New Jersey Right to Life, argued that the legislation is "full of contradictory language that protects all parties except the patient."
On the floor, Assemblyman Jay Webber (R-26) rose to question whether the bill would make the state more "compassionate and free" — two adjectives proponents of aid in dying legislation have used to defend the measure.
"This is obviously an area of the law that calls on us to use our hearts as well as our heads," Webber said, arguing that the bill "would not make us a more compassionate state — we would become a colder state, if we were to open that door to our brothers and sister who are facing these decisions."
Assemblyman Patrick Diegnan (D-18) gave an impassioned appeal in support of the bill, recounting experieces he endured with his dying mother that forced him to see the value in allowing patients the right to end their lives in their final days.
"How can anyone say it would not be compassionate to let her, of her own free will, end that suffering?," Diegnan asked.
Differences over the bill ultimately came down to differences in philosophical and moral bearings among the chamber's members, with Assemblyman David Rible (R-30) arguing there is still debate to be had on the issue and Assemblyman Troy Singleton (D-7) standing to defend an individual's right to choice.
"Having life and having liberty means nothing if you don't have the right to exercise that life and those liberties," he said.
Specifically, the bill says that in order to obtain the drugs, patients must be "in the terminal stage of an irreversibly fatal illness, disease, or condition with a prognosis, based upon reasonable medical certainty, of a life expectancy of six months or less." It's the second time Democrats in the Assembly attempted to pass the bill this year — it was scheduled for a vote in June but pulled from consideration at the last minute because of lack of support.
Today's vote comes amid national debate over physician-assisted suicide, also referred to as aid in dying or death with dignity.