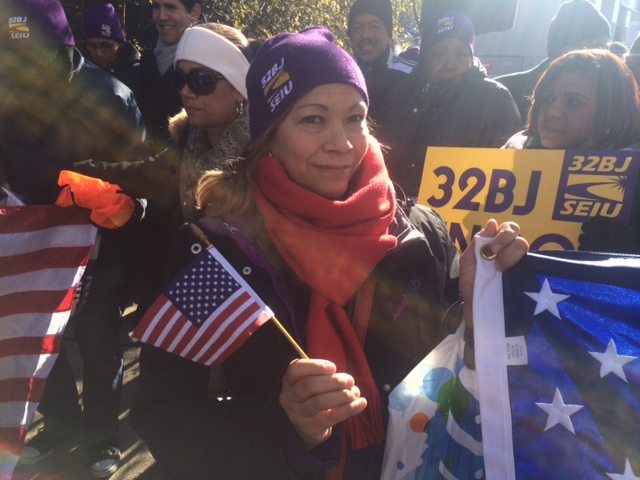 NEWARK – A small crowd of about 50 labor leaders, community members and elected officials in Newark on Friday applauded a big move by U.S. President Barack Obama. On Thursday night, Obama announced he would use his executive authority to prevent the deportation of up to five million undocumented immigrants and allow many to work legally. The move echoed from Washington, D.C. to the steps of Grace Episcopal Church on Broad Street.
"I am so, so happy. I want to say thank you to President Obama for this executive order. Me and my husband will benefit from this," said Celia, a shop steward from Colombia. "I've been here for 16 years, and I haven't seen my family for 16 years. I have two kids who were born in this country, and my big worry is that I was going to be separated from them. Thank you so much, and we are going to continue the struggle for all of those who still today are not able to get their papers."
Obama's opening salvo to overhaul immigration was fired in part because of his frustration with congressional gridlock over the issue, which has yet to be solved by comprehensive legislative reform. The partisan battle lines over the move by the Democratic president were immediately drawn by Republican Speaker of the U.S. House of Representatives John Boehner, who said on Friday that Obama was "damaging the presidency" and vowed to counter him.
Immigration is an issue that could prove particularly tricky for the Republicans' 2016 presidential hopes, which potentially include New Jersey Gov. Chris Christie. Christie has positioned himself as someone who could draw the Latino vote along bipartisan lines, evidenced by his 2013 election eve rally in highly Hispanic Union City with Democratic Mayor Brian Stack, followed by his winning of the majority of New Jersey's Latino vote on Election Day.
But on Friday in Newark, two statewide Latina labor leaders told PolitickerNJ that Obama's bold move on immigration could ultimately hurt Christie's potential presidential plans.
"The President absolutely stole [Christie's] thunder," said Lizette Delgado-Polanco, the executive director of the Service Employees International Union (SEIU) New Jersey State Council, whose 32BJ chapter organized the rally. "Maybe in the state of New Jersey, Christie feels that he's the voice of Latinos, but all of his actions have been against what impacts our communities. The Center for Hispanic Policy was gutted, and that impacts all of the community organizations. Budgets were slashed, and you don't balance your budget on the backs of the most vulnerable. Now the Republicans are talking about going to court and undoing what the President did last night. I think that they have a real problem on their hands. Whether he's part of it or not, Christie is perceived to be their national face. They really need to think about what they are doing about a nationally emerging electorate. By Obama finally doing what he did, it will mobilize our community to hold Republicans accountable and follow through on full immigration reform. The year 2016 is going to be all about the emerging electorate."
"I reject the idea that Chris Christie is Mr. Latino. He essentially gutted every state program that Latinos benefited from. What he has been is Mr. Capitalize-on-Opportunity-and-Spin," said Analilia Mejia, executive director of New Jersey Working Families. "The President is living up to a commitment that he made, [a move] that he was frankly pushed into making. Both Democrats and Republicans see that the Latino electorate will be pivotal in the next presidential race. Actions speak louder than words, and the President gets that. If Chris Christie wants to paint himself as a candidate who is beneficial for Latinos, he's going to have to work really hard."
Gov. Christie's office could not be immediately reached for comment.