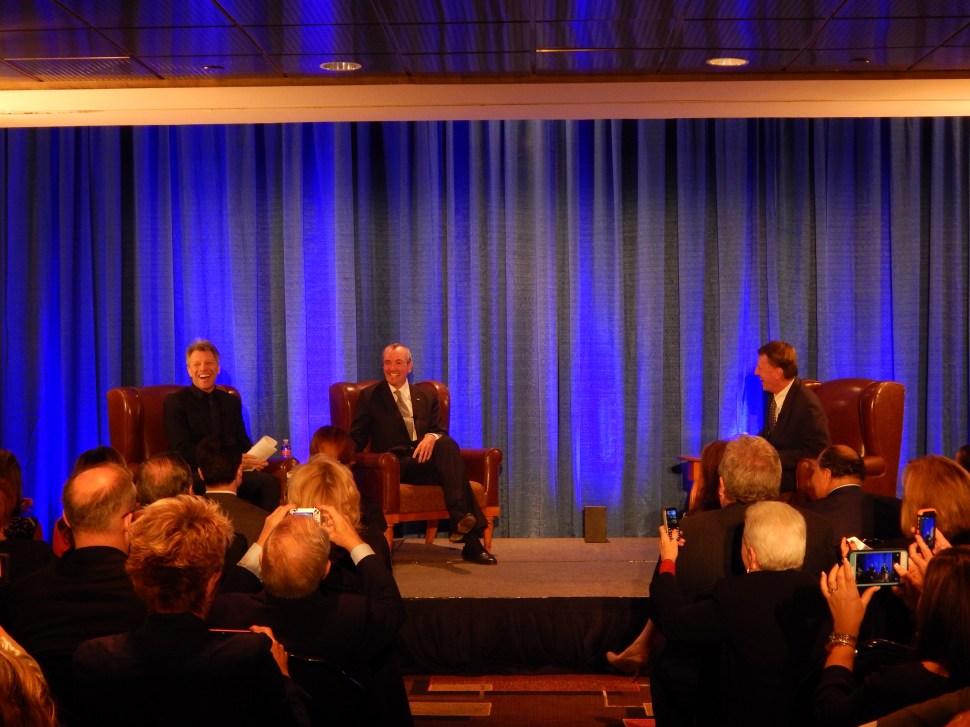 ATLANTIC CITY – At his signature event of this year's annual League of Municipalities conference, former U.S. Ambassador to Germany and prospective gubernatorial candidate Phil Murphy teamed up with rock star and personal friend Jon Bon Jovi for a discussion on New Jersey's middle class economy.
Questions from a moderator included topics ranging from the pair's personal lives to Murphy's experiences spent working overseas to his work with the Democrats' newest initiative, a 501(c)(4) nonprofit called New Start New Jersey.
Murphy and Bon Jovi — longtime friends who met through their children — first joined forces to launch that organization earlier this month in Newark. Much of the question and answer dealt with the same issues covered at that event — mainly, how the middle class is struggling through a slow-going recovery in the state, and what to do about it.
"We all talk conceptually about, hey when's the time going to come — what generation will have it as good as the previous generation," Murphy told the crowd in a ballroom at Bally's casino. "And we think about it always a generation ahead, but the fact of the matter is this poll told us that unless you're a senior today, you already believe you don't have it as good as your parents had it, and you certainly don't believe that your kids are going to have it as good as you're having it."
A staple at political gatherings during this year's annual League of Municipalities conference, other events these last two days generated chatter surrounding the 2017 gubernatorial aspirant. But the spotlight was fixed more brightly on Murphy this time around that at any other function — and the intrigue surrounding rising star was certainly palpable.
The event drew a crowd that included pols and insiders across a broad party spectrum, and who couldn't be found at earlier affairs. Former Gov. Jim Florio was there, as was Monmouth County Democratic chairman Vin Gopal (Murphy's also from Monmouth). Others included state Senators Robert Gordon (D-38), Joe Kyrillos (R-13), and Valerie Huttle (D-37).
Newly-minted Bergen County Executive Jim Tedesco was there, as was Essex County Clerk Chris Durkin and chairman of the state Democratic party John Currie.
The media was there in full force, with NJTV's Michael Aaron making the rounds, among others.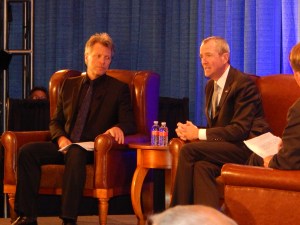 In that sense, with lengthy personal introductions and a roster of guests that seemed to outshine those other events, the panel talk seemed more like a meet-the-candidate event than anything else.
"People are interested," one observer noted, referring to Murphy.
That same observer, however, in the same breath managed to note a manufactured element to the affair — the moderator was Jim McQueeny, Murphy's media consultant.
Later, McQueeny noted that Murphy's launch of New Start New Jersey earlier this months spurred a wave of interest from the press and political observers regarding his political ambitions.
"It was shocking. There's gambling going on," Murphy cracked.
McQueeny then got the crowd giddy when he implied that Jovi himself would make a good governor.
"Amen to that," Murphy said. "Several of the people who are advising me in my life privately switched over to Jon's campaign. So we do have some openings."
Earlier today, Murphy told PolitickerNJ that he's still "seriously considering" a run, and that he's here to reconnect with old friends.